How Old Was Jeffrey Dahmer When He Committed His First Murder?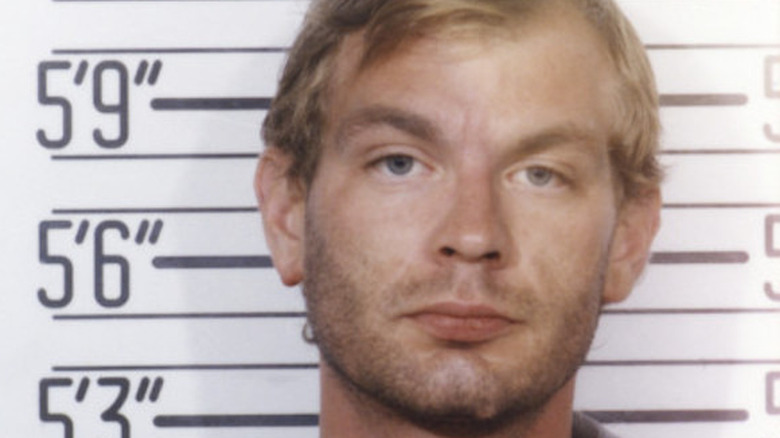 Reddit
Back in the early 1990s, the world was shocked to learn of the crimes of Jeffrey Dahmer, a Milwaukee man who was found to have kept the body parts of many of his murder victims when police arrested him at his apartment in 1991. He would later be charged with the murders of 17 young men and boys, and, as noted by Biography, would ultimately reveal the disturbing reason why he killed these individuals and dismembered them — he wanted to "keep them with [him for] as long as possible, even if it meant just keeping a part of them."
When looking back on Dahmer's crimes, there are some that especially stand out. These include the murder of a 13-year-old boy named Konerak Sinthasomphone in 1991 — instead of taking Dahmer in for questioning after a pair of women notified police that the teenager was in obvious distress, officers actually threatened to arrest one of the women when she insisted the boy was in danger. On a more positive note, one has to commend the bravery of his final victim, Tracy Edwards, who cheated death at the hands of Dahmer and alerted authorities right after he escaped, finally allowing them to catch the serial killer. Then there's Dahmer's very first victim, a young hitchhiker whom he had met while the latter was on his way to a concert. How old was Dahmer when he committed this gruesome crime?
Dahmer killed a hitchhiker when he was only 18 years old
According to Biography, Jeffrey Dahmer had an unhappy childhood, one where he was profoundly affected by his parents' crumbling marriage. A highly introverted young man, he had very few friends and already had a serious drinking problem as a teenager. He would later claim that he was just 14 years old when he first started entertaining thoughts of necrophilia and murder.
Four years later, Dahmer would commit his first murder — at that time, he had just turned 18 years old and had only recently graduated from high school. On June 18, 1978 (via The New York Times), he met another fresh high school graduate named Steven Hicks, a fellow Ohio native who was hitchhiking to a rock concert. Instead of driving him to the concert, Dahmer invited Hicks to hang out with him at his parents' house, where the two young men had several beers. When Hicks, who was already drunk at that point, attempted to leave, Dahmer struck the 18-year-old in the head and strangled him with a barbell until he died. He then dismembered Hicks' corpse and placed his body parts in plastic bags; initially, he buried the remains behind his parents' home, but he would later exhume them, crush the bones with a sledgehammer, and scatter them in the nearby woods.
After murdering Hicks, Dahmer spent the next three years in the Army before getting discharged. He would run afoul of the law multiple times in the years that immediately followed, though it was only in 1987 when he killed his second victim, kicking off a crime spree that lasted until his 1991 arrest.