The Real Reason LeBron James Is Changing His Jersey Number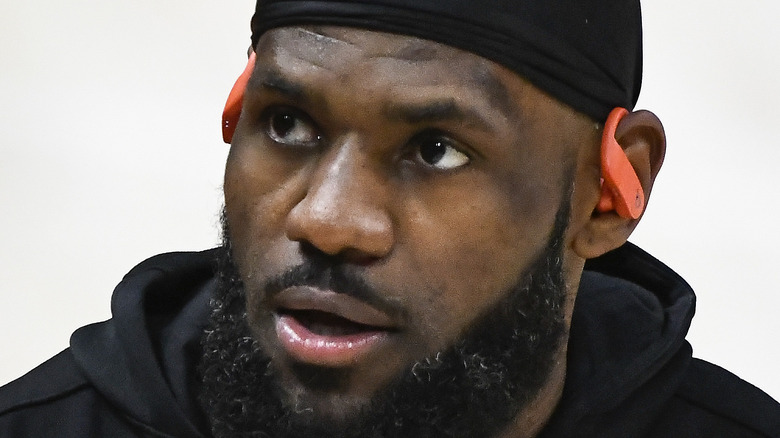 Alex Goodlett/Getty Images
There were talks of LeBron James changing his jersey number from No. 23 to No. 6, and the change has been made official after the Los Angeles Lakers Twitter account posted a photo of LeBron wearing a No. 6 jersey.
As reported by CBS Sports, the last time LeBron wore No. 6 was way back when he was still with the Miami Heat. He was part of the team from 2010 to 2014, and then went on to be with the Cleveland Cavaliers for four years before joining the Los Angeles Lakers in 2018.
For a time, LeBron James wore a No. 23 jersey, which was said to honor Michael Jordan. In 2019, there were rumors going around that LeBron would be changing his jersey from No. 23 back to No. 6, but that plan was postponed as Nike, who officially provides merchandise for the Lakers, had already produced merchandise worth millions of dollars with the No. 23 and LeBron James' name on them, (via NBC Los Angeles).
Jersey number change connected to movie appearance
The reason for LeBron James changing his jersey number may be because of his movie, "Space Jam: A New Legacy," which will be released in theaters in July. The movie is the sequel to "Space Jam," which starred Michael Jordan and was released in 1996. Warner Bros. Pictures released a trailer, available on YouTube, for the new film in April. In the movie, LeBron plays himself and teams up with some beloved Looney Tunes characters to form a basketball team called the Tune Squad. Notably, he wears a No. 6 jersey in the movie.
The No. 6, as The Athletic reports, is also a nod to one of his idols, basketball great Julius Erving, who wore the number during his time in the NBA. The number may also be significant to LeBron as his eldest child, LeBron Jr., was born on October 6, 2004.