A Look At Madam C.J. Walker's Childhood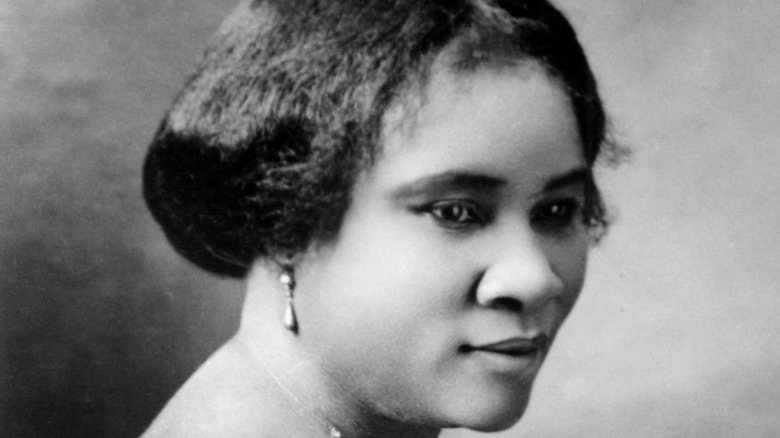 Michael Ochs Archives/Getty Images
The Guinness Book of World Records credits Madam C.J. Walker as the first American woman to become a self-made millionaire. According to the biography on her official website, written by her official biographer and great-granddaughter, journalist A'Leila Bundles, Walker was inspired by her own experiences with a scalp ailment. She experimented with several homemade remedies and store-bought formulas before creating her own recipe that she claimed came to her in a dream. An entrepreneur, she marketed the scalp tonic as Madam Walker's Wonderful Hair Grower and grew her business by traveling throughout the South and Southeastern United States. She went door-to-door to demonstrate her scalp treatments in homes, churches, and lodges to other Black women. By the time Walker died in 1919 at 51 years old, she had expanded her business to include salons, factories, and training schools. Her personal assets as well as her business were valued together at over $1 million, or $120 million in 2020 dollars. 
Walker's stunning success is even more impressive when you consider the difficulties of her early life. Born Sarah Breedlove on December 23, 1867 in Delta, Louisiana, she was one of six children born to Owen and Minerva Anderson Breedlove. The Breedloves were sharecroppers who had been enslaved before the end of the Civil War. Sarah was an orphan by the time she was just seven years old. 
A bride at 14, a mother at 17, a widow at 20
Young Sarah Breedlove worked with her older sister Louvenia in the cotton fields of Delta, Louisiana and Vicksburg, Mississippi. Per the Madam C.J. Walker website, she received little formal education; in fact, by the time Sarah was old enough to attend school, Louisiana's white legislators refused to provide money for the education of the state's Black children. When she was just 14, she married a man named Moses McWilliams in order to escape from the abuse of her brother-in-law, Jesse Powell. Sarah gave birth to her daughter Lelia in 1885 when she was still a child herself at 17 years old. 
When Moses died two years later, the 20-year-old widow took her daughter and moved to St. Louis, Missouri, where four of her brothers lived and worked as barbers. After working as a laundress and cook, per the Women's History Museum, in 1904 she started using the hair products developed by Annie Turbo Malone and joined Malone's team of Black saleswomen. A year later, she married Charles Joseph Walker, who worked in advertising. After creating her own hair tonic, she renamed herself Madam C.J. Walker and launched her own line with $1.25; her husband helped her with advertising and with setting up a mail-order business. The rest is cosmetic and entrepreneurial history. In Walker's own words, "I got my start by giving myself a start."