How Wilt Chamberlain Nearly Boxed Muhammad Ali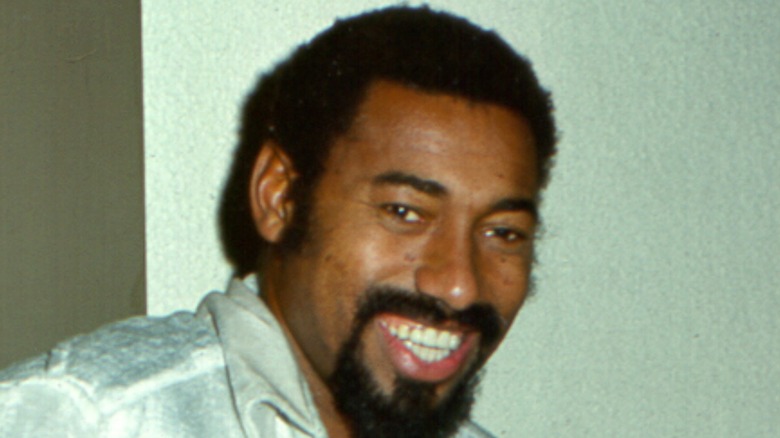 Michael Ochs Archives/Getty Images
Combat sports fans are living in extraordinary times nowadays. While conventional MMA and boxing events remain popular, much of the hype in both sports has recently centered on YouTubers Jake and Logan Paul, with the former challenging mixed martial artists Ben Askren and Tyron Woodley to boxing matches and the latter fighting the legendary Floyd Mayweather Jr. to an exhibition draw, as noted by Sportskeeda. Who would have guessed a few months ago that Jake Paul — a young man with barely any professional fighting experience — would defeat MMA veteran Askren in the ring? And we haven't even mentioned Mayweather's victory over former two-division UFC champion Conor McGregor in a surprisingly competitive boxing match back in 2017, and the possibility of a rematch (via Bleacher Report) in the near future.
It may sound difficult to believe, but all these unusual fights could have potentially traced their roots back to the 1960s, had a planned boxing match between Wilt Chamberlain and Muhammad Ali not fallen through multiple times. Eventually, Ali did get in the ring with someone from a different sport, as he and Antonio Inoki "wrestled" in an incredibly boring encounter in 1976 that saw the New Japan Pro-Wrestling founder, flat on his back, repeatedly kicking the boxing legend for most of the match. But about a decade before that, Ali was in his prime, and that was when rumors first started swirling regarding a possible bout between the heavyweight boxing champ and the NBA great.
Chamberlain was twice talked out of fighting Ali in the '60s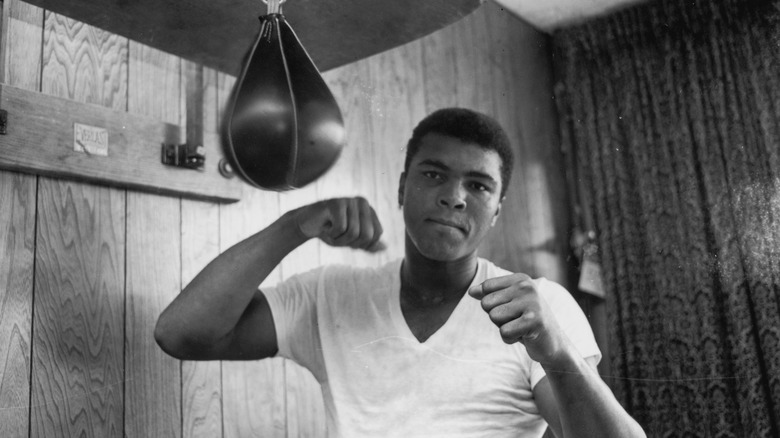 Harry Benson/Getty Images
As one of the best big men to ever play in the NBA, Wilt Chamberlain set many a record during the league's early days, the most notable of these being his 100-point game in 1962 — a feat that remains unmatched close to six decades later. But while winning a league championship was seemingly the only achievement that eluded him at that point in his career, he was already looking to build his brand by trying his luck in a different sport. Citing Don Cherry's biography "Wilt: Larger Than Life," Mental Floss wrote that in 1965, boxing trainer and promoter Cus D'Amato offered Chamberlain a chance to box Muhammad Ali. While the 7-foot-1-inch Chamberlain outweighed Ali by nearly 100 pounds and was nearly a foot taller, Philadelphia 76ers owner Ike Richman convinced his star player that fighting the world's best heavyweight boxer was not a good idea.
Two years later, D'Amato approached Chamberlain yet again and made the same proposal, also offering to train him ahead of the potential fight against Ali. Apparently, there were plans to add another celebrity athlete to the mix, as recently retired Cleveland Browns superstar Jim Brown was supposed to serve as Chamberlain's "manager" for the bout. But once again, the Big Dipper was discouraged from fighting Ali, with Chamberlain's father acting as the voice of reason that time around.
Chamberlain vs. Ali was almost a done deal in 1971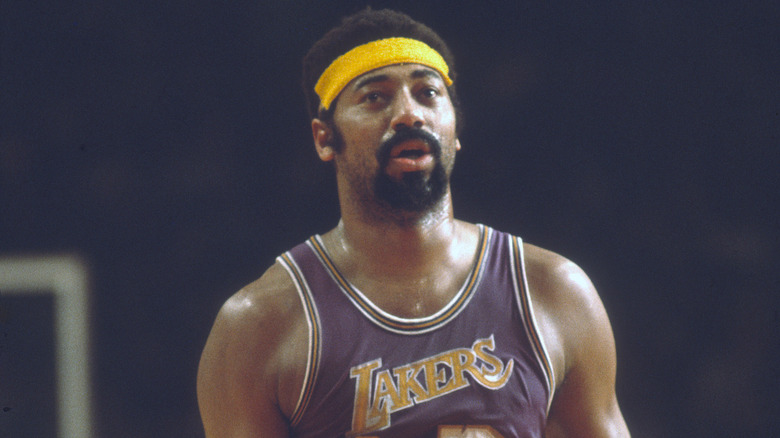 Focus On Sport/Getty Images
By early 1971, Muhammad Ali had just come off a three-year-plus ban from boxing for refusing to fight in the Vietnam War but was still very much in his prime. Apart from his heavyweight championship defense against Joe Frazier in March, which he ended up losing, there was another high-profile fight that awaited him that year — the six-years-in-the-making bout against Chamberlain that, according to Mental Floss, was scheduled to take place on July 26, 1971, at the Houston Astrodome.
As cited by the Los Angeles Times in 1989, promoter Bob Arum recalled that Chamberlain agreed to the terms of the fight and that the NBA superstar's lawyer approved — but did not sign — the contract. Chamberlain was supposed to announce the fight and sign the contract at a press conference at the Astrodome, but Arum claimed that Ali, despite being warned not to "disrupt the giant" just yet, did Muhammad Ali things and trash-talked his would-be opponent during the event, allegedly yelling, "Timber! The tree will fall."
As Los Angeles Lakers owner Jack Kent Cooke had a lucrative contract offer for Chamberlain, provided he give up "this boxing foolishness," that settled it for the big man — he was re-signing with the Lakers and backing out of the fight. The decision may have deprived fight fans of what would have been a curious in-ring matchup at the very least, but one can't say it wasn't good for Wilt's basketball career. With Chamberlain patrolling the middle, the Lakers won the 1971-72 NBA championship — his second and last title before his retirement in 1973 (via Basketball-Reference).