The Tragic Truth About Evita's Childhood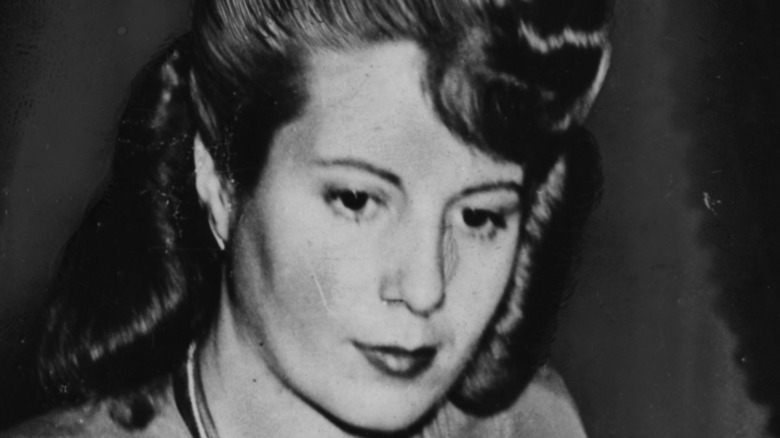 Keystone/Getty Images
On May 7, 1919, Eva Perón was born with the name Eva Maria Ibarguren. She was born in Los Toldos, a small agricultural town on the plains of Argentina, approximately 180 miles from Buenos Aires, per AP News. But according to the 1996 biography "Evita: The Real Life of Eva Perón" by Nicholas Fraser and Marysa Navarro, there were no records of Perón's baptism or birth certificate. While she did have a birth certificate later in life, details about her date and place of birth were changed shortly before her 1945 marriage to Juan Perón, which shrouded her origins in mystery.
In the 1930s, at the age of 15, Eva moved to Buenos Aires to become an actor and saw success performing on the radio, according to Britannica. She met army general and future Argentinian president Juan Perón at a fundraiser in 1944, and she soon became a beloved figure in Argentinian history for her support of Argentinians struggling financially and women's right to vote. "I knew it suddenly and by suffering," Eva wrote in her autobiography (via AP News). "I couldn't accept social injustice."
Eva died of cervical cancer in 1952, at the age of 33. Today, more than ever is known about the former first lady's origins. Her childhood home in Los Toldos has been transformed into an interactive museum, where the hardships Eva faced during her childhood are on display.
Evita's absent father left the family in poverty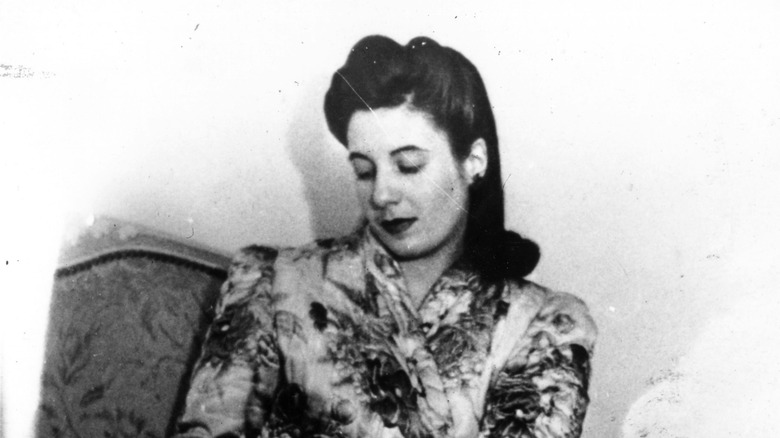 Hulton Archive/Getty Images
According to AP News, Eva Perón's father, Juan Duarte, came from money. He met her mother, Juana Ibarguren, while she was working as a servant. He was already married and had a family with another woman, so he never married Ibarguren. "The fact that the father had two families and all that implies ... had a lot to do with it," Los Toldos Mayor Franco Flexas said of Perón (via AP News). "A small town can be hell. Everyone knows everyone else. There's no doubt that she was given hostile looks, and that marked her for life."
According to "Evita: The Real Life of Eva Perón," Duarte left Ibarguren and their family in 1920, when Perón was less than a year old. The family was left in poverty and forced to move to a crowded house with only two rooms. Ibarguren worked to support the family by sewing clothes for the people of Los Toldos. "Yet she continued to be regarded as a kept woman," Fraser and Navarro wrote, "[and] that reputation would stay with her whatever she did and it probably caused her more pain than the family's new poverty."
Evita was a troubled child who deeply mourned the loss of her grandmother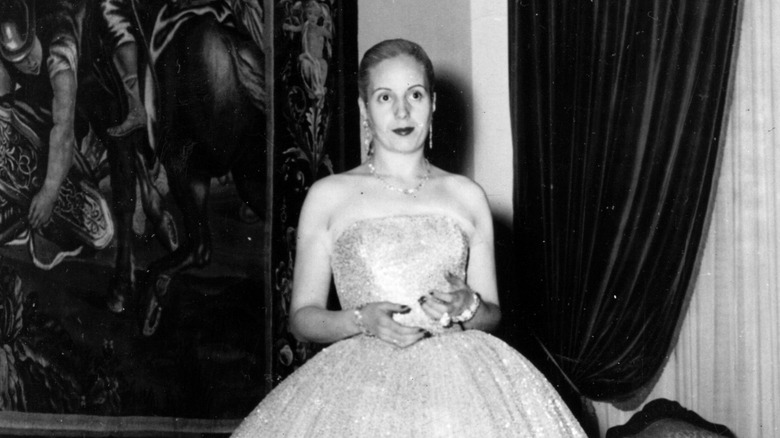 Keystone/Getty Images
According to "Evita: The Real Life of Eva Perón," Perón was an emotionally fragile child. "Eva María was small and thin and quiet, with black hair and large, staring brown eyes," Fraser and Navarro wrote. "She had attacks of rage which seemed strange to her family."
In 1926, when Perón was 6 years old, her father died in a car accident, and she found out about his other family. The following year, Perón's beloved grandmother died and Perón "threw herself to the ground and cried inconsolably," per Fraser and Navarro.
Today, visitors are welcomed to Los Toldos by a huge picture of Perón, and a statue honors the former first lady downtown. "Eva deserved this recognition, even when she was so humiliated when she was alive," Perón's cousin, Elena Valenti, said (via AP News). "I don't know if she suffered during her childhood, but it was sad ... Only a chosen one can do what she did."