Did Blackbeard Really Leave Behind Buried Treasure?
Of all the romantic notions of piracy that stick in the canon of popular culture today, one of the favorites seems to be the idea of a buried treasure. In the last century or two, books — and later, movies — have entire plot lines devoted to journeys based on a treasure map showing the location of a pirate's buried loot. 
So what of the legendary Blackbeard's treasure? He is one of the most famous pirates remembered today. However, according to The Way of the Pirates, Blackbeard was not the most successful nor the most feared pirate captain of his time, which only lasted about two years, according to Smithsonian Magazine. Blackbeard, whose real name was Edward Teach, earned his nickname, obviously, from his giant pre-hipster beard, which he would braid or separate into tails and tie ribbons around. 
Blackbeard was very successful at capturing ships and slaves in the Caribbean and near the East Coast of what is today the U.S. and taking whatever loot was on those ships. But he didn't always keep the loot. Often he would sell the stolen goods at town markets, per The Way of the Pirates.
Smithsonian Magazine reports he came on the scene as a pirate after serving in the British Royal Navy in about 1715 and was murdered by 1718. So what about any possible buried treasure?
Just two buried pirate treasures are verified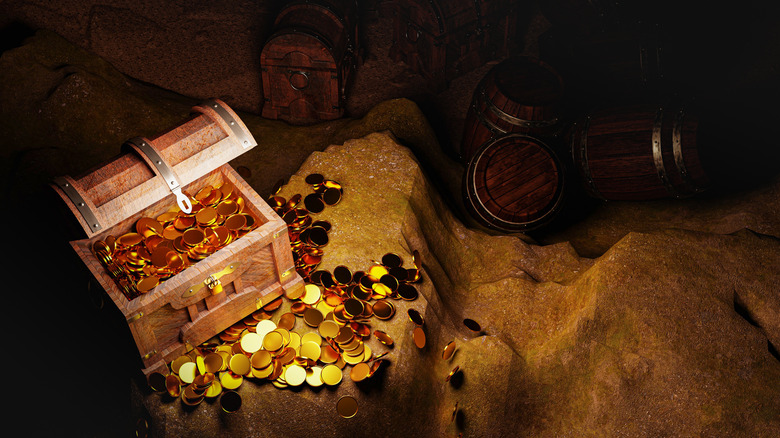 Shutterstock
According to Straight Dope, the idea of buried treasure makes total sense because back in the day, the burial of valuable items was common, as there weren't always safe places such as banks or safes to stash important items. Not to mention, there were plenty of folks who would be happy to take your stuff. With pirates being pretty savvy users of maps, it stands to reason they would bury treasure on occasion. 
However, according to The Way of the Pirates, buried pirate treasure has only been verified in two cases, and neither of those was affiliated with Blackbeard. Archaeologists do suspect they may have found Blackbeard's ship called the Queen Anne's Revenge off the coast of North Carolina — a ship that ran aground on a sandbar in 1718 after laying siege upon Charleston demanding medical supplies — yet the only item found on the sunken ship that could pass as treasure was about an ounce of gold dust, Smithsonian Magazine reported.
As of today, it seems that Blackbeard did not leave behind any buried treasure. Or at least, if he did, it hasn't been found yet.