This Is The Longest-Standing Olympic Record In The Modern Era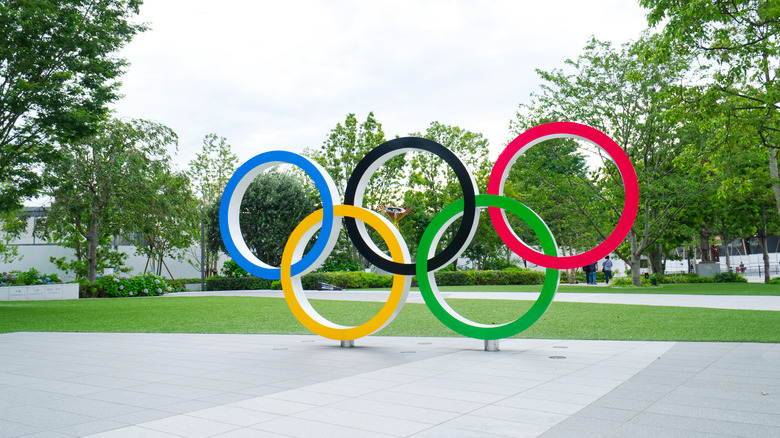 Shutterstock
Whether you're a sports fan or not, you know how the saying goes — records are meant to be broken. Sure, there are some records that have stood for decades and aren't anywhere close to being beaten, such as Wilt Chamberlain's 100-point and 55-rebound games in the NBA and Cy Young's 511 career wins in the MLB. (Say what you will about Barry Bonds' 73 home runs, though.) Then again, some records that were thought to be unbreakable were eventually broken, and then some. For instance, Oscar Robertson's triple-double season was unmatched by anyone for decades until Russell Westbrook came along and did it four times over the last five seasons, as reported by CBS Sports. 
As the long-delayed 2020 Summer Olympics will finally be taking place from July 23 through August 8, 2021, talk has naturally turned to the long-standing Olympic records that were ultimately broken, as well as those that might stick around for a while. Right now, we're not expecting anyone to come anywhere close anytime soon to swimmer Michael Phelps' 28 medals across five Olympics – a tally that includes a whopping 23 golds, also an all-time Olympic record. Without the benefit of a crystal ball, we have no way of knowing if or when exactly those records will be broken. What we do know, however, is that the longest-standing Olympic record in modern history has stood for more than five decades and counting.
Bob Beamon's long jump record has stood since 1968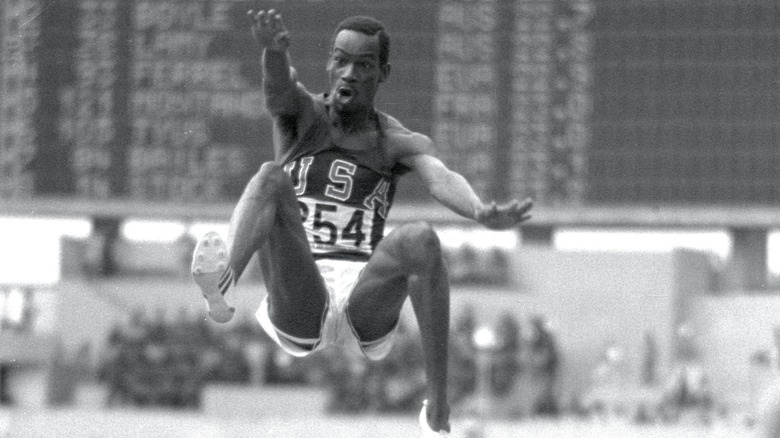 Tony Duffy/Getty Images
The oldest modern Olympic record that has yet to be broken belongs to American long jumper Bob Beamon, who leaped 8.90 meters (29 feet and 2.5 inches) at the 1968 Mexico City Olympics, per Champions Speakers. As explained by World Athletics, Beamon unofficially had the world's best distance in the long jump (8.39 meters/27 feet, 6.5 inches) when he arrived in Mexico City that year, though that was not eligible for the record books as it was wind-assisted. Still, he was an overwhelming favorite with a career-best (non-wind-assisted) distance of 8.33 meters (27 feet and 4 inches) and 22 wins in the 23 competitions he had entered so far in 1968.
In his very first jump in the 1968 Olympics, Beamon easily broke the aforementioned unofficial record and his personal best, doing so by 55 centimeters, or 21.7 inches. His jump was so impressive that it exceeded the capabilities of the available measuring equipment, but when officials found tape measures to confirm the distance, the then-22-year-old athlete had his name in the record books.
As further noted, Beamon's record was partly fueled by a "perfect storm" of factors that made it easier for him to put up such a figure. Aside from the fact that Mexico City is well above sea level, the weather conditions at that time resulted in the maximum allowable wind assistance of two meters per second. Still, it was an astounding leap for a man who nearly failed to make the Mexico City Olympics after fouling twice during the qualifying round.
Someone else beat Beamon's world record, but his Olympic record still stands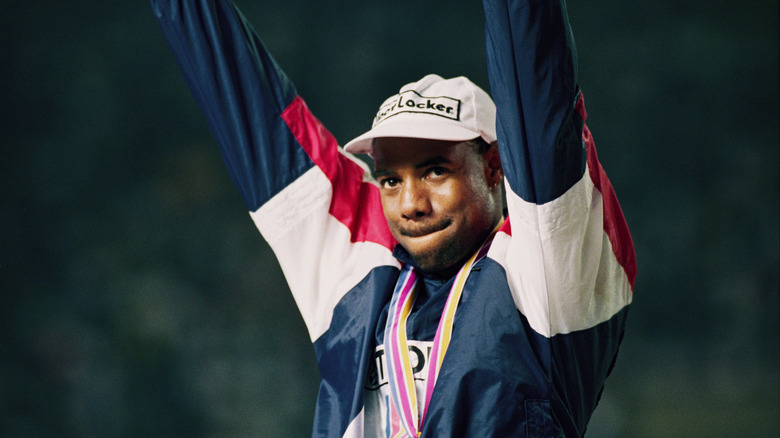 Mike Powell/Getty Images
With his 8.90-meter leap, Bob Beamon also became a world record holder in the long jump at the 1968 Olympics. More than two decades later, however, another American athlete shattered the world record at the 1991 World Championships in Athletics in Tokyo. According to Track and Field News, Mike Powell had an epic battle in the long jump against countryman Carl Lewis.
In his fourth out of six jumps, Lewis had actually leaped 8.91 meters, but the wind assistance was slightly too much for it to count as a new world record. With Lewis in the lead at that point, Powell made history with his fifth jump, which was measured at 8.95 meters, or 29 feet and 4.5 inches. That allowed him to break Beamon's 23-year-old world record as he narrowly defeated Lewis in the event. Making the accomplishment even more impressive was the fact that the 1991 World Championships were held in a low-altitude setting, unlike the 1968 Olympics, where Beamon set his record more than 7,000 feet above sea level. 
Even with all that in mind, it's still amazing that after 53 years, Beamon's Olympic record still stands.