How Hall And Oates Really Felt About Their '80s Music Videos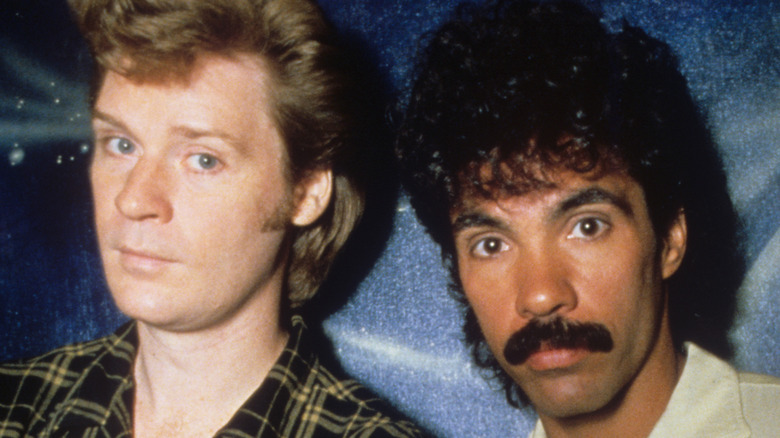 Luciano Viti/Getty Images
In the 1980s, before the internet, there was cable TV. Not the same thing at all, but one thing cable TV had in common with the internet was that it was the place to stay on top of pop culture, especially thanks to the pioneering music channel known as MTV. MTV changed much about the way people consumed music after its launch in 1981. It wasn't just about what a singer or band sounded like anymore; their image, style and looks started to play heavily on the way they were perceived by the public, and a new art form was born.
Music videos helped launch some stars' success early in their careers, from Madonna to Guns N' Roses, according to NPR, and even though pop/R&B duo Daryl Hall and John Oates had already had hit songs with "Sara Smile," which peaked at #4 on the Billboard charts in 1976 along with "She's Gone," which made it to #7 on Billboard's list in the same year, it wasn't until after the launch of MTV and those now classic '80s music videos that Hall and Oates managed a string of number one hits.
Yet the duo did take the initiative to make their own music video before MTV, for "She's Gone." According to The Guardian, that supremely odd video from 1973 may have given Hall and Oates a slight leg up when the '80s music video craze came knocking.
Hall and Oates weren't fans of their '80s videos
In 1981, the same year that MTV debuted, Hall and Oates released videos for songs "Kiss on my List" and "Private Eyes." Both songs hit number one on the Billboard chart. In 1982, "Maneater" peaked at number one, as did "I Can't Go For That (No Can Do)." Other Hall and Oates songs that came along during the height of music videos during the 1980s, like "You Make My Dreams" and "Out of Touch," also went high on the charts, according to Billboard.
But to hear Daryl Hall and John Oates tell it, they were not fans of making music videos. According to Rob Tannenbaum and Craig Marks' 2012 book "I Want My MTV," Hall once said, "I'm not a big fan of any video, especially my own. Visuals are distracting. When the eye and ear compete, the eye always wins." 
Oates wasn't a fan of making videos either, telling Entertainment Weekly, "... when we were doing the videos back in the early days of MTV, you know, I said "Man, I'm glad I'm a musician and not an actor." I couldn't handle it. I'm not used to being someone else other than me... "
But even with all the success of Hall and Oates' '80s music videos, Oates told Yahoo News the "She's Gone" video, which was never aired in the 1970s, is still his favorite. Oates chuckled, "to this day I think it's really a work of performance art."