The Real Reason Spider-Man Visited The Pope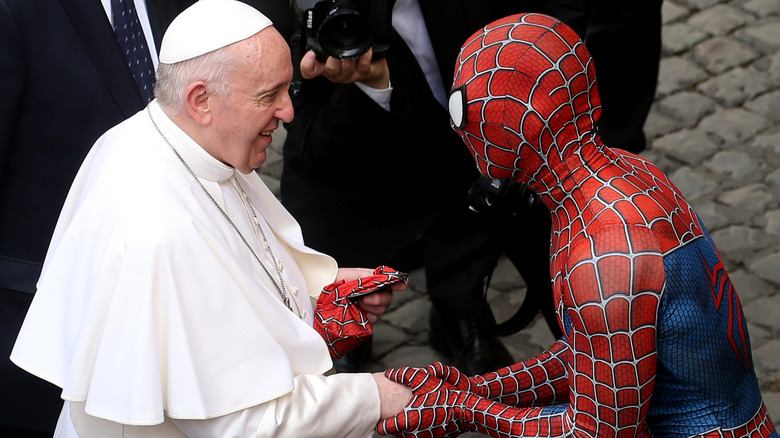 Franco Origlia/Getty Images
Unless you're at a particularly interesting costume party, it's unlikely that anyone would see Spider-Man and the Pope anywhere near one another, but that's just what happened on June 23, 2021 at the Vatican. Per AP News, Matteo Villardita, a man who dresses as Spider-Man and visits hospitalized children to cheer them up, joined the rest of the crowd at Pope Francis' regularly scheduled weekly Wednesday gathering. During the papal audience, held outdoors in a courtyard, the pope typically speaks to the assembled crowds.
Villardita was reportedly planning to visit the children's ward in his Spider-Man costume later that day and had stopped off to ask the pope to pray for the hospitalized children and their families. He even gave Pope Francis a Spider-Man mask of his own, which is visible in the photograph above, and told a reporter he had done so "as a sign, to tell him that through these eyes I daily see pain from sick children in hospitals."
'Pope Francis immediately understood my mission'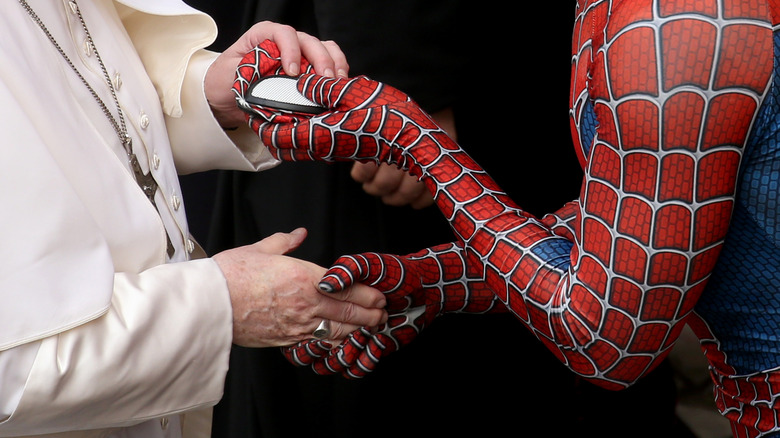 Franco Origlia/Getty Images
As reported by AP News, Villardita considered his meeting with Pope Francis to be a success, telling reporters, "It was very exciting because Pope Francis immediately understood my mission." Vallardita continued that very mission — making children smile — by taking selfies with the children gathered alongside him in the Vatican courtyard to hear Pope Francis speak. The Vatican later responded to the superhero's appearance by calling him a "really a good super-hero" and praised Vallardita's statement that he had made over 1,400 virtual visits to hospitalized children over the course of the pandemic lockdown. 
According to the Daily Mail, Villardita, 28, is a former pediatric patient himself who underwent several surgeries as a child to treat a congenital disease. He also suffers from Crohn's, reports America Magazine. When he's not holding down his day job at an Italian terminal shipping company, he leads an association for other people who dress up as superheroes and visit hospitalized children. His Instagram account has more than 32,000 followers and includes several pictures of Villardita posing with children in his Spider-Man costume.
And while the Vatican praised Villardita, the Italian government has taken notice as well. According to America, the president of Italy awarded Villardita the Order of Merit of the Republic in acknowledgement of his commitment to sick children.