What We Know About The Death Of Skid Row's Johnny Solinger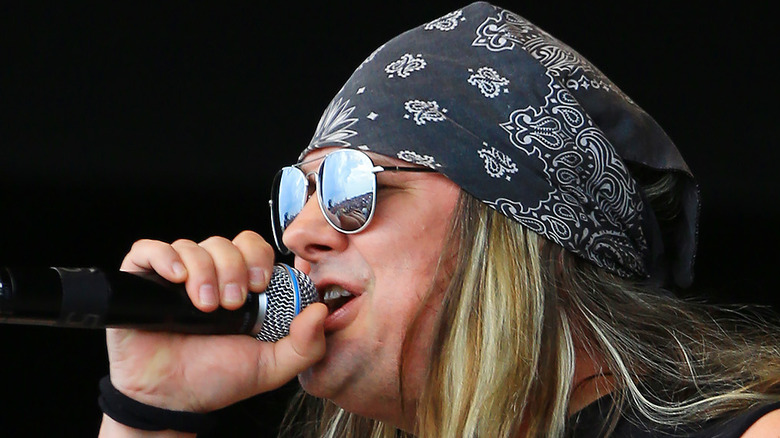 Jason Squires/Getty Images
On June 26, 2021, fans were shocked to hear that former Skid Row frontman Johnny Solinger died that day at the age of 55. While he may not have the name recall of classic-era lead singer Sebastian Bach, Solinger was actually the longest-serving vocalist in Skid Row's history, having fronted the band for 16 years until he left in 2015 (via Loudwire). During his tenure with the veteran rockers, they released two full-length albums and two EPs, and Solinger also offered his own twist on one of Skid Row's biggest hits, as the band's 2003 album "Thickskin" featured the song "I Remember You Two" — a fast-paced version of the 1989 power ballad "I Remember You."
"We are saddened to hear the news of our brother Johnny Solinger," read a Facebook post from Skid Row announcing the singer's passing. "Our thoughts are with his family, friends and fans. Godspeed Singo. Say hello to Scrappy for us." The latter was a reference to Solinger's grandfather, Willard Jesse "Scrappy" Smith, and the musician's solo country EP, 2014's "Scrappy Smith."
Although Solinger's official cause of death has yet to be confirmed, he did reveal some grim news about his health about a month and a half before he died.
Solinger was recently diagnosed with liver failure
Gary Wolstenholme/Getty Images
In a Facebook post dated May 8, Johnny Solinger announced to his fans that he had been hospitalized for about a month due to liver failure and that his prognosis wasn't looking too good. He also lamented the fact that, much like many other professional musicians, he didn't have health insurance, thus making it hard for him to get the care he needed. "I am currently under at least seven different medications and I need to have my abdomen drained off fluid that gets accumulated every couple of days," he added. "I have lost a lot of strength and will require physical therapy as well."
Due to the financial strain his hospitalization was putting on his family, Solinger mentioned that he was planning to organize a fundraiser to help defray the expenses for his hospital bills and palliative care. He expressed hopes that his friends would help with the initiative and ended his post by saying that he would soon be sharing a link for fans to make donations. 
That same day, Solinger's friend Brian Lawrence launched a GoFundMe campaign for the singer, though it has only raised $17,150 of its $100,000 goal as of this writing. It also appears that Lawrence has edited the title of the campaign to indicate that the funds will be used for Solinger's funeral expenses.