Here Is The Dress Code Members Of The US Women's Gymnastics Team Must Follow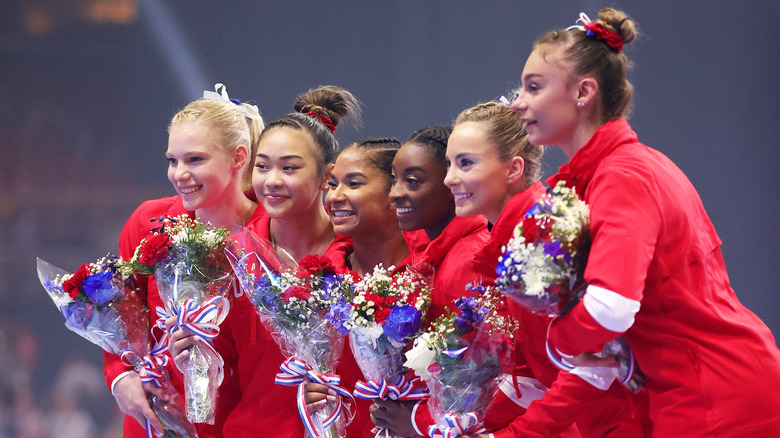 Carmen Mandato/Getty Images
For some athletes, the clothing they wear — on the way to the stadium before a game, at a post-game press conference, or even in their personal everyday lives — can be as much a part of the conversation about an athlete as their performance on the field. For example, uniforms often incorporate insignia from the sport's sponsors, and anything that covers or defaces the sponsor's regalia, or promotes a competing business, could land the athlete who wears it in hot water with their league. Similarly, as WABE reported, members of a WNBA team created controversy in 2020 when they were photographed wearing "Black Lives Matter" T-shirts.
For the athletes on the United States women's gymnastic team, who will be representing their country at the 2020 Tokyo Summer Olympics in 2021, the dress code is a bit open to interpretation. While it forbids clothes that would look untoward on any high-profile athlete — such as stained or torn garments — the rules, made available via the rulebook posted on the USA Gymnastics website, don't mention sponsors or politics. However, the guidelines do mention what is not allowed during competitions.
U.S. women's gymnasts are banned from certain clothing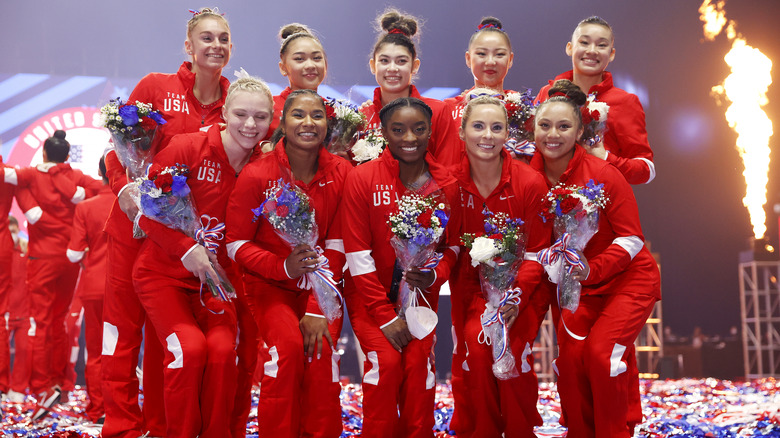 Jamie Squire/Getty Images
The section of the U.S. Women's Gymnastics Team's rulebook that covers dress is remarkably short, but does list specifics about what is "inappropriate attire."
Besides being "well groomed," the female athletes are expected to dress "in the proper attire." Team members are asked not to wear anything that exposes the midriff or hipbone. "Backless leotards, leotards with 'spaghetti' straps, T-shirts, or Boxer shorts" are prohibited. Also on the banned list are tennis shoes or any shoes not deemed correct for gymnastics footwear. Stud earrings, one in each ear, are allowed, but no other piercings can be visible. Female team members risk a penalty if any of the clothing guidelines are not followed.
For what it's worth, the men's rulebook also contains a section on appropriate dress, both during competition and at times when the team members aren't necessarily competing on the floor.