The Truth About The First Modern Olympic Death
Despite all of their preparation and training, athletes at the Olympics are not immune from life-threatening, even deadly health problems. That's what happened to Francisco Lázaro, a marathon runner from Portugal. He became the first athlete in the modern history of the Olympics to die at the games.
Lázaro competed in the 1912 Olympic Games in Stockholm, Sweden. A seasoned runner, Lázaro came to the games as a three-time national champion (via The National). Like many amateur athletes, he had to work to support himself while he pursued his passion for running. For the 22-year-old Lázaro that meant spending his days as a carpenter in a car factory. He seemed to be a healthy young man from all appearances, and he had a certificate from a doctor saying that he was fit enough to compete, according to the Association of International Marathons and Distance Races.
On July 14, Lázaro started the marathon, but he wouldn't make it to the finish line. It was a hot summer day when the race began. He showed signs of being in trouble at the half-way point (via the Olympics), and he then collapsed on the course after running about 30 kilometers (close to 19 miles) and was taken to Seraphim hospital. He never regained consciousness and died at the hospital the following morning.
Olympic marathon proves deadly for Francisco Lázaro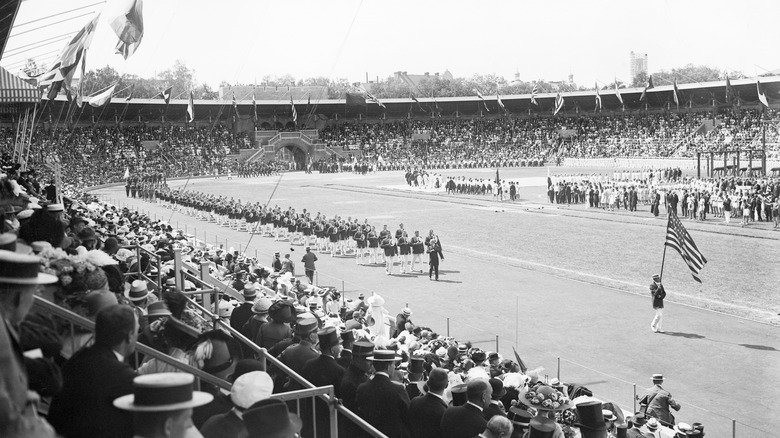 Bettmann/Getty Images
In addition to the heat of the day, Lázaro may have made his own health situation worse. He decided to cover his body in wax, believing that it would reduce his sweating (via Mental Floss). Some sources say he used grease. But in any case, he thought that covering his body would make him sweat less, and that this reduction would improve his performance. This strategy proved to be deadly. Lázaro had a temperature of 106 degrees Fahrenheit when he collapsed. Sources vary on the exact cause of death, but it seems that heat exhaustion, sunstroke, heart problems, and a possible electrolyte balance contributed to Lázaro's untimely demise.
News of Lázaro's death shocked his fellow athletes and sports fans alike. Roughly 23,000 people turned out to say good-bye to the fallen runner at a special memorial service at Stockholm's Olympic Stadium held on the weekend after his passing (via the Olympics). A collection was taken up for his wife, which brought in approximately $3,800. At his funeral in Portugal, thousands of people attended to honor the late athlete.