Madam C.J. Walker Was The First To Accomplish This
Madam C.J. Walker was an entrepreneur and philanthropist best known for inventing a line of hair products that made her successful. Although she had luxury later in life, it wasn't always that way. She was born Sarah Breedlove in 1867, the fifth of six children, to Owen and Minerva Breedlove. Sarah's parents worked as slaves at a plantation in Louisiana but were later freed after the issuance of the Emancipation Proclamation, making Sarah the first of the Breedlove children to be born free (via Biography).
Little Sarah was orphaned at 7 years old, and she lived with her older sister Louvenia and her husband after her parents' death. Sarah toiled at the cotton fields in Mississippi, where the three moved. At 14 years old, she decided to get married to Moses McWilliams in order to escape her abusive brother-in-law, according to Britannica. The couple had a child together, A'Lelia, but Moses died in 1887, leaving Sarah to raise their 2-year-old child by herself.
In 1889, Sarah and A'Lelia moved to Missouri, where Sarah's brothers worked as barbers. There, she supported herself and her daughter by cooking and doing laundry. She married John Davis in 1894, but the union was short-lived and ended in divorce, according to Women's History.
Madam C.J. Walker's success
After two marriages and working hard to stay afloat, Sarah was struggling. In 1904, she started work as a sales agent for Annie Turnbo Malone, the inventor of "The Great Wonderful Hair Grower." Sarah also used the product as she started losing her hair, which was common at the time. In 1905, Sarah Breedlove married Charles Joseph Walker and changed her name to Madam C.J. Walker (via Madam C.J. Walker).
It was about the same time when Madam C.J. decided to start her own hair care business with an investment of $1.25. She said the formula for her product came to her in a dream. "A big black man appeared to me and told me what to mix up for my hair," she once said. In her dream, her hair grew after she followed the man's instructions, per PBS. And so, she created the product and called it "Madam Walker's Wonderful Hair Grower."
Madam C.J. Walker advertised her hair product by going door to door and placing ads in newspapers. Success came little by little, and by 1910, she was able to build a salon, beauty school, and factory in Indianapolis. Madam C.J. Walker was thriving, and the success of her method, called the Walker System, allowed her to further expand the business with other hair products, including combs, lotions, and pomade (via History).
From rags to riches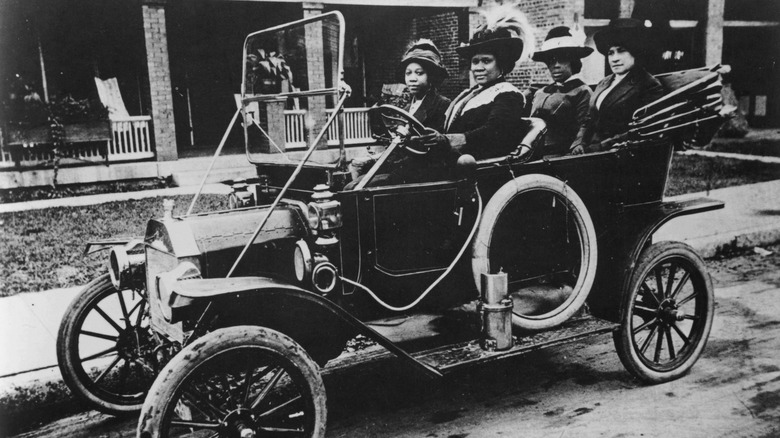 Smith Collection/gado/Getty Images
As C.J. Walker's business grew, so did her wealth. She was able to procure properties in different places, one of which was in Irvington, New York, where she lived among the rich in her own mansion. Despite her wealth, Madam C.J. Walker never forgot where she came from and was a known activist, fighting for Black rights, as reported by Smithsonian Magazine. She was also a philanthropist and donated to several African American schools, especially in the South.
In 1912, Walker talked about her road to success. "I am a woman who came from the cotton fields of the South. From there I was promoted to the washtub. From there I was promoted to the cook kitchen. And from there I promoted myself into the business of manufacturing hair goods and preparations... I have built my own factory on my own ground," she said (via Madam C.J. Walker).
According to Smithsonian Magazine, Madam C.J. Walker's personal fortune was approximately $700,000 at the time of her death in 1919. However, her company's worth added to that amount, which topped $1 million. This achievement made Madam C.J. Walker the first self-made African American to become a millionairess (via Guinness World Records).