The Time Wild Bill Hickok Battled A Bear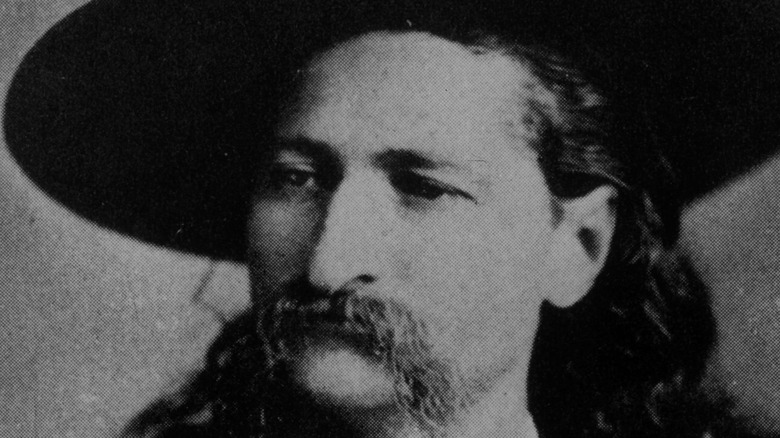 Hulton Archive/Getty Images
"When legend becomes fact, print the legend," goes the famous line from John Ford's classic western "The Man Who Shot Liberty Valance." The sentiment is a perfect encapsulation of how the U.S. has come to engage with the history of the Old West, which has become an era offering writers, filmmakers, and musicians alike a rich seam of storytelling in which fact mingles with fiction, and folklore with historical "truth." As time passes, fading memories are often exaggerated and embellished, until past events become permanently recast in mythic proportions.
But legends aren't always generated after the event — in some cases, those involved make a concerted effort to self-mythologize in an effort that their names might be passed down through the generations. And there have been few figures to ever match the talent for self-mythology of one James Butler "Wild Bill" Hickok, whose gift for fabrication has become almost as legendary as the feats he purported to undertake.
In "Wild Bill Hickok: The Man and His Myth," Hickok biographer Joseph G. Rosa notes the famous gunfighter's proclivity to claim in interviews that he had killed over 100 men — the truer figure, in fact, was perhaps six or seven (per True West Magazine). The advent of revolvers made killing in the Old West more common than ever, and the public was willing to believe Hickok's claims, seeing him as a symbol standing against the extreme lawlessness endemic in the country at the time.
The truth of Wild Bill Hickok's bear attack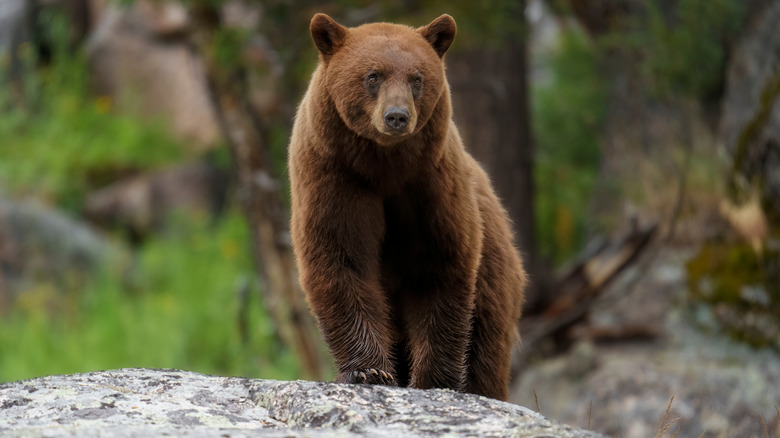 Shutterstock
Apart from Wild Bill Hickok's famous gunfights, there is one earlier incident with which his legendary reputation for bravery, cunning, and deadliness is inevitably framed: His battle with a ferocious bear while working as a teamster between Leavenworth and Denver City, according to Joseph G. Rosa. Though the incident nearly killed him, was one of the events of his early life that came to establish the "wildman" legend that surrounded him in the years that followed.
On an excursion in 1859 or perhaps 1960, it is commonly held that Hickok and his company encountered a large cinnamon bear with two cubs. Hickok, who was deemed too big to ride, approached the animal on foot, believing that it would turn and run. However, protective of its cubs, the bear instead attacked Hickok, crushing his body and coming close to biting through the gunslinger's arm. For his part, Hickok attempted to kill the bear with his revolver, but his bullets ricocheted off the bear and angered it further. According to the legend, Hickok then engaged the bear in hand-to-hand combat, and finally defeated it by slitting its throat. Hickok was badly injured, and had to spend months recuperating.
Rosa, however, states that scholars agree the story is fictional, and that surviving animal attacks is a common folkloric flourish that serves to "set apart" such legendary figures. But as they say, isn't it better to print the legend?