The Truth About The Pappygate Bourbon Heist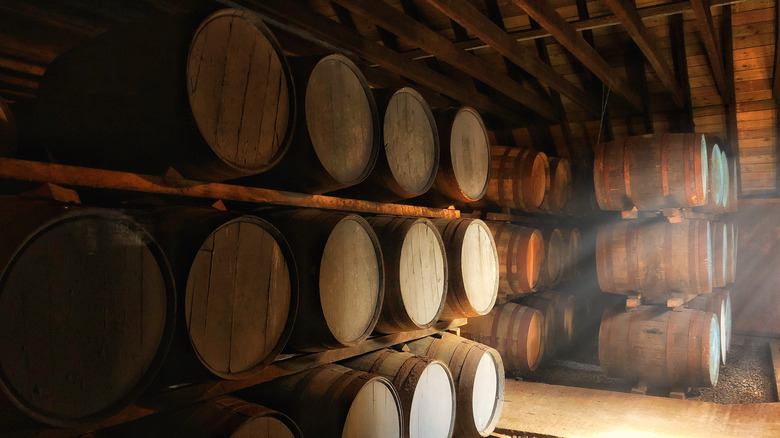 Shutterstock
In 2013, more than 200 bottles of the rare Pappy Van Winkle bourbon disappeared from the Buffalo Trace Distillery in Kentucky. The incident was dubbed "Pappygate" and will be one of the subjects of Netflix's documentary entitled "Heist." The value of the stolen goods amounted to $26,000 and for years, investigators worked hard to identify the culprit, according to WKYT.
The Pappy Van Winkle brand is a gem in the bourbon world and its name was boosted after scoring 99 out of 100 from the Beverage Tasting Institute (BTI). A bottle of Pappy Van Winkle's Family Reserve Bourbon 23 Year Old can cost at least $300, per The Bourbon Bard. It also doesn't help that the distillery only produces about 7,000 cases of Pappy Van Winkle each year, making it a rare commodity (via Mixer Direct.) This is why enthusiasts pay thousands of dollars to get their hands on Pappy, with some even resorting to the black market to get a taste of the sweet, oaky goodness.
When bottles of the rare bourbon went missing, a $10,000 reward was offered to anyone who could provide tips leading to an arrest, and authorities suspected that it was an inside job, per Smiley Pete. Suspects were eventually arrested after following the lead from a tip.
Bourbon burglars identified
All in all, the heist was allegedly carried out by 10 individuals, with Gilbert "Toby" Curtsinger reportedly being the ringleader. Upon the search of Curtsinger's home, investigators found barrels and bottles of alcohol from different distilleries, as reported by NPR. Other items found revealed that Curtsinger wasn't merely a bourbon thief, he also dealt in the distribution of steroids. Not all the missing bourbon was accounted for as Curtsinger had already sold them by the time he was arrested.
Toby Curtsinger was an employee at the Buffalo Trace Distillery for years and according to him, he started stealing from the distillery in 2003, 10 years before Pappygate. There were barrels of bourbon that needed to be disposed of as they were not up to standard and Toby's supervisor gave him the task of bringing them to a facility to be discarded, per Craig Calcaterra. In jest, Curtsinger told his supervisor to give him a barrel pass so he could get the barrels through security and he would never have to see them again. Surprisingly, his supervisor did just that and he was able to take home the barrels and sold jars of them for profit.
Through the years, Curtsinger continued stealing from the distillery, but he said that theft was pretty common among the workers. Some would steal a few bottles, but he was more daring and stole barrels. However, he made sure to steal medium-grade bourbon and not the highly coveted ones.
Curtsinger barely spent time in prison
The Pappygate investigation led to the indictment of 10 people, but Toby Curtsinger was the only one sentenced to prison as the alleged mastermind. He faced 15 years in prison but only spent 30 days of incarceration due to the shock probation program. Shock probation is usually given to first-time offenders who are not threats to society, per Opinion Front. Offenders who are granted shock probation typically spend a few months in prison before being released on probation and in Curtsinger's case, one month was deemed enough.
In court, the prosecutor working on the case, Zachary Becker, didn't oppose Curtsinger's lawyer when shock probation was brought up, according to The Courier-Journal. He said, "There are too many repeat offenders, heroin and fentanyl traffickers, burglars, robbers, murderers and sex offenders who are much more deserving of this Defendant's prison cot." In addition, Curtsinger's attorney, Whitney Lawson, said that her client has "felt the repercussions of his decisions."
Toby Curtsinger will be telling his side of the story in "Heist" on Netflix. In the trailer for the series, he asks the question, "If you had an opportunity to steal if you worked in a bank with a vault wide open and nobody seeing you, are you going to do it if you don't get caught?"