Julia Child's Secret Relationship With The CIA Explained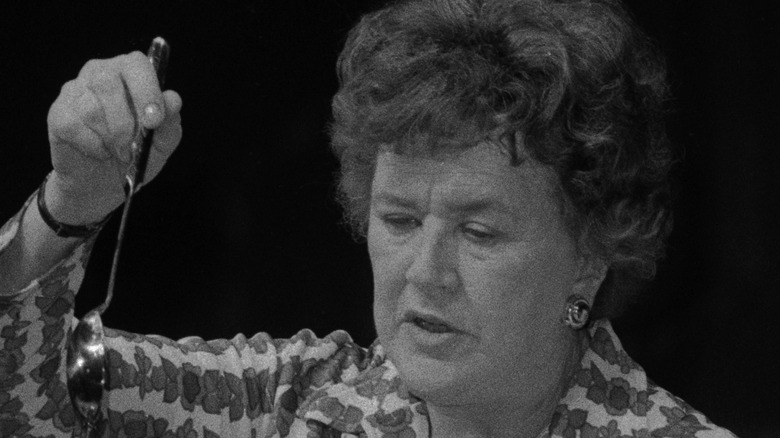 Janet Fries/Getty Images
Julia Child is an American culinary icon who, per PBS, pioneered the genre of cooking show, starting with her long-running television program "The French Chef" and introduced Americans to French food and cooking with the first of her many cookbooks "Mastering The Art of French Cooking." Well known for her beguiling personality, freewheeling yet thorough instructional style, and unabashed love of butter and cream and all things French, she is one of the most famous chefs of all time. However, Child didn't come to her love of cooking until she was in her late 30s and had an entire life before then, including a stint as an intelligence officer for the United States Office of Strategic Services, the forerunner of today's Central Intelligence Service or CIA.
Born Julia McWilliams, on August 15, 1912, in Pasadena, California, per Biography, she was the oldest of three children. According to Biography, her father was an early investor in California real estate and her mother was an heiress to a New England paper fortune. Julia graduated from the Katherine Branson School For Girls where she was known for her height (she was over six feet tall) as well as for being a prankster, athlete, and adventurer—a former classmate reportedly described her as "really, really wild." She went on to study at and graduate from Smith College and intended to become a writer. She moved to New York City after graduation and worked as a copywriter for the furniture company W. & J. Sloan. 
Julia Child had top government security clearance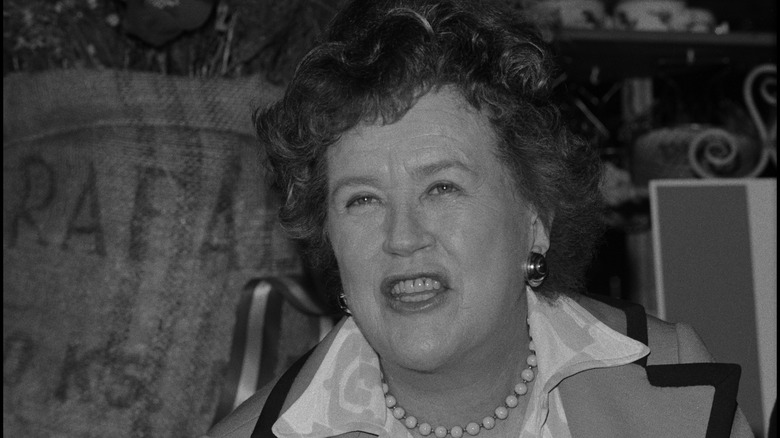 Janet Fries/Getty Images
In 1941, Julia moved to Washington, D.C. Per the CIA website, when the United States entered World War II, she volunteered to serve but was too tall to join the military. As a result, she was one of 4,500 women to volunteer with the Office of Strategic Services. She began at OSS Headquarters where she was a research assistant in the Secret Intelligence division, typing up the names of thousands of officers onto white notecards, the pre-computer, record-keeping methodology of the day. She eventually moved over to the OSS Emergency Sea Rescue Equipment Section where she helped develop shark repellent, which kept sharks from bumping into and setting off explosives intended to target German U-boats. In 1944, she was sent overseas and worked in Ceylon, which is present-day Sri Lanka, and China as the Chief of the OSS Registry. This meant she had top security clearance and access to every message coming in or going out of her office, which served all branches of intelligence.
It was in Sri Lanka that Julia met fellow OSS officer Paul Child. Per the Julia Child Foundation website, he was an "older, worldly gourmet" who introduced Julia to the world of fine food. They married in 1946. In 1948, Paul took a position with the U.S. Foreign Service which soon sent the couple to Paris, France. In 1949, Julia Child enrolled in a cooking class at the world famous Le Cordon Bleu cooking school. The rest is culinary history.