The Sad Facts Discovered In Amy Winehouse's Autopsy Report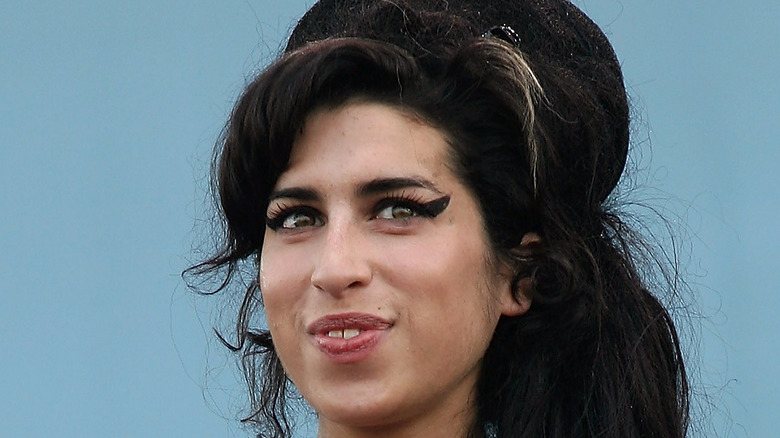 Jo Hale/Getty Images
Amy Winehouse had already been a huge name in the world of music for nearly half a decade when her millions of fans heard the shocking news of her death at the age of 27. Her second album, "Back To Black," which was released in 2006, was an international smash, spawned a clutch of hit singles including "Rehab," "Black To Black," and "You Know I'm No Good," and won her countless awards including the Grammy Award for Best New Artist and Winehouse's second Ivor Novello award.
However, in the years following the album's success, the singer, trapped in the glare of often hostile media, found her personal life — including relationship problems and addiction which badly affected her performances — increasingly treated as a public spectacle. She was found dead at her London home by her bodyguard, who claimed that in the last 24 hours of her life she had been in high spirits; though alone in her bedroom, she had been laughing, watching TV, and happily listening to music, according to The Metro.
An initial toxicology report on Amy Winehouse's body revealed that the singer had no illegal substances in her system at the time of death, but she had consumed large quantities of alcohol (via The Guardian). At the time, it was claimed that the presence of alcohol "cannot be determined as yet if it played a part in her death." However, the coroner's report went as far as to describe the tragic events as "death by misadventure."
Amy Winehouse's second coroner's report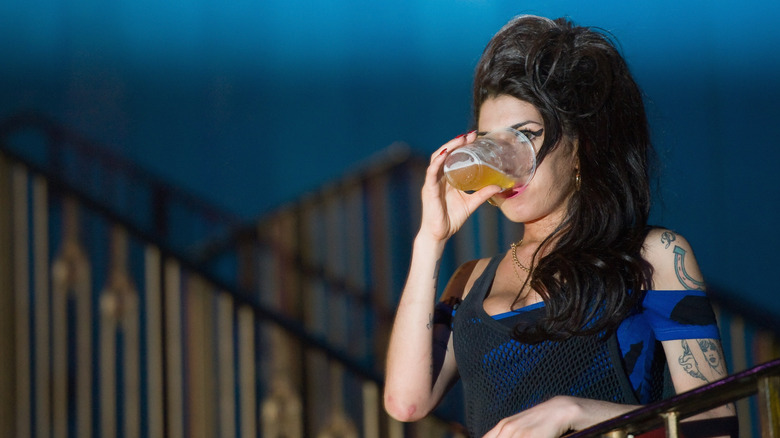 Ian Gavan/Getty Images
However, soon after the initial coroner's report was made public, it was revealed that the coroner in question did not have necessary qualifications, according to The Evening Standard, and subsequently resigned her post. A second inquest into the singer's death was then commissioned, in which the coroner's report reiterating the finding death by misadventure but went on to explain Winehouse's use of alcohol as the cause, and that the death was, at root, a tragic accident.
"She voluntarily consumed alcohol, a deliberate act that took an unexpected turn in that it caused her death," Dr. Shirley Radcliffe said (via The Guardian). Winehouse had struggled with both drug and alcohol addiction throughout her life — the coroner noted there were "two empty bottles of vodka on the floor."
In a revelation that sadly revealed just how autobiographical the themes of the Winehouse's breakout single "Rehab" were, Dr. Christina Romete, Winehouse's general practitioner, spoke at the second inquest and described how the singer had decided to avow any treatment for her alcohol addiction in the belief that such treatments might rob her of her songwriting abilities.
Winehouse had recently traveled to the island of St. Lucia, where, out of the glare of the paparazzi's cameras, she made significant steps in her recovery from addiction to various drugs, including heroin and crack cocaine. However, Dr. Romete outlined how Winehouse's abstaining from drugs was accompanied by a new cyclical use of alcohol, in which, following weeks of sobriety, the singer would regularly relapse.
Why did Amy Winehouse die?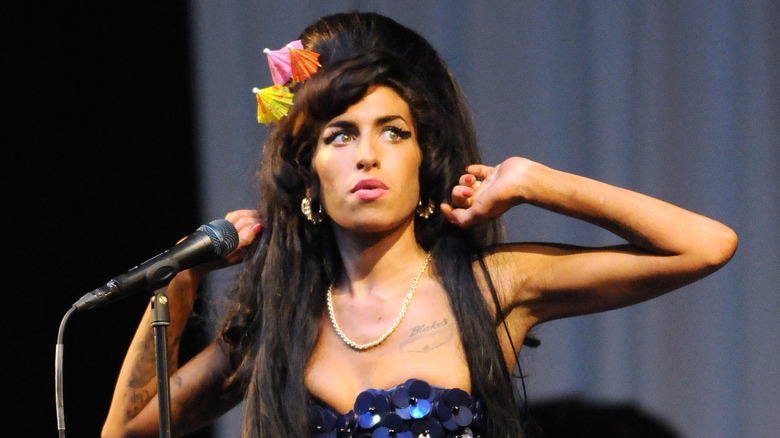 Jim Dyson/Getty Images
The sad truth of Amy Winehouse's final months is that her attempts to maintain sobriety may in fact have been a contributing factor in her tragic and untimely death. As reported by Time, the singer had avoided drinking alcohol for a month before her relapse, which may have been fatal because of Winehouse's diminished alcohol tolerance following her long period of abstinence. According to The Guardian, the amount of alcohol found in her body was 416 mg per deciliter of blood, which was enough to put her into a coma and to "depress her respiratory system." 
Amy Winehouse's older brother Alex later discussed how he believed that the singer's eating disorders also played a part in her tragic death. "She suffered from bulimia very badly ... I think that it left her weaker and more susceptible," he said (via The Guardian). "Had she not had an eating disorder, she would have been physically stronger." Alex now chairs the Amy Winehouse Foundation, to "prevent the effects of drug and alcohol misuse on young people."
If you or anyone you know is struggling with addiction issues, help is available. Visit the Substance Abuse and Mental Health Services Administration website or contact SAMHSA's National Helpline at 1-800-662-HELP (4357). 
If you are struggling with an eating disorder, or know someone who is, help is available. Visit the National Eating Disorders Association website or contact NEDA's Live Helpline at 1-800-931-2237. You can also receive 24/7 Crisis Support via text (send NEDA to 741-741).