The Truth About The Intense Manhunt Of James Earl Ray
Keystone/Getty Images
On April 4, 1968, Dr. Martin Luther King Jr. was shot and killed on a balcony of the Lorraine Hotel in Memphis, Tennessee. Although the shooter fled the scene before authorities arrived, he left his rifle behind. As reported by VOA News, authorities eventually confirmed the abandoned firearm they found was the same weapon used by the assassin. On April 19, the FBI confirmed that fingerprints found on the weapon belonged to 40-year-old James Earl Ray, who was subsequently named the primary suspect in the shooting.
As reported by ABC News, more than 3,000 agents were assigned to investigate Dr. King's murder and conduct the subsequent manhunt for Ray, a man Biography describes as "a confirmed racist and small-time criminal." The agents determined Ray left the scene on foot, got into a white Mustang, and drove to Atlanta, Georgia, where he abandoned the vehicle and got on a Greyhound bus to Detroit, Michigan. From Detroit, Ray took a taxi cab across the border to Canada.
Authorities said Ray entered Canada using a falsified passport with the name Ramon George Sneyd. He flew to London, England, on May 6 and then proceeded to Libson, Portugal, where he planned to board a ship destined for Africa.
ABC News reports that Ray was forced to return to London when he arrived late to the port and missed the ship. Left with few resources, he robbed a London bank and planned to use the proceeds to purchase a plane ticket to Belgium. 
James Earl Ray's capture, escape, and final capture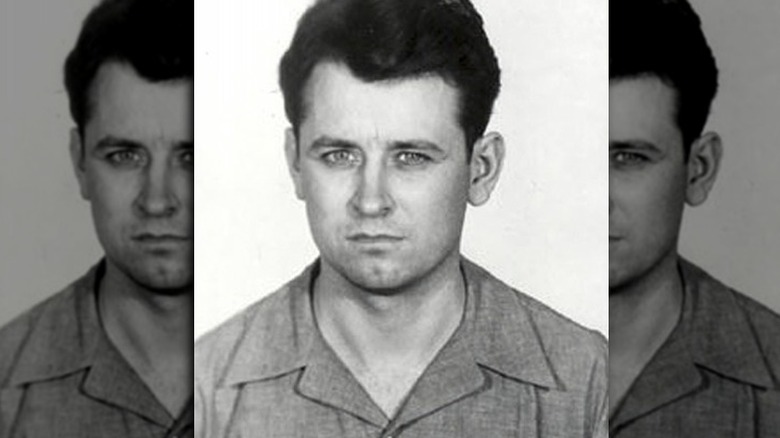 Kypros/Getty Images
As reported by ABC News, the customs official who ultimately detained Ray stopped him for being in possession of multiple passports at London's Heathrow Airport. However, the officer did not know the man's true identity, or that he was the subject of an international manhunt. During a subsequent interview with Scotland Yard police, authorities learned the true identity of their detainee. Then-FBI Director J. Edgar Hoover ordered his agents to travel to London to escort Ray back to the United States, where he was formally charged with the murder of Martin Luther King.
On March 10, 1969, James Earl Ray pleaded guilty and was sentenced to serve 99 years in prison. However, as reported by VOA, Ray later claimed he was coerced into confessing to a crime he did not commit.
Finding Dulcinea reports that Ray was serving time In Tennessee's Brushy Mountain State Prison when he planned and carried out a successful escape. On June 10, 1977, Ray and six of his fellow inmates distracted guards and scaled a 14-foot wall to escape the penitentiary. Although six of the inmates were found and captured within two days, Ray was on the run for nearly five days before he was found in the Cumberland Mountains and returned to the prison without further incident.
James Earl Ray attempted to escape at least one more time, but was unsuccessful. He died of liver disease and kidney failure on April 23, 1998.