The Real Reason Weezer Was Uncomfortable With Their First Album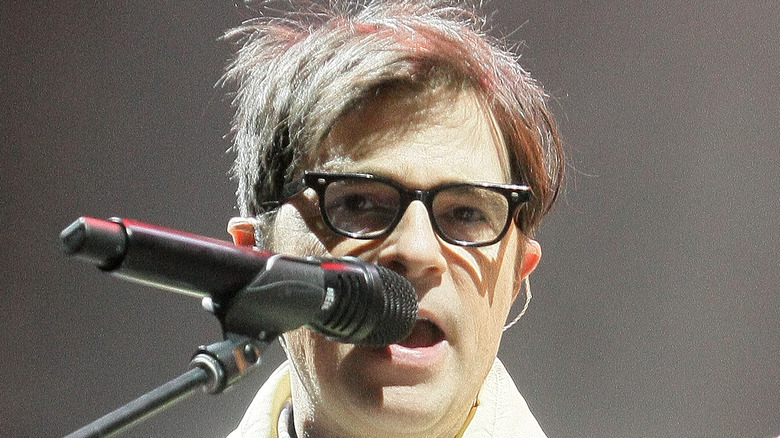 John Medina/Getty Images
Don't let those happy, poppy melodies and their nerdy and/or geeky image fool you. For close to three decades, Weezer has been crafting irresistibly catchy tunes that aren't always as sunshiny as the riffs and hooks suggest they are. For every "Buddy Holly" with a quirky video paying tribute to "Happy Days," there's a "Say it Ain't So" that deals with the alcoholism in frontman Rivers Cuomo's family. For every "Blue Album" overflowing with happy-go-lucky alternative rock hits, there's a "Pinkerton" rife with emotional anguish. And for every classic like those two albums ... there's a "Raditude," though that's another story for another time.
Even if you're not a hardcore Weezer fan, you probably know that Cuomo was not at all fond of their sophomore release "Pinkerton" for several years after it hit stores in 1995. Back in 2001, he called it a "sick" album and the "most painful" thing in his life (via Rolling Stone), though he eventually changed his tune on "Pinkerton," telling NME earlier this year that it was "supposed to be [Weezer's] magnum opus." However, in a slightly more recent interview, Cuomo revealed that he also wasn't a fan of his band's self-titled 1994 debut album at first, albeit for different reasons. Here's why Weezer wasn't comfortable with the making of the "Blue Album."
Cuomo feels the Blue Album was too polished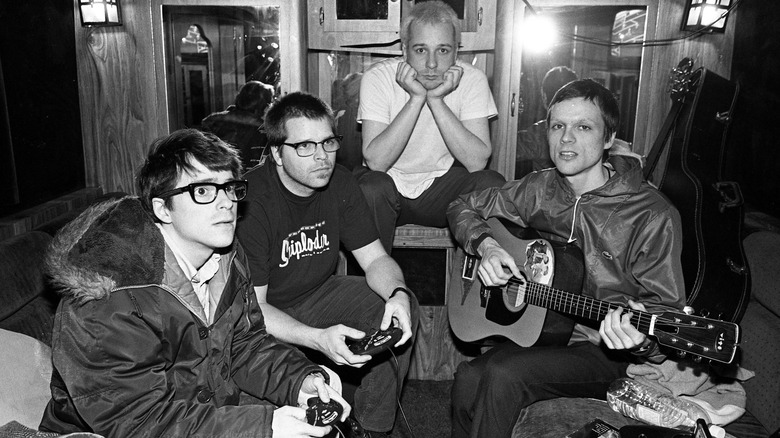 Martyn Goodacre/Getty Images
In an interview published by Guitar World on June 29, Rivers Cuomo discussed several topics, including the commercial success of the "Blue Album" and "Pinkerton's" lack thereof. He explained that he and the rest of Weezer "didn't intend" for "Pinkerton" to be a commercial flop, adding that they went for a heavier, grungier approach because they "were a little uncomfortable with the sound of our first record."
Expounding on his earlier point, Cuomo said that the songs on the "Blue Album" weren't representative of how they sounded back when they were trying to break out in the Los Angeles club scene. "We were much rougher and more aggressive — we weren't meant to be this polished, major label alt-rock band," he related. "So we kind of swung back the other way and produced the next record ourselves, and that was a lot more true to what we thought Weezer was supposed to be."
In addition, Cuomo revealed that the "Blue Album" was largely informed by the stylistic change many L.A. bands underwent in the early '90s. Once a metal musician like many of his contemporaries, Cuomo and his bandmates "all went from being metalheads to alternative guys" as they cut their hair, traded heavy riffing for lighter, catchier melodies, and headed to the studio to record their debut album. And what a debut it turned out to be, despite those initial misgivings about a cleaner, shinier sound.