The Scary Thing That Happened To Billy Idol's Eyes
In 1983, spike-haired and sneering Billy Idol had his first top-ten hit in the U.S. with the ballad-anthem hybrid "Eyes Without A Face." As we've stated here at Grunge before, the 1980s were a confusing time without the internet to look things up, and this song was no exception. As most Americans who tried to sing along at that time will tell you, the pretty female voice that leads into Idol's titular vocal was the part that many of us cried "Uncle" on, with "Hm hm hm hm hmmm" replacing whatever the actual words were. Thanks to Dangerous Minds, we now know that the voice was Idol's then-girlfriend, Perri Lister, and she was singing "Les yeux sans visage," which is French for "Eyes without a face." The title was a tip-of-the-hat to a French horror movie of the same name that Idol loved. Thank you, internet!
Idol teamed up with director David Mallet (per IMDb) to shoot a moody, atmospheric, complicated music video to promote the song and get it played seemingly every half-hour on MTV and elsewhere, as was the style in those days. If you've never seen the video before, you can and definitely should watch it. Then, please write to us and explain why that lady was rolling around while getting sprayed with a firehose while Idol apparently holds court in hell at the end. On second thought, maybe don't.
"The pain was so intense, and my eyes were gushing."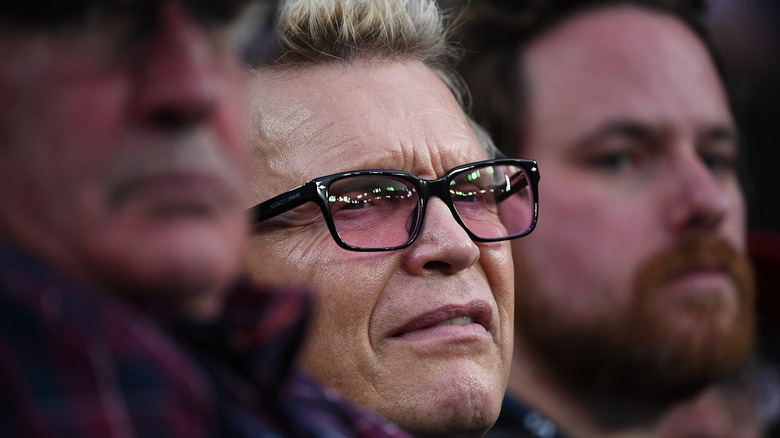 Hannah Peters/Getty Images
In his 2014 memoir, "Dancing With Myself," Idol recalled (via Ultimate Classic Rock): "Back in the 80s I wore hard contact lenses, and after shooting [the] 'Eyes Without a Face' for 48 hours, I flew to the next gig in Tucson, Arizona. At that point, I had been wearing [the contact lenses] for 36 hours. I hadn't slept that much — if at all." Yikes. Idol does look pretty tired in the closeups! Once at the venue in Tucson, he was exhausted and waiting to do his soundcheck, so he went outside to lay down in some grass in the shade, and promptly fell asleep.
"I still hadn't removed my contacts, until, without warning, I was awakened rather rudely by a sheriff pointing a gun directly at me," he continued in his memoir. "When I opened my eyes, I could only make out the outline of his weapon, while tears came pouring from my eyes. Something was wrong! The pain was so intense, and my eyes were gushing." It turned out that the lenses had fused to his eyes, due to the smoke (from the aforementioned hell fires), fog machines, and strobing lights from the video shoot, the bone-dry airplane air, and probably extreme fatigue. He was rushed to the hospital, where they bandaged up his eyes for two days to allow them to heal. Thankfully, they did, and we're all still able to enjoy those icy blues to this day!