This Is Who Michael Jackson's Billie Jean Was Really About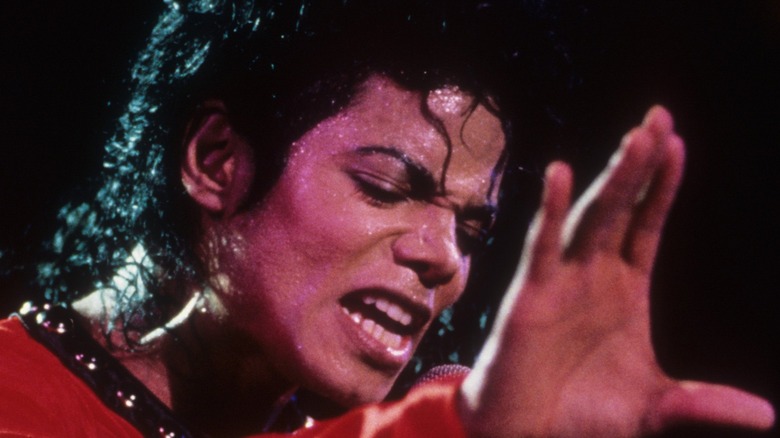 Michael Ochs Archives/Getty Images
Several of the songs that have become pop hits over the decades have been inspired by specific people who in one way or another touched the songwriter's life, for better or for worse. For example, Carly Simon famously sang "You're So Vain" about ... somebody ... and then spent the next several decades being elusive about who the song is about. Similarly, Taylor Swift's "I Knew You Were Trouble" is reportedly about Harry Styles, according to Business Insider.
In the case of the 1982 Michael Jackson hit "Billie Jean," the MTV-friendly, singable and danceable track actually contained rather dark lyrics that betrayed its more pop-friendly sound. "Billie Jean is not my lover, She's just a girl who claims that I am the one, But the kid is not my son," Jackson sang, according to Genius, about a woman who claimed that the singer — Jackson — was the father of one of her children.
In fact, the song isn't a bit of fiction: a real woman reportedly did claim that Jackson was the father of one of her children. However, the woman was a random stalker who had trespassed onto Jackson's property, and not someone with whom he'd ever had a relationship.
A deluded trespasser claimed Michael Jackson was the father of one of her twins
Famed music producer Quincy Jones was behind Jackson's 1982 mega-hit album "Thriller," which, for decades, has jockeyed with other albums for the title of highest-selling album of all time. And during the production of the famed album, as Jones would later tell The Telegraph, Jackson came up with the idea for "Billie Jean." As Jones told the story, Jackson "said it was about a girl who climbed over [his] wall and he woke up one morning and she was laying out by the pool." The woman then accused Jackson of having impregnated her.
So was there possibly any truth to the woman's claim that Jackson had gotten her pregnant? Probably not. As Jones explained, the woman lost credibility with Jackson, if indeed she ever had any at all, by claiming that the King of Pop had fathered one of her twins. And while twin children from two fathers, or heteropaternal superfecundation, as it's called, is possible, it's exceptionally rare, according to Very Well Family. Specifically, according to Biomédica (posted at the National Institutes of Health), only 19 such cases had been reported as of 2020.