The Surprising Place Alcatraz Prison Guards Lived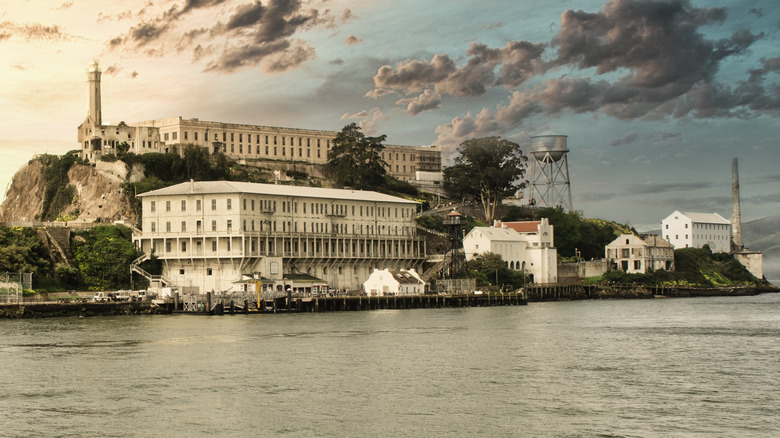 Shutterstock
Alcatraz Island, also called "The Rock," served as a prison for the most dangerous and violent criminals, some of whom included mobster Al Capone, bootlegger George "Machine Gun" Kelly, gangster Mickey Cohen, murderer Robert "The Birdman of Alcatraz" Stroud, and crime boss James "Whitey" Bulger, just to name a few (via Alcatraz History.)
The island, located in the San Francisco Bay, housed approximately 260 to 275 prisoners at a time. Prisoners were provided basic necessities — food, clothes, shelter, medical care — and nothing else. There were other privileges available, such as family visits and access to the library and recreational areas, but inmates had to earn them by sticking to strict prison rules, per the Federal Bureau of Prisons.
Just like any other prison, Alcatraz was managed by wardens and prison guards. But, since it was located on an island, employees couldn't simply go home after a hard day's work. So, where did the prison guards and other employees live?
Life on The Rock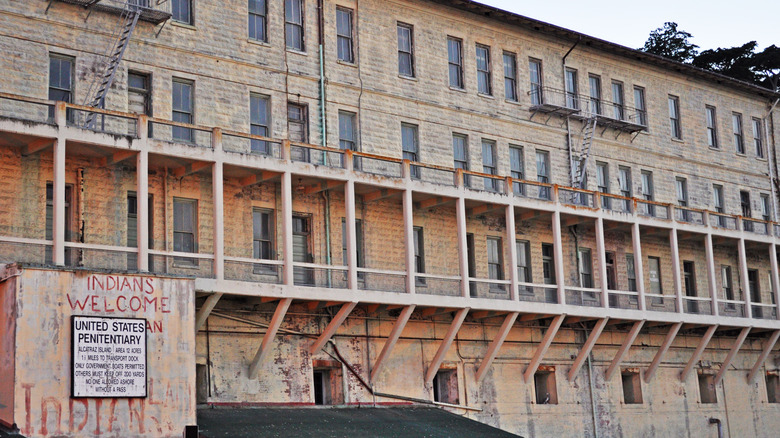 Shutterstock
According to Alcatraz History, the island had around 300 civilians living there in addition to the inmates and prison staff. These civilians were the wives and children of prison employees. Prison guards and wardens were provided lodging in the form of apartment buildings and houses located on the island. Building #64, which served as barracks during the Civil War, was the main living quarters for families, and wardens and senior officers lived in duplex homes and wooden houses. Other employees included clerks, administrators, and medical providers.
Despite having criminals as neighbors, life on the island was pretty normal for those who lived there. One employee said it was like "a small town with a big jail" (via National Park Service). There was a social club, a general store, and a bowling alley available for civilians. The children went to school in San Francisco, but instead of taking a bus, they traveled by boat daily. Entertainment was available too, as there was a stage for presenting plays, and large rooms were converted to dance halls.
Safety on the island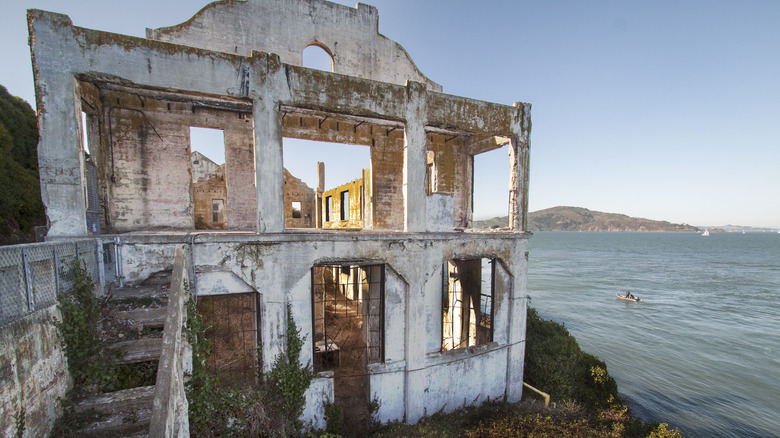 Shutterstock
The thought of being stuck on an island with hundreds of dangerous inmates can be frightening, but for those who lived there, it was a unique experience and made for a good story to tell their friends. Civilians were allowed to roam the island freely, save for some areas that were prohibited, per Mercury News. One child of a prison employee recalled living there and said he went fishing, enjoyed sunsets, and "hardly ever got bored." As for living on an island with criminals, he said, "Our dads controlled the prison, so we were not afraid."
Of course, civilians were not allowed to communicate with prisoners, but there were times when curiosity got the best of them. Ernest Lageson, the son of a former officer at the prison, said that most of the prisoners were sociable and talked to them. "Some would even chat with the kids, depending on the supervisor that was on duty," he said, per Our National Parks. And although they knew they were criminals, they were "at ease" with them. "The officers were someone's dad, so we never felt threatened," he recalled.
From afar, the island looked daunting and dangerous, but for many of the prison guards and civilians, Alcatraz was the place they called home.