You'll Never Guess The Pillsbury Doughboy's Real Name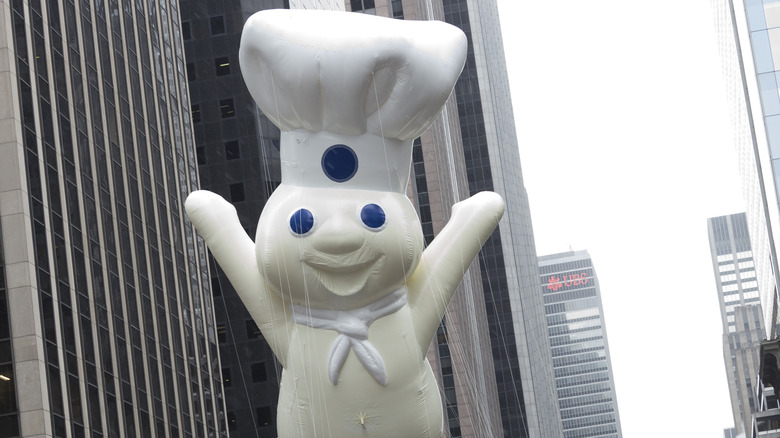 Shutterstock
Advertising mascots have surprising emotional heft. As Know Your Meme points out, the periodic rediscovery that Chuck E. Cheese's full name is "Charles Entertainment Cheese" is always good for a string of amusing social media posts, and who will ever forget the disbelief and, for some, horror when Planters killed off the 104-year-old Mr. Peanut in a car crash, leaving even CNN Business to report, "Mr. Peanut is dead for some reason." It's just part of modern life that brands, not content to simply let their mascots sell us their products, will announce that their characters don't just hawk snack, they have entire backstories, relationships, and yes, even "real names." (Mr. Peanut? Bartholomew Richard Fitzgerald-Smythe, according to Mental Floss.)
Take the Pillsbury Doughboy. Branding Times, a project of the Works Design Group, ranked him as one of the top five brand mascots of all time and notes, "nobody hates the Pillsbury Doughboy, for example, even if they are otherwise jaded when it comes to ads." It's true; the Pillsbury Doughboy's perpetual good mood, immediately recognizable giggle, and wholesome enthusiasm for baked goods has kept him in the public's good graces for over 55 years. As reported by the official Pillsbury website, the Doughboy came to be in 1965 when Rudy Perz, a copywriter working for Chicago's Leo Burnett advertising agency, imagined a character popping out of the Pillsbury can of refrigerated dough. The Doughboy's adorable design came via Milt Schaffer, an artist who had also worked for Disney and Cascade Studios in Los Angeles, who brought the character to "life" via stop-action clay animation.
The Pillsbury Doughboy introduced himself in his first ad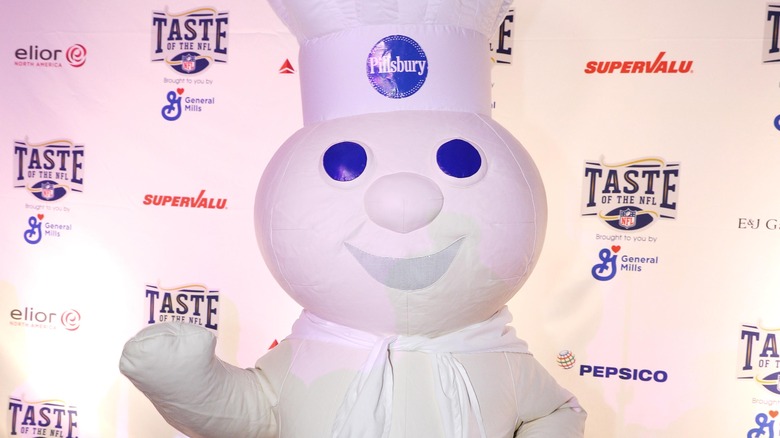 Adam Bettcher/Getty Images
Per the Pillsbury website, over 50 people auditioned to be the voice of the Pillsbury Doughboy. The job went to Paul Frees, who also voiced the character Boris Badenov on "The Adventures of Rocky and Bullwinkle" — talk about range! Within three years, the Pillsbury Doughboy had an 87% recognition rate among consumers, and at one point, he received 200 fan letters each week as well as 1,500 requests for an autographed photograph.
So what is the Pillsbury Doughboy's name? It's never been a secret; per General Mills, the very first words spoken by the character were "Hi, I'm Poppin' Fresh, the Pillsbury Doughboy!" According to Pillsbury, that first commercial appearance aired on November 7, 1965, and Poppin' Fresh literally popped out of a can of dough, just as Rudy Perz had originally imagined when he came up with the character. Nevertheless, Poppin' Fresh had his own "Charles Entertainment Cheese" moment in 2017, even getting a Buzzfeed article devoted to the shock the writer felt upon learning his name. 
Poppin' Fresh went on to appear in over 600 ads for 50 different Pillsbury products. In 1972, a Poppin' Fresh vinyl toy doll was released and it instantly became a best-selling toy. A year later, Pillsbury introduced Poppin' Fresh's family: partner Poppie Fresh, Granmommer and Granpopper, Uncle Rollie, son Popper, daughter Bun-Bun, dog Flapjack, and cat Biscuit. Per Advertising Week, Poppie Fresh appeared in some ads and the entire family was available as vinyl toys, some of which are archived at General Mills.