The Tragic Death Of Leland And Jane Stanford's Son
On May 14, 1868, Leland and Jane Stanford welcomed their only child, Leland DeWitt Stanford, into the world. The new addition to the Stanford family was widely celebrated, as the couple had been married for 18 years before little Leland came along. Jane was 39 and Leland was 44 when they were blessed with a healthy baby boy.
Per Medium, the couple was so elated and wanted their close friends to meet their new baby so they planned a small gathering at their Sacramento mansion. Bertha Berner, Mrs. Stanford's secretary, recalled in her book, "Mrs. Leland Stanford: An Intimate Account," the unusual way the Stanfords introduced the baby to their friends. The guests sat at the dinner table and a waiter brought in a covered silver platter. "The cover of the silver dish was lifted, and the baby was discovered lying in it on blossoms," Berner said.
By all accounts, little Leland was loved and pampered by his parents. According to Stanford, Leland was a curious boy and enjoyed collecting items from his adventures. The Stanfords also traveled together, visiting different places where Leland was encouraged to collect artifacts to display in their home. Despite being born in a life of luxury, the couple made sure that their son remained down-to-earth.
Leland Stanford Jr.'s childhood years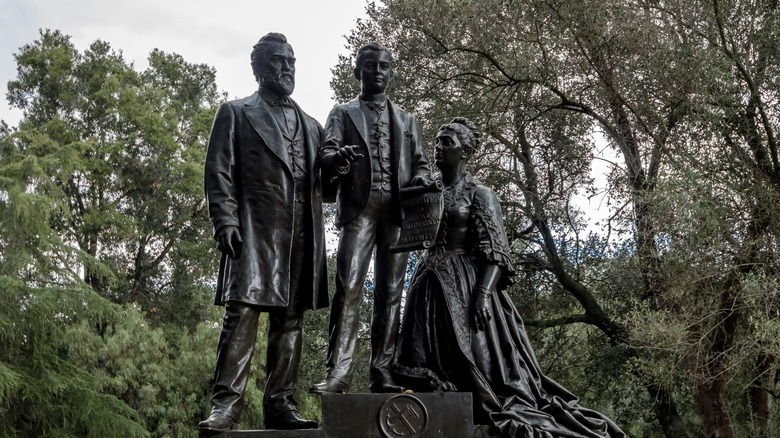 Shutterstock
When he was a little boy, Leland asked for his name to be changed from Leland DeWitt Stanford to Leland Stanford Jr. to match his father. As time went by, it was evident that Leland Jr. was growing up with the good values his parents instilled in him. He showed compassion for animals and treated his friends with care, per Medium. Leland showed great interest in sketching and was also said to be good in German, French, as well as history.
In late 1883, the Stanford family went on their second European tour. They spent Christmas in Vienna, visited museums, learned about the history of their destinations, and scoured auction houses for antiques. Leland Jr. was 15 years old at that time and preparing for his college education after the tour. By the time 1894 came, they were in Athens and it was that time when both Leland Jr. and Jane fell ill. At first, Leland Jr.'s bad health was thought to be weather-related, but in fact, he had contracted an infection.
Leland Stanford Jr.'s death and legacy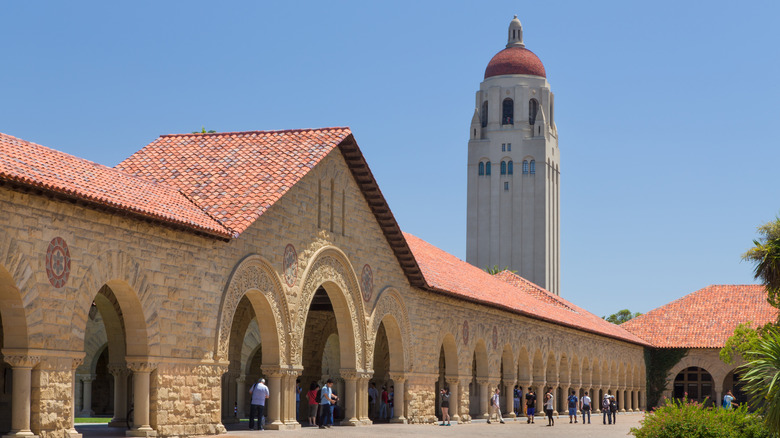 Shutterstock
Physicians examined Leland Jr. and it turned out that he had typhoid fever, a bacterial infection that is typically contracted from contaminated water or food, per Mayo Clinic. Symptoms of the illness include headaches, fever, and stomach pains. Leland Jr.'s parents called on top physicians to travel to the hotel they were staying and help their son. Leland Jr. was wrapped in ice-cold sheets to reduce his fever and people were looking after him round-the-clock. Per Medium, Leland Jr. died on March 13, 1884, only two months shy of his 16th birthday.
Leland and Mary were devastated after losing their only child. As a tribute, the couple founded the Leland Stanford Junior University in 1885 to keep the memory of their son and "to promote the public welfare by exercising an influence in behalf of humanity and civilization," per Stanford University. The university officially opened on October 1, 1891, and grew throughout the years to what Stanford University is today.