The Tragic Death Of Woody Guthrie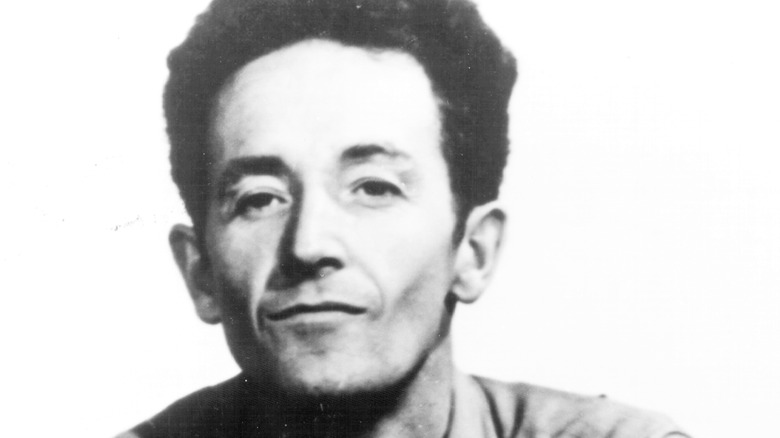 Michael Ochs Archives/Getty Images
Famed folk singer and songwriter Woody Guthrie, the man behind such songs as "This Land Is Our Land" and "So Long, It's Been Good to Know You," had his career cut short by his long battle with Huntington's disease. The Oklahoma native had taken to the road as a teenager to play his music across the country, but he had to slow down as the disease progressed. He started to show signs of the disease in the late 1940s (via Britannica), but his problems were first attributed to his heavy drinking.
Huntington's disease, which is known to be a hereditary disorder, ran in Guthrie's family. His mother, Nora Guthrie, had this disease, but the family didn't know it until after her death. According to PBS, the disease produces an unusual protein that damages brain cells, leading to a range of problems from involuntary movements (called chorea) to psychiatric conditions, such as mood disorders and psychotic episodes.
Guthrie's behavior became more erratic, and he ended up being hospitalized in 1952. He finally was officially diagnosed with Huntington's disease. Guthrie wrote his friend and fellow folk performer Pete Seeger that the "chorea keeps me just as dizzy [as whiskey] and [was] a good bit cheaper" (via PBS). At the time, the primary treatment for Huntington's disease was being placed in a psychiatric hospital, but Guthrie was released and continued his traveling ways.
Woody Guthrie spent final years in the hospital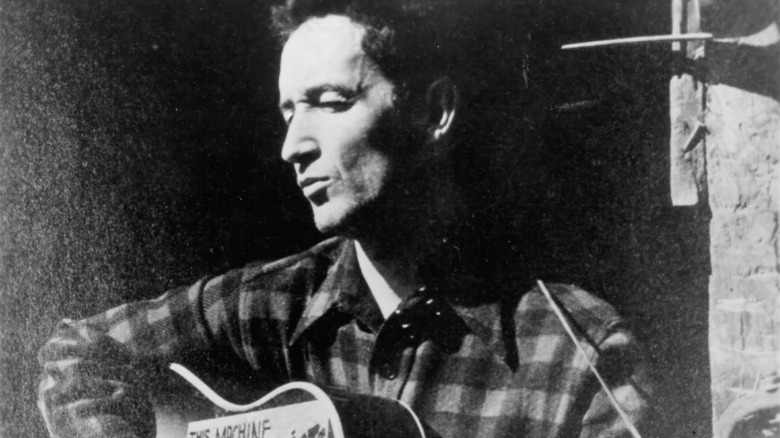 Michael Ochs Archives/Getty Images
Around this time, his second wife Marjorie Guthrie ended their marriage, but she never stopped caring for him. He then had a brief marriage to art student Anneke Van Kirk (via Woody Guthrie Publications). While with Anneke, Guthrie injured his arm in a fire in Florida (via Allmusic). The couple had one child together before splitting up. In 1954, Guthrie checked himself into Brooklyn State Hospital where he stayed for two years (via the Library of Congress). He had left the facility with the hopes of hitting the road again, but he was arrested for vagrancy in New Jersey and was committed against his will to Greystone Park Hospital where he stayed for five years.
His ex-wife Marjorie had Guthrie transferred to Brooklyn State Hospital to be closer to her home in Coney Island, New York. Over the years, she looked after Guthrie and found ways to communicate with him as his ability to speak declined (via PBS). Guthrie spent his final days Creedmor State Hospital, located in Queens, New York, where he was transferred to in 1966. Guthrie was only 55 years old when he died on October 3, 1967.
After his death, Guthrie's family decided to cast his ashes into the waters off Coney Island, New York (via UPI). He left behind an impressive legacy, including more than 1,000 songs and two novels, and influenced countless performers, such as Bob Dylan.