The Tragic Death Of Susan Peters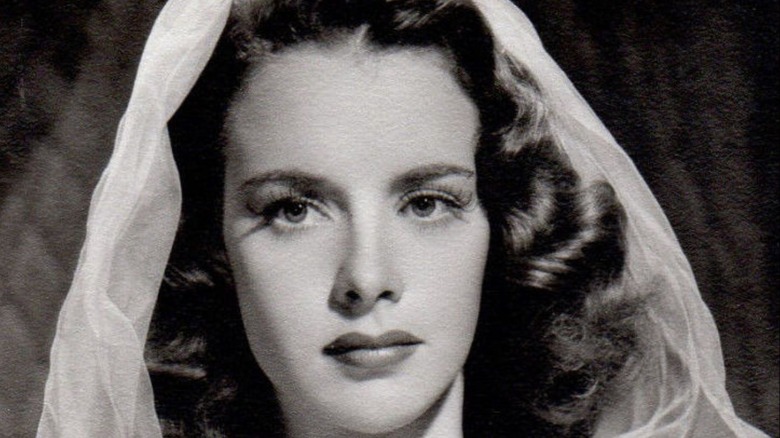 Unknown author, Public domain, via Wikimedia Commons
Susan Peters was a successful actress in the 1940s who was on her way to being a leading lady when a freak accident changed everything. Per Glamour Girls of the Silver Screen, she was born Suzanne Carnahan in Spokane, Washington on July 3, 1921. After her father died in a car accident, her mother moved her and her brother to Los Angeles, California to live with Peters' grandmother, who was a dermatologist. In her senior year at Hollywood High School, she took a drama class and acted in a school play. She was spotted by a talent agent and went on to appear as an extra in the Joan Crawford movie "Susan and God." Frustrated with her lack of good roles, she gave herself a deadline of three years to become successful; according to the IMDb, she later said, "I made a deal with myself that after three years, if I hadn't made good, I'd become a stenographer, a secretary, or try some other profession ... Hollywood is no place for a girl who doesn't make good." 
In 1942, she had a breakthrough year, appearing in five movies, including "The Big Shot" with Humphrey Bogart; "Tish," during the filming of which she met her future husband actor Richard Quine; "Dr. Gillespie's New Assistant" alongside Quine; and "Random Harvest," for which Peters was nominated for a Best Supporting Actress Academy Award. She and Quine married a year later, and she went on to appear in several more movies, including taking the female lead in 1944's "Song of Russia." 
A rifle accident and a life-changing injury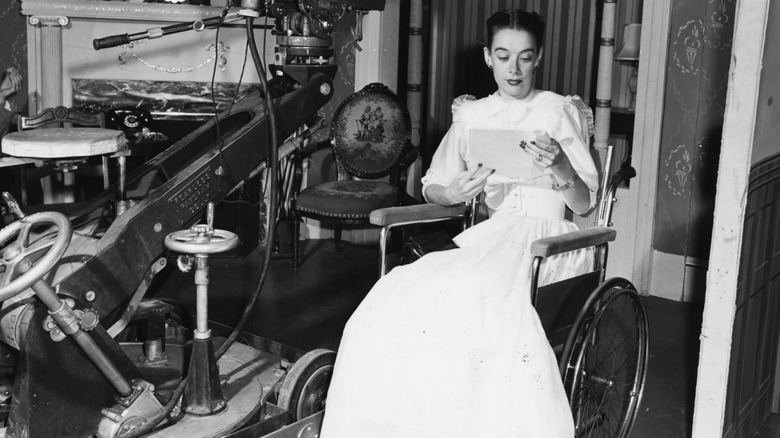 Keystone Features/Getty Images
On January 1, 1945, Susan Peters and Richard Quine went duck hunting. Carla Valderrama, who wrote the book "This Was Hollywood" about stars who faded into obscurity, told Fox News that the hunt resulted in an accident that puzzles her: "No one knows what really happened except for Susan and Richard. It wasn't impossible, but it certainly leaves you wondering how something like this could possibly happen." Per reports, a rifle accidentally discharged and a bullet lodged in Peters' spine, paralyzing her from the waist down. According to Valderrama, "Susan was an avid hunter and was familiar with guns. Her version of the event was that they left the gun under a bush. She went under the bush to get it ... Bullet fragments entered her spine. It all seems so strange. But Susan had always said she alone was to blame for it."
When it became clear that Peters wouldn't walk again, MGM started sending her scripts that incorporated her disability. Per Valderrama, "She was the one who kept turning the scripts down because she was looking for something that wouldn't just capitalize on her injury." Peters got a specially made car, continued hunting, and even started flying lessons. She and Quine adopted a son, Timothy, in 1946. Two years later, she starred in the movie "Sign of the Ram" as a woman who uses her paralysis to manipulate and control her family members. Per Turner Classic Movies, she and Quine divorced at Peters' insistence to release Quine from having to care for her.
'She really just lost the will to live'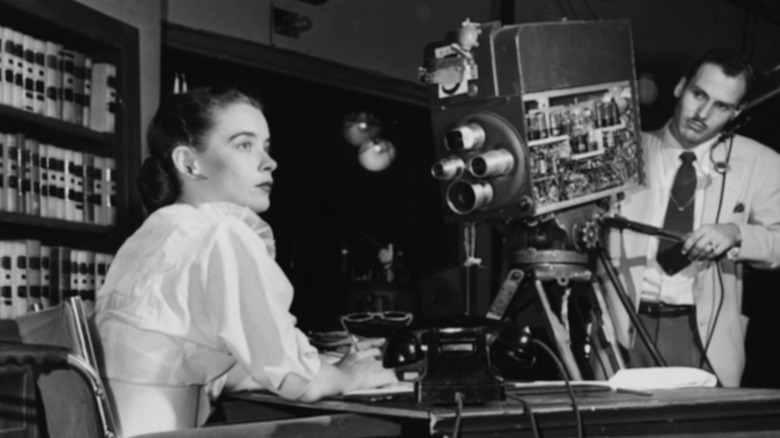 Keystone Features/Getty Images
As reported by Turner Classic Movies, Susan Peters went on to star in stage productions of "The Glass Menagerie" and "The Barretts of Wimpole Street." In 1951, she starred in the NBC daytime series "Miss Susan," in which she played an attorney who continues her legal practice after becoming disabled in a car accident. After "Miss Susan" was canceled, Peters became depressed and spent time in the hospital. She recovered and did some more stage acting, but continued to struggle with mental health issues and developed anorexia. 
Per Carla Valderrama speaking to Fox News, "Her final years were very lonely and sad. And a spinal injury can create a whole lot of other issues, which she was also faced with. Her doctor said that in the end, she really just lost the will to live. She stopped eating and drinking. I think at the end of her life, despite all of her efforts, despite advocating for people with disabilities, Susan truly believed she was a failure." Susan Peters died on October 23, 1952, after having experienced complications involving pneumonia and kidney issues. She was 31 years old.