Did Anyone Die At Woodstock '99?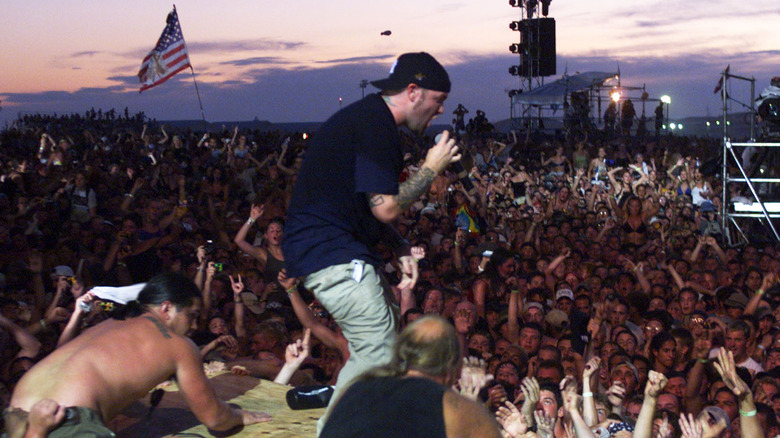 Frank Micelotta Archive/Getty Images
Woodstock '99 was a debacle on all accounts. The epic festival meant to celebrate the 30th anniversary of the original 1969 Woodstock festival that went down in history as three days of "peace, love and happiness," (with some bad trips due to some questionable LSD thrown in) got its own words. According to Rolling Stone, the 1999 festival was dubbed "the days the Nineties died." 
The problems were many. It was late July and it was hot. Water was $4 a bottle and free water from fountains was limited. Adding to the heat was a hot tarmac since the event was held at a shuttered Air Force base, and there were long walks between the stages, per Rolling Stone. 
Some of the bands fed off the energy of the overheated crowd and incited them to get wilder and to be destructive. In the pre-Me-Too climate, chants of "Show Your T*ts" were hurled at women everywhere. Volunteers with the New York State Troopers and local police walked off the job and according to Rolling Stone, there were multiple sexual assaults, but out of 44 arrests, only one person was charged with that crime. 
Finally, after days of extreme heat and frustration with the poorly run festival, the crowds started fires and flipped cars. They used merch tents and vendors set-ups to add fuel to the fires. Overall, the whole thing was a disaster. But the worst part is that three people lost their lives. 
All three Woodstock '99 deaths had different causes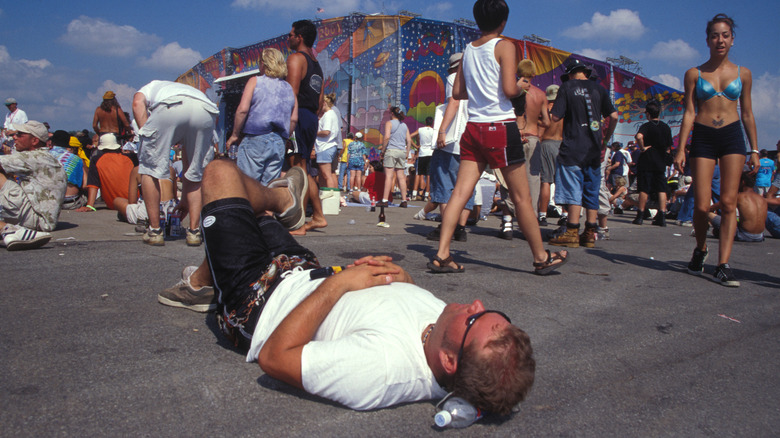 John Atashian/Getty Images
According to a 1999 MTV article, a 44-year-old man died at the Woodstock campground from a heart attack, but he had a known heart condition. The second person to die was 24-years old David G. Derosia after he succumbed to a heat-related illness at a Syracuse hospital where he was taken from the festival. 
Syracuse reported that 700 people were treated for dehydration and heat exhaustion at the festival grounds. Another 123 were hospitalized over the course of the four days of the '99 Woodstock Festival. 
The last tragic death of a Woodstock attendee didn't happen at the festival at all, but rather 55 miles away when a woman named Tara Weaver was hit by two cars after having car trouble on the way home from the event. According to MTV, the Senior Investigator of the Sydney office of the New York State Police at that time, Jim Carter, said, "She was struck, and while the driver was returning to see what had been hit, she was struck again by another vehicle."
Weaver died at the scene. Neither driver was charged. MTV reported that two other car crashes involving people who were driving home from Woodstock '99 left several people in critical condition.