The Real Meaning Of Post Malone's Motley Crew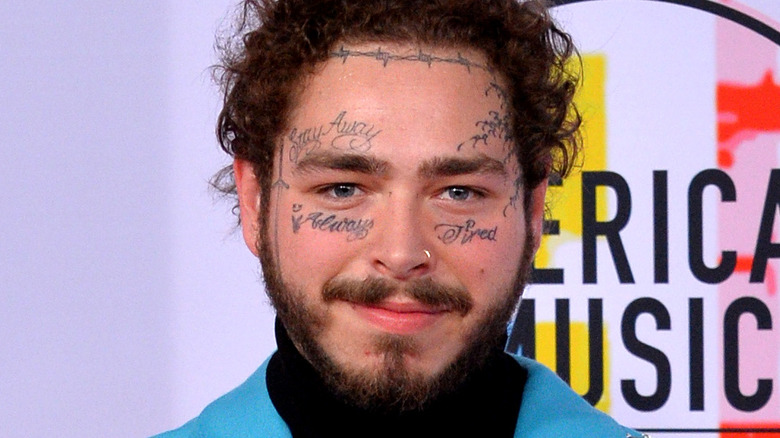 Shutterstock
Rapper and singer Post Malone debuted his latest song on July 9 (via YouTube). The track titled "Motley Crew" is a slight spin on Motley Crue — also the name of the famed '80s rock band. The four-member band was a force in the genre at their peak and was highly noted for bringing a different edge into rock n' roll. Interestingly enough, the rapper has had a few rock-influenced rap songs before, and even worked with some famous rock stars on several projects, says Loudwire. He even had a joint song named after the band's fascinating drummer and co-founder, Tommy Lee (via YouTube), who also appears in the video.
In the video for the song, which is set on a car racing track, Post Malone is seen wearing professional racing gear throughout. In one particular scene, Tommy Lee is sitting in the driver's seat of a car and beside him in the passenger seat is the Texas-raised rapper. The two groove along to the song's lyrics as Lee seemingly "races" them to the finish line. But what do the lyrics mean?
A true Motley Crew
Even with Lee's appearance in the video, and the name of the song being called "Motley Crew," the song isn't necessarily paying homage to the celebrity of the rock band. Essentially, it just makes light of the homophonic term, because after all, they are pronounced the same. For Post Malone, he actually goes to the true meaning of the term itself (which is an unusually mixed group of characters or people). 
There are other famous appearances in the video from rappers Big Sean, French Montana, Tyga, and Ty Dolla Sign. These men are in the video along with professional race car drivers, Bubba Wallace and Denny Hamlin (Yahoo! News). Post Malone repeatedly raps and sings in the song that he has a solid and an assorted group of friends: "Came with the gang, a myriad, came with the motley crew."
So with rappers, professional racers, and a famed rocker, maybe it's not so much an unusual group as they're all famous anyway, but it's probably not the gang most would expect to see together on any given day. Indeed, a motley crew.