Don McLean's Daughter Details Years Of Alleged Abuse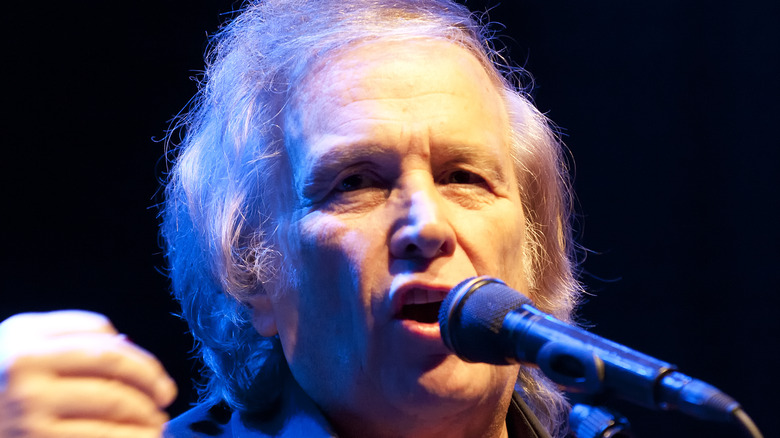 Shutterstock
Don McLean is best known for his song "American Pie," which peaked at no. 1 on the Billboard Hot 100 on January 15, 1972. It remains the longest song to top the charts in Billboard history, at 8 minutes and 37 seconds, and is a classic rock staple and a cultural touchstone, covered by Madonna in 2000 and referenced in the title of a series of raunchy teen sex comedies beginning with 1999's "American Pie," in which a high school boy has an intimate encounter with an apple (and presumably American) pie. McLean had several other Hot 100 hits, including a cover of Roy Orbison's "Crying" and the ode to Vincent Van Gogh, "Vincent (Starry, Starry Night)/Castles In The Air." According to his official website, McLean still performs live.
McLean has a daughter, Jackie McLean, 31, who fronts the indie rock duo Roan Yellowthorne. She recently made headlines due to an interview with Rolling Stone in which she discussed the trauma she experienced due to the years of mental and emotional abuse she claims her father inflicted upon her. Jackie has discussed her allegations against her father before, but she is now tackling her past through her music, having released the album "Another Life" in May of 2021. She calls the record helpful in processing her earlier life and healing: "It's basically an open diary of my own feelings and impressions and efforts to work through trauma and come out of it on the other side a happier and more functional person."
'You feel like your survival depends on it'
In the interview with Rolling Stone, Jackie McLean compared her upbringing as Don McLean's daughter to living in a cult. "It's this feeling that there's one person who is completely in charge and who's almost supernatural ... And it's not that you just want to make them happy; it's that you feel like your survival depends on it," she said. Jackie went on to allege that starting when she was a child, her father subjected her to verbal attacks, isolation, and threats of withholding love and financial support. Rolling Stone was granted access to texts, emails, and recordings of phone calls between Jackie and Don McLean and noted that they "suggest a pattern of asserting control and manipulation over Jackie, her actions and memories, and a seeming drive by the elder McLean to maintain a certain public image." Jackie's mother and Don's ex-wife, Patrisha McLean, backs up Jackie's claims, telling Rolling Stone, "Our survival in the home was dependent on making sure he was happy, managing his moods, hypervigilant." Patrisha filed for divorce in 2016 and has a 10-year restraining order against her ex-husband.
Don McLean spoke with Rolling Stone and denied all the claims of abuse from his daughter and ex-wife, admitting that he "yelled once in a while" but had apologized to Jackie, saying " "This is a young lady who will not let go of this stuff and that's her problem; really not the stuff itself but the fact that she won't put it in the rearview mirror."