Once Upon A Crime: What Happened To Elize Matsunaga's Daughter?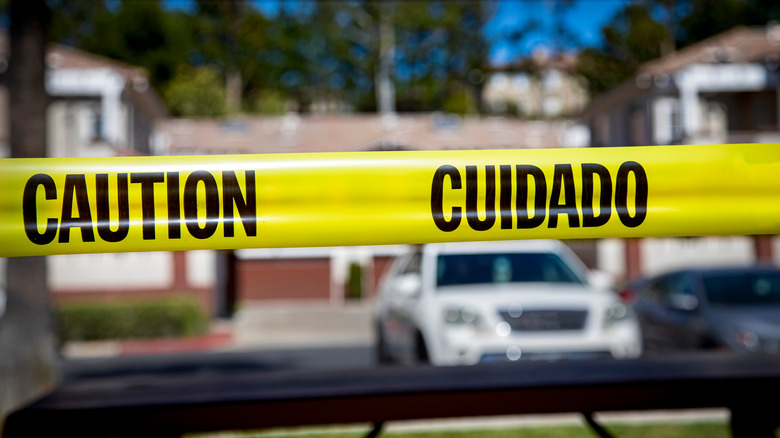 Shutterstock
The Elize Matsunaga case is another grisly Netflix true-crime documentary full of twists and turns. "Elize Matsunaga: Once Upon a Crime" provides a dateline and interviews with Elize and those familiar with the case in the four-part documentary. It's also a way to explain what happened to her daughter, Helena. Marcos met Elize on an escort website, but two years into their marriage, she discovered he was cheating and wanted a divorce. They put their issues aside once she found out she was pregnant. However, six months after their daughter Helena's birth, his pattern of cheating with escorts resurfaced. He was married with a daughter when they met.
Blue trash bags stuffed with human body parts were found along a remote road in May 2012. On May 28, the victim was identified as 42-year-old Marcos Matsunaga head. The CEO and heir apparent to the Yoki food fortune vanished May 20, the day before the company was acquired by General Mills. The first thought was a kidnapping, as he was from an extremely wealthy family, but there was no ransom request. Then Elize claimed he left her for his mistress after they fought over his infidelities. Despite playing the role of a victim, she was arrested on June 4, after phone records linked her to the crime (per Newsweek).
In Episode 1, Elize claims an argument escalated when Marcos slapped her after she countered his cheating denials with proof. He said she could leave but without Helena, threatened to put her in a sanitarium, and used her former profession to disparage her and her family. She felt threatened and allegedly shot him with one of their 33 guns in self-defense (per Netflix).
Where is Elize Matsunaga's daughter?
From the prosecutor's perspective, the murder was premeditated. In court, they brought up Elize Matsunaga's troubled childhood in Chopinzinho, Paranã, a small rural community 250 miles from Brasília, and her past as an escort to maintain the murder was planned to avoid being replaced. Marcos' death would likely grant her freedom from an unfaithful spouse. The Netflix docuseries highlights the forensic evidence, which doesn't support much of her version, but suggests she shot him once he returned from getting pizza and didn't see it coming.
The trial began on November 28, 2016, and ended on December 5. Her prison sentence for concealment of a corpse and aggravated homicide was 19 years, 11 months, and one day. But, her sentence was reduced to 16 years and three months in 2019, according to Esta de Minas.
In Episode 4, Eliza says the only person she would tell everything to is Helena. "I can't talk about everything. There's stuff here that I wasn't able to expose. That I couldn't dive into. That I couldn't put into words. And there are secrets in life that we take with us to the grave," she said, per Netflix.
The court granted custody of Helena to the paternal grandparents. Elize has not seen her daughter, but hopes she will someday. Helena is aware of what transpired, and whether Elize and Helen will unite remains to be seen (per Cinemaholic).