Dr. Death: Where Is Christopher Duntsch Today?
Christopher Duntsch was a neurosurgeon who had a sparkling CV that showed he'd earned an M.D. and Ph.D. along with his other accomplishments in the field of medicine. Duntsch was proud of his education and work ethic and was confident, even once stating in an email, "Anyone close to me thinks that I likely am something between God, Einstein, and the Antichrist," per Oxygen.
His story has been the subject of shows and podcasts, but unfortunately for his patients, not because of his exceptional surgical skills. After all, he isn't called Dr. Death for nothing. In 2015, Christopher Duntsch was charged with injury to an elderly individual as well as five counts of aggravated assault with a deadly weapon, according to PopSugar. So, how did a seemingly stellar surgeon end up facing these charges?
Throughout the course of Duntsch's career, he hurt more patients than he healed. In his two years of work in Dallas, he operated on 38 patients, and of those, 31 were left with complications and injuries after Duntsch worked on them. In most cases, the patients' conditions were worse after their surgery, as reported by Rolling Stone. In addition to those left with injuries, two of his patients died, and some were left partially or fully paralyzed after waking up from surgery.
Where is Dr. Death today?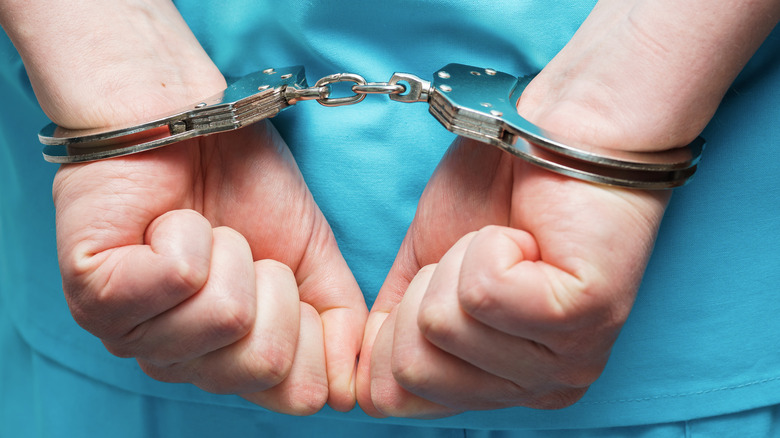 Shutterstock
One by one, Christopher Duntsch's patients complained of botched surgeries. The Medical Board eventually suspended his medical license, with a representative saying (per Texas Observer), "We've seen neurosurgeons get in trouble but not one such as this, in terms of the number of medical errors in such a short time." Duntsch was arrested in July 2015. He was found guilty of his crimes in 2017 and sentenced to life in prison.
Christopher Duntsch's case was the subject of Wondery's podcast, "Dr. Death," which was released in 2018. The show consists of interviews with his patients and other people close to the case, as well as the full story of Duntsch's crimes. The podcast has now been adapted into a TV series from Peacock starring Joshua Jackson as Christopher Duntsch, along with Christian Slater and Alec Baldwin.
Since sentencing, Christopher Duntsch has been serving time at the O.B. Ellis Unit prison in Texas. In 2018, he filed for an appeal which was rejected by the court. Per the Texas Department of Criminal Justice, Duntsch will be eligible for parole on July 20, 2045, when he is 74 years old.