The Tragic Murder Of Stanford Student Arlis Perry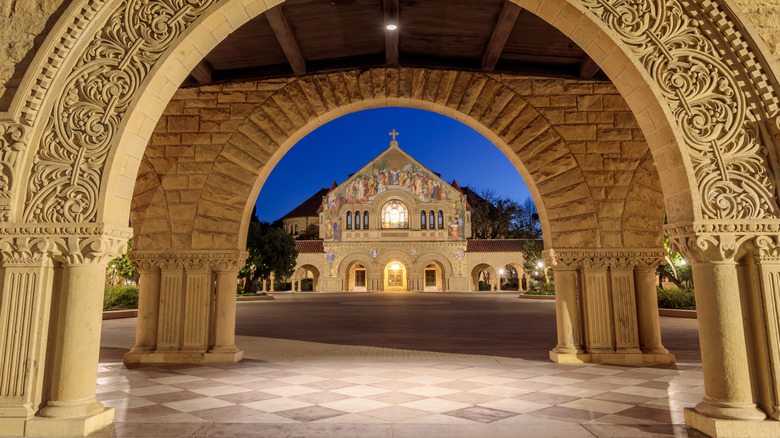 Shutterstock
In the early morning hours of October 13, 1974, the body of 19-year-old Arlis Perry was discovered inside the Stanford Memorial Church in Stanford, California. As reported by Palo Alto Online, Perry was killed with an ice pick, which was forced through her skull just behind her left ear. Authorities said the scene was specifically gruesome, as the teen's body was displayed next to the church's altar in what appeared to be a ritualistic fashion. The killer had undressed Arlis from the waist down, sexually assaulted her, and placed candles in and around her corpse. 
Witnesses said Stanford University student Arlis Perry went to the church to pray following an argument with her husband Bruce. Memorial Church custodian Stephen Crawford, who discovered the body, said he spoke with Arlis on the evening of October 12 at around 11:35 p.m. and told her he would be locking up the church before midnight.
As reported by Palo Alto Online, Stephen Crawford said he closed and locked the doors at 11:45 p.m., but he did not recall seeing Arlis Perry anywhere inside or on the grounds of the church after he spoke with her at 11:35. The following morning, he reentered the building and found Arlis brutally murdered. He immediately called the police to report the devastating crime.
Authorities found bodily fluid and a palm print at the scene. However, DNA testing would not be available for another 12 years. With no witnesses and little evidence, Arlis Perry's murder went unsolved for 43 years.
Solving the murder of Arlis Perry
The DNA collected at the scene of Arlis Perry's brutal murder was not useful in solving the crime until 2016. Authorities also did not have any confirmed suspects in the case, but Stephen Crawford remained a person of interest, as he was the last person to see her alive.
Over the next 43 years, authorities focused heavily on Crawford as Arlis Perry's killer but were unable to prove he had anything to do with her death. As reported by Mercury News, detectives interrogated Stephen Crawford a number of times between 1974 and 2016. However, an advanced DNA test, performed on a discarded piece of Crawford's clothing, gave authorities the breakthrough they were waiting for.
Palo Alto Online reports that the DNA results allowed authorities to obtain a search warrant for Stephen Crawford's apartment. When they arrived at the location, they initially talked to the suspect through the closed door. When they entered the apartment, they found Crawford with a gun in his hand.
Authorities backed out of the apartment in an attempt to diffuse the situation, but it was simply too late. Moments later they heard a gunshot from inside the apartment and Stephen Crawford was ultimately pronounced dead from a self-inflicted gunshot wound.
Although DNA confirmed Stephen Crawford killed Arlis Perry, Palo Alto Online reports his motive remains a mystery. With the exception of one arrest for theft, Crawford did not have a criminal record and was described as "normal" by his neighbors.