The Most Expensive Things You Can Do For Fun In Under 1 Hour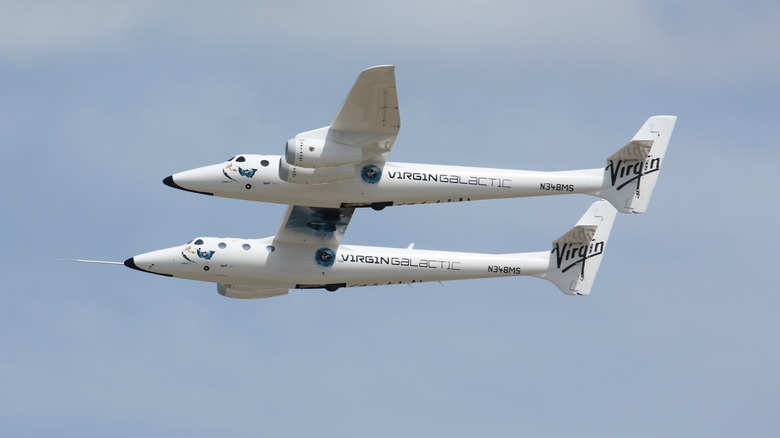 Shutterstock
While cash-strapped individuals may be a little more thrifty about their spending, those with a lot of money are typically less concerned about splurging now and then, and this can make life very interesting for those prosperous individuals. There are a lot of fun and entertaining things you can do in 60 minutes, depending on your interests (and how deep your pockets are). Imagine what you could do if you had tons of money at your disposal — how would you spend it?
If you're a thrill-seeker, there are some activities that cost hundreds and thousands of dollars for just one hour of pleasure. You can also eat meals and drink beverages that are cost-prohibitive to the average man or woman. Another entertaining one-hour activity is self-pampering, which is a common practice among the wealthy, who want to look and feel good before they head off in their private jets to their favorite island destinations. 
Some of the following activities are more expensive than others, so while you may not be able to do all of them, you may be able to save enough for one or two of them. So, instead of spending one hour reading a book, watching TV, or chatting with friends, think big (and we mean really big). Check out some of the most expensive things you can do in 60 minutes.
Skydive in Dubai or New Zealand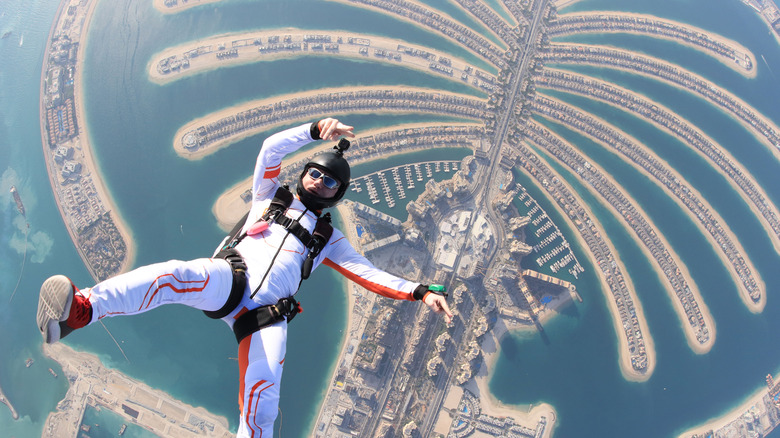 Shutterstock
In general, a skydiving excursion costs approximately $200 in the United States, according to Skydive Monroe, a company based in Georgia. But that's just the starting point, depending on where you choose to jump out of a plane. The Georgia-based company recommends people do their research before making a reservation because it's not a good idea to make a decision "based on price." After you go up into the air in the plane, many skydives include about 60 seconds of free fall and five to six minutes of flight using a parachute, according to the Long Island Skydiving Center.
Should you want a unique skydiving experience and don't mind spending a little bit more money, you may want to consider an exotic location for your first (or next) skydiving adventure. You can explore the Franz and Fox Glacier from 20,000 feet in New Zealand. It involves an 85-second free fall before your parachute opens, and you land around 300 feet above sea level, according to Everything New Zealand. The price is around $600 in New Zealand dollars, or $420 in U.S. dollars.
Another option is skydiving in Dubai. You can jump tandem (attached to an experienced skydiver) or learn to skydive by yourself. Experienced skydivers also have a lot of opportunities in the United Arab Emirates. A tandem skydive with medical insurance, video, and photos included costs 1,799 Emirati dirhams, or a little less than $500, according to Skydive Dubai.
Rent a yacht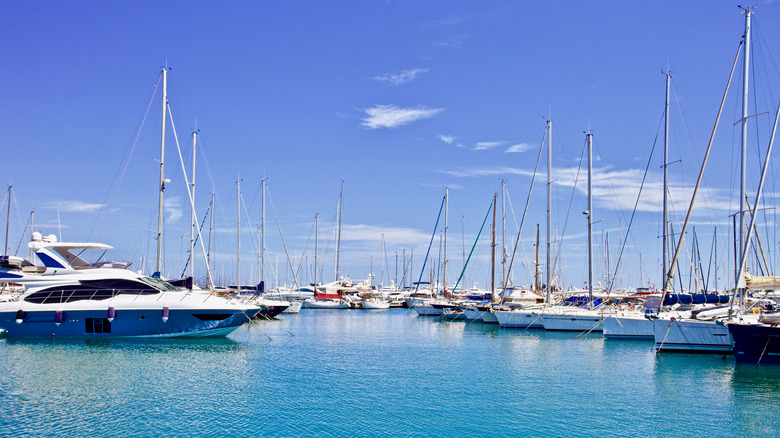 Shutterstock
If you've always dreamed of renting a yacht and taking several friends and family on the ocean to relax for an hour, you can do so if you have a little bit of cash on hand. The company Boat Rental Near Me accommodates seafarers in Los Angeles, Newport Beach, San Diego, and Miami, where rental and yacht charter prices cost between $250 and $2,500 per hour. The more money you have, the bigger the yacht options are.
If you're on the west coast, you can opt for a yacht rental at Los Angeles Yacht Charter. The company has a fleet of boats you can choose from, but expect to pay a premium price for some of these high-end vessels. For example, this Party Boat, which departs from Long Beach, costs $1,500 an hour. The good news is that it can accommodate 80 of your closest friends and relatives. The captain, docking fee, and fuel are included. There are, however, less expensive options available should you need to stick to a budget. You can rent a 50-foot luxury yacht for less than $500 if you don't want to shell out as much cash.
Eat a gold-infused sundae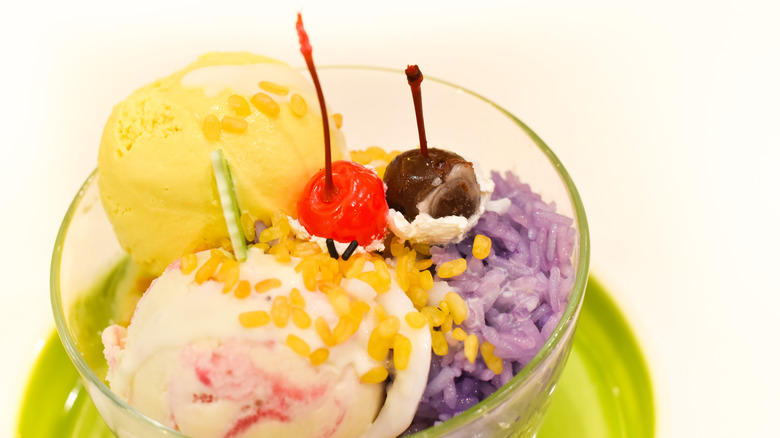 Shutterstock
Most people love a treat now and then, even if they don't indulge in high-calorie desserts very often. If you want to have one of the most expensive sundaes on Earth, you can do so at Serendipity 3 in New York City. The restaurant, which is known for its frozen hot chocolate and has been in business since 1954, has held the record for the priciest ice cream for over 15 years, reports NDTV. It's such a popular place that celebrities such as Beyoncé and Jay-Z have dined there (and so did Marilyn Monroe). If it's good enough for them, it's good enough for you. 
The restaurant's famous ice cream sundae is called "The Golden Opulence" for a reason. Listed on the menu under the subhead "Guinness World Records," it was created to commemorate the establishment's Golden Jubilee, and it comes with a hefty $1,000 price tag. This well-known desert is made with special ingredients gathered from various spots on Earth, and that's why you must plan ahead to order this treat. The restaurant requires a two-day notice so that it can prep the ice cream for your arrival. If you don't mind literally swallowing $1,000, then this is a great way to spend one hour. 
Play in a private poker game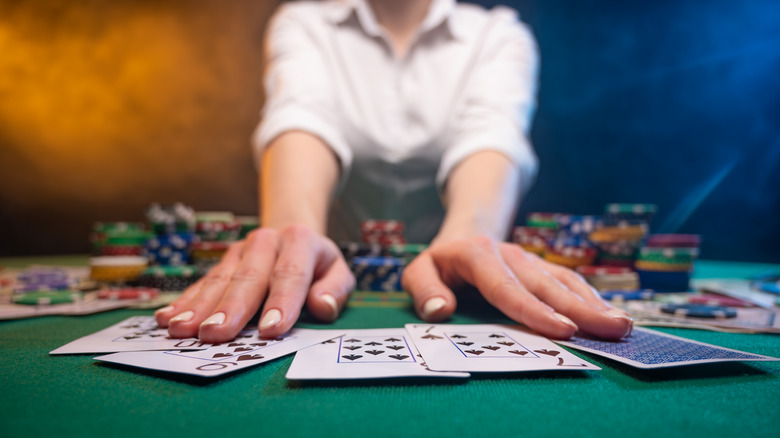 Shutterstock
You can play poker at home with friends, you can play at the casino, or you can play a high-stakes game with some wealthy and famous individuals who have a lot of money to throw around. Actors such as Ben Affleck and Tobey Maguire, Olympian Michael Phelps, and former baseball star Alex Rodriguez are known for their love of poker, and they surely have enough money to spare when it comes to high-stakes games. If you want to partake in games with the uber-rich, you can do so if you're invited to their private home or hotel room, according to Poker Listings. These men and women place bets that can equal the value of a car or even a house.
For example, the Silicon Valley Poker Home Game is filled with players who work for companies such as Facebook, Zynga, and Mahalo, so you know they have the cash to spare. Professional poker player Phil Hellmuth has admitted to losing $32,000 in just one poker session, while entrepreneur Jason Calacanis revealed that he participates in a $10,000 buy-in game.
Those who've played in Tobey Maguire's game, which is no longer happening, ponied up $50,000 or more to buy in, while businessman Dan Bilzerian's private poker games have reportedly involved millions of dollars. If you love gambling, you can have a lot of fun (and lose a lot of money) in one hour.
Drive a supercar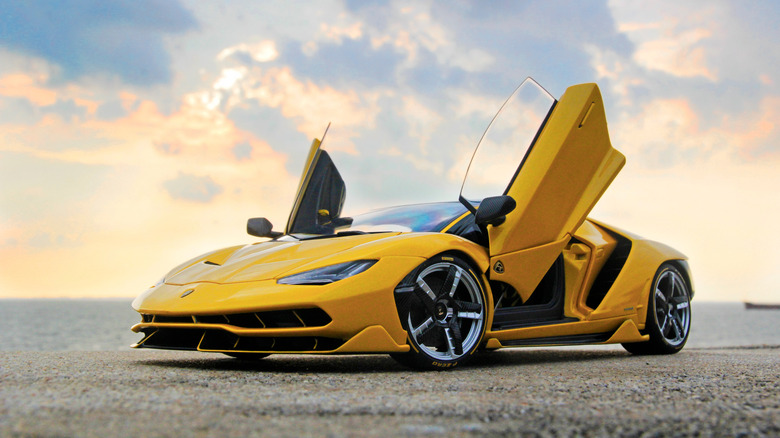 Shutterstock
There are plenty of places where you can rent a supercar for the day, but if you want a one-of-a-kind experience, you may want to check out the SPEEDVEGAS "Happy Hour Of Power," where you can spend 60 minutes of heart-pumping, thrilling excitement driving on the track. What do you get for $12,000? Unfortunately, you don't get breakfast, photos, or videos, which require an extra fee. However, you do get unlimited laps in up to eight different vehicles. You can choose from a cadre of muscle cars and exotic cars, such as models by Lamborghini, Porsche, Ferrari, and Shelby.
In addition, you can invite 11 of your closest friends and family members to participate in the adventure. Aaron Fessler, founder and chief executive officer of SPEEDVEGAS, said (via Vegas24seven.com): "This experience is for the guest who not only wants the exhilaration of speed, but also wants it in a private setting." He added that people love the experience and are stoked to get the kind of VIP treatment that the company provides.
The facility includes a 1.5-mle Formula One-like racetrack with 12 turns, 15-degree banked turns, and 60 feet of elevation change, as well as a half-mile straightaway.
Take a private tour over NYC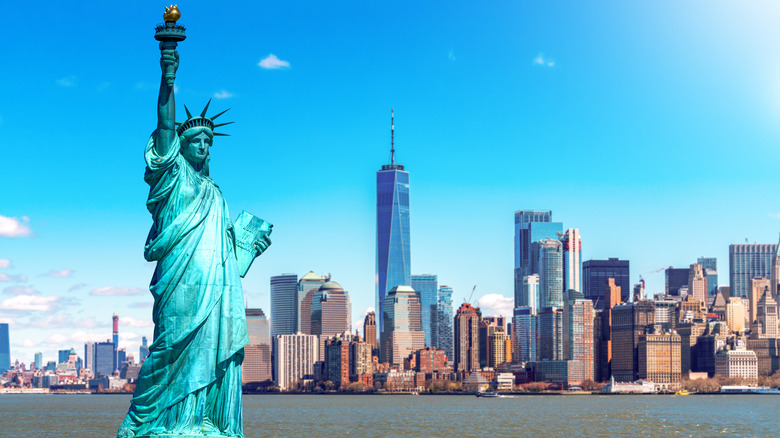 Shutterstock
If you're visiting the Big Apple and want a bird's eye view of the action, you may want to consider taking a helicopter tour of the city. It's even better if you choose a private charter flight from Zip Aviation. That way, you will avoid the public sightseeing tours that all the plebian tourists take each day. The best thing about this tour is that you can customize the route to your preferences. You can choose to see skyscrapers, popular landmarks, and other areas for incredible views while basking in the comfort of a private helicopter.
This VIP experience includes a 60-minute air tour of Manhattan. The pilots can provide suggestions for a pleasurable route, or you can request your own flight plan. Visitors love this excursion because it's a great way to celebrate a birthday, anniversary, or other special event. It's a little expensive at $2,900 for the one-hour trip. However, it can accommodate up to six passengers, so you can split the cost among your friends and family, should they choose to join you.
Eat at Sublimotion in Ibiza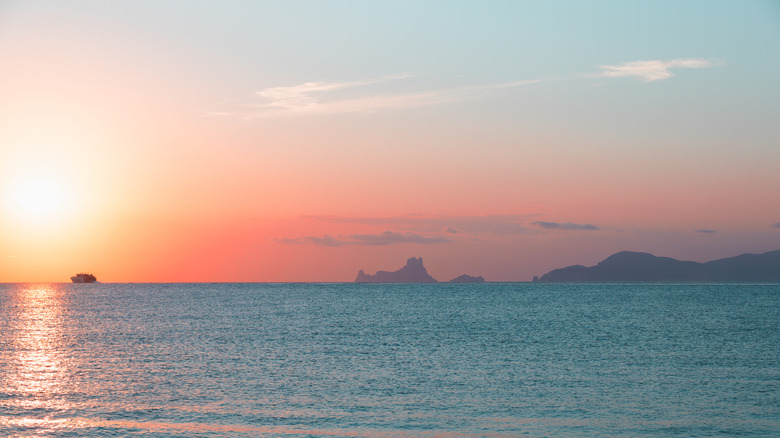 Shutterstock
If you want to spend one hour eating at the world's most expensive restaurant, then you can do so at Sublimotion at the Hard Rock Hotel Ibiza, which is located off the eastern coast of Spain. The dining establishment is proud of providing "the greatest gastronomic show in the world," according to Thrillist. And for $2,000 a head, you get more than just food. The meal is accompanied by a laser light show, virtual reality, and all types of video projections that fill the room. You can also interact with the projections.
And while the atmosphere is certainly compelling, the food is even more so. Chef Paco Roncero prepares the Michelin-starred menu, so you know you're getting an excellent meal when you shuck out all that money for something that's simply going to pass through your system within hours. Oh, and did we mention that there's only one table in the restaurant with 12 seats to accommodate your loved ones?
Other perks of the full-service meal include dessert served in balloons, cocktails that are self-mixing, and dinner plates that fall from the sky. While it's definitely expensive, it's also an experience you're unlikely to ever forget.
Go into space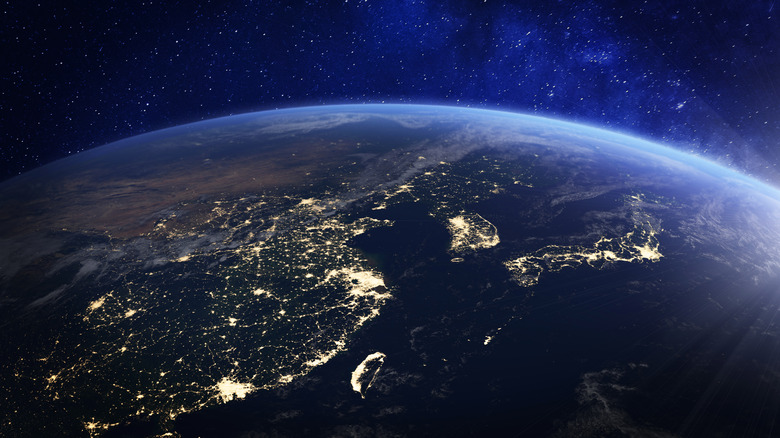 Shutterstock
Those with bottomless bank accounts can look forward to space tourism, which is untouchable for the average man and woman because it's so incredibly expensive. Amazon founder Jeff Bezos owns Blue Origin, which is sending people into space in July 2021. One lucky person paid a whopping $28 million for a spot on the rocket, according to NPR. That price is for just 11 minutes of thrills, which equals $42,424 per second. Mind-boggling, isn't it? Remarkably, almost 7,600 people participated in the auction for a spot on the New Shepard. The occupants will experience just a short period of time in actual space, which starts at 62 miles above sea level. 
Bezos isn't the only one offering such once-in-a-lifetime experiences. Richard Branson of Virgin Galactic is also providing space flights in the near future, and tickets cost around $250,000, according to Mint. Branson recently completed a space flight himself. Commercial service is expected to start in 2022, and tickets may be more accessible in the future at about $40,000. So the less extremely wealthy will also be able to indulge. In addition, private astronauts have plunked down $55 million to board a SpaceX rocket and spend a week at the International Space Station in 2022.
Take an Evian bath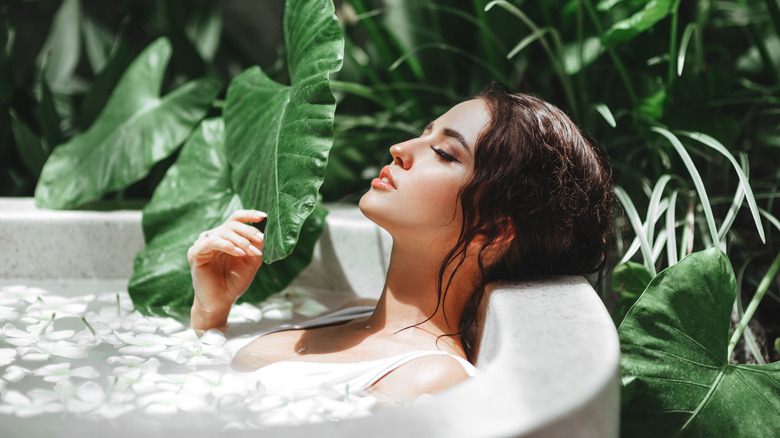 Shutterstock
Why take a bath in ordinary tap water when you can soak your weary body in several gallons of Evian water? If you plan on visiting south Florida, you may want to book a room at the Hotel Victor Miami for a unique spa treatment, which is sure to make you feel pampered. There, you can experience one of the most expensive baths in the world. It costs $5,000, according to Newgen Luxury. 
Celebrities are particularly fond of this particular indulgence. The bath circulates 1,000 liters of Evian water in the tub, and it also features scented flower petals for added ambience. The treatment has a two-hour limit, but one hour is plenty for many people. It's not the only spot where you can experience an Evian bath — the Evian Thermal Spa at Evian Resort in France is another location for this type of pampering. This makes sense because the bottled water brand's natural spring water source was discovered in the town of Évian-les-Bains, France.
Drink a fancy cocktail in Tokyo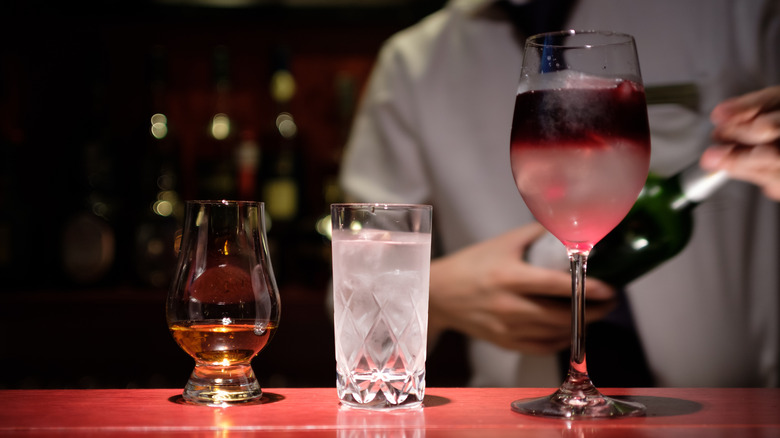 Shutterstock
If you're willing to literally digest thousands of dollars during cocktail hour, the Tokyo Ritz-Carlton is the place to go. It features the priciest room, suite, and cocktail, according to the Robb Report. The establishment's famous martini will set you back a cool $25,000. Dubbed the "Diamonds are Forever Martini" in homage to the "James Bond" film, you can leisurely sip this beverage in the Lobby Lounge and Bar on the 45fh floor.
This cocktail includes chilled Absolute Elyx Vodka and lime juice. But what makes it so expensive is the one-carat diamond strategically placed on drink's bottom. Obviously, you have to be extremely careful when sipping this cocktail because you don't want to accidentally swallow the gemstone and worry about fishing it out of your excrement later. The bartender will concoct the drink at your table. Plus, when the diamond is dropped into the glass, a band will play "Diamonds are Forever" by Shirley Bassey. If that doesn't make you want to re-watch the 1971 007 film, we don't know what will.
Take a helicopter tour in Dubai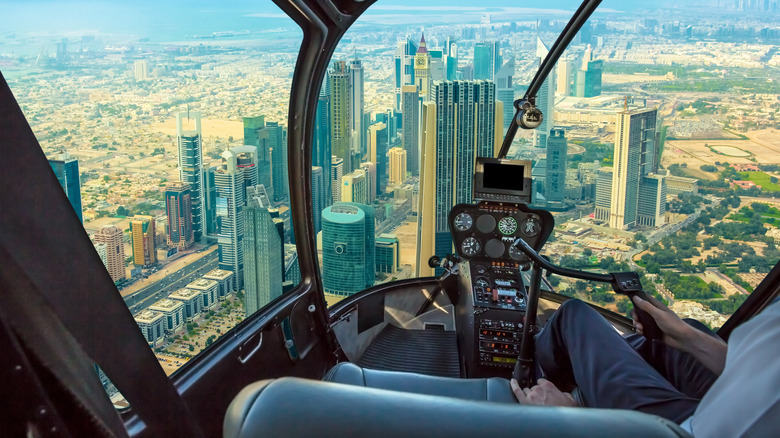 Shutterstock
If you want to take a helicopter tour but want to explore an area that's a bit more exotic, then head to Dubai, which is located in the Persian Gulf and is part of the United Arab Emirates. There is truly a once-in-a-lifetime experience from Premium Odyssey that will let you see the city in a much different way than you would by ground. The tour costs approximately $5,000, but you get a lot of bang for your buck. After you are picked up from your hotel, you will be taken to the helipad at the luxury resort Atlantis the Palm for an incredible 45-minute journey.
You will experience a variety of sights from the sky, including the iconic sail-shaped Burj Al Arab hotel, the Mall of the Emirates, the city's marina, the artificial archipelago known as the Palm Jebel Ali, the Jebel Ali Beach Resort, and the Port Jebel Ali. Other sights include Media City, Internet City, Kite Beach, Al Safa Park, Jumeriah Bay Island, and Wafi Mall. You will also see a group of man-made islands (World Islands) that are configured to resemble the world's continents.
Get a diamond-infused manicure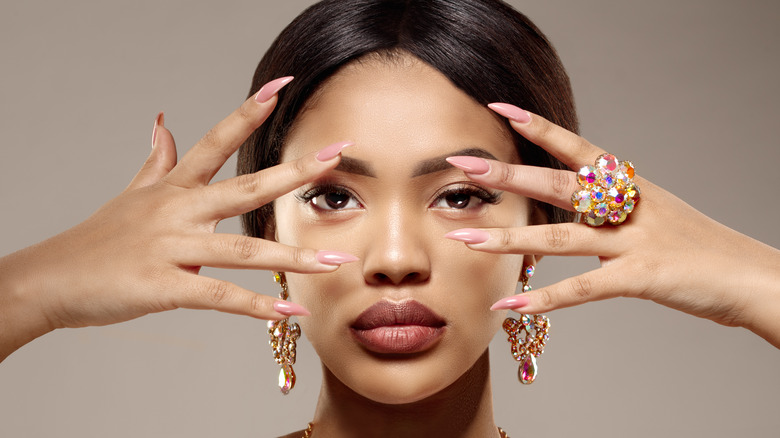 Shutterstock
By now, you know top-of-the-line experiences often involve exotic locations like Dubai or expensive gemstones such as diamonds. Those who truly want to feel like kings and queens only want the best, and if you're looking to flaunt your wealth, one way to do so is by getting a manicure incorporating diamond nail polish. The next time you're in Los Angeles, look up jewelry couturier Azature Pogosian, which caters to the rich and famous, to get a truly incredible manicure.
Known as the "Black Diamond King," this fashion label is popular with stars such as Rihanna and Beyoncé, according to CR Fashion Book. And for a mere $250,000, you can get your hands, literally, on a bottle of diamond-infused nail polish that features 267 carats of black diamonds. Or you can simply sit back for the manicure, which costs a mere $30,000 (or $3,000 per nail). This is an exclusive manicure, and only a small group of technicians can perform the service.