Does The Bible Ever Mention The Virgin Mary's Death?
Shutterstock
The Bible, the sacred text of hundreds of millions of believers around the world, gives accounts of the lives of thousands of characters, major and minor, who come and go throughout the document's narrative. In some cases, the individuals get less than a sentence, while in others, they get whole books. And when it comes to documenting individuals' lives, oftentimes their death is an important part of the story; for example, a significant portion of the New Testament Gospel of John is devoted to the death of Jesus Christ.
Another key figure in the Bible is Mary, the mother of Jesus, or "the Virgin Mary," as she's often referred to. She plays a key role in the dogma of hundreds of millions of Catholics, though her role in Protestantism is considerably reduced, as Deutsch Welle notes.
The last mention of Mary, the mother of Jesus, in the New Testament comes as Jesus is dying on the cross. As Christianity.com reported, Jesus told his disciple, John, to treat Mary as his own mother. In essence, Jesus was seeing to it that his mother would not be left destitute without a son to care for her after Jesus' death.
The Bible doesn't mention the virgin mary's death at all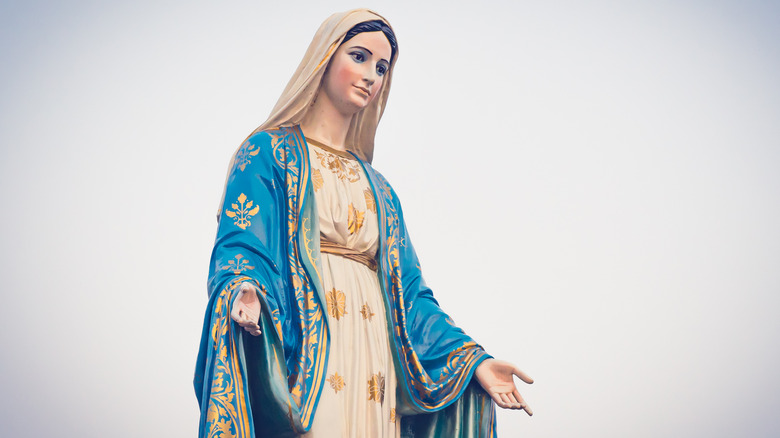 Shutterstock
Further, as Father James Doyle wrote in his question-and-answer column for Catholic News Service (posted by The Catholic Courier), it's a matter of debate whether Mary even died at all — at least, as regards Catholic dogma. "Some theologians feel that, since death is a consequence of sin, Mary would not have had to die. But others say that, since Jesus himself chose to die, wouldn't it be fitting for his mother to have shared the same fate?" he wrote.
Complicating matters further is the fact that at least two competing stories purport to reveal what happened to Mary. One says she died of old age with her adopted son, John, while Catholic teaching says that she was "assumed" bodily into Heaven some time after Jesus' death. Further still, at least two tourist sites in the Middle East are purported to be where Mary died.
But Father Doyle was clear that such ambiguity shouldn't color a Catholic's opinion about Mary. "But this doesn't stop us from honoring the Virgin Mary, the mother of God and our mother," he wrote.