The Weird Place Judy Garland's Original Wizard Of Oz Dress Was Found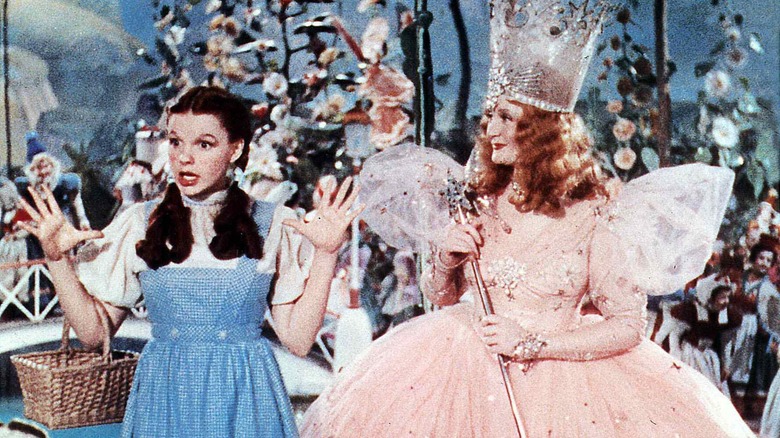 United Archives/Getty Images
Sometimes, the thing you are looking for turns up in the most unlikely of places. And in the instance of an iconic dress worn by none other than Judy Garland while starring in the film "The Wizard of Oz," that very unlikely place may end up being a trash bag.
It was said that one of Garland's original dresses had been stashed away for decades in the Hartke Building of the Catholic University of America in Washington D.C. The rumors proved true when the costume was eventually discovered by Matt Ripa, a lecturer and operations coordinator for the University's Department of Drama. Ripa had heard rumors about the dress, but had begun to believe it was "a tall tale (of which many exist for Father Hartke)," the priest for whom the building is named.
But it turned out not to be a myth. On June 7, Ripa unearthed Garland's famous frock, as the university reported. Cultural memorabilia experts from the Smithsonian's National Museum of American History confirmed that the dress was authentic, pointing to a secret pocket in the right side of the skirt for Dorothy's handkerchief, a section of material in the pinafore blouse where it had torn while filming, and the name "Judy Garland" handwritten inside the label.
The dress was discovered inside a bag above the faculty mailboxes
The dress had been given to Father Gilbert Hartke, the head of drama program, back in 1973 by Mercedes McCambridge, an actress and former artist-in-residence at Catholic University. According to CNN, the dress was intended to provide "hope, strength, and courage" to students, but eventually it was lost to time. That is, until Ripa decided to go digging through the Hartke building in search of the rumored treasure. He had searched high and low, rummaging through rooms, storage closets, and the theater's archives, and had all but given up. Then, while preparing for some building renovations, he spotted a bag sitting atop the faculty mailboxes. When he opened it, he discovered none other than Garland's long-missing "Dorothy" dress.
"I was curious what was inside and opened the bag. Inside was a shoebox, and inside the shoebox was the dress! I couldn't believe it," Ripa said in a university press release. "My co-worker and I quickly grabbed some gloves and looked at the dress and took some pictures before putting it back in the box and heading over to the (University) Archives. Needless to say, I have found many interesting things in Hartke during my time at Catholic University, but I think this one takes the cake!"