The Truth About Jim Morrison And Pamela Courson's Relationship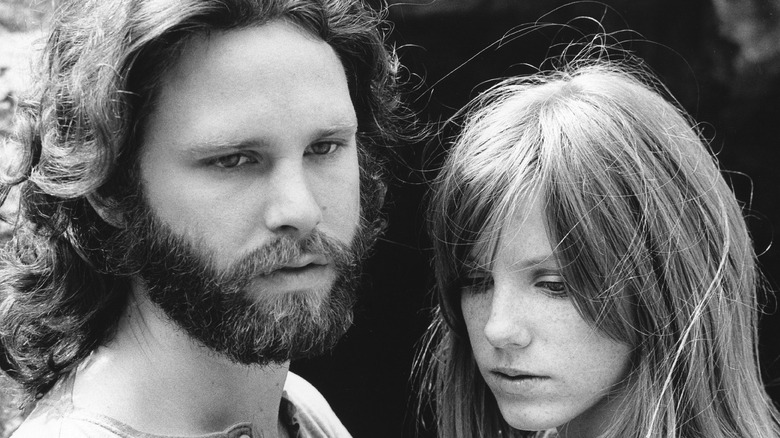 Estate Of Edmund Teske/Getty Images
Jim Morrison was the epitome of a rock star during his time. His good looks, oozing stage presence, and strong yet soothing voice was the perfect combination to lead The Doors to superstardom in the '60s. And just like many songwriters, Morrison was said to have a muse that inspired a few of The Doors' hits. That woman was reportedly Pamela Courson, Morrison's romantic partner (via Cultura Colectiva.)
Pamela Courson had a rebellious streak and had a live-in-the-moment attitude toward life. Pam, 19 years old then, met 22-year-old Jim in 1965 at the London Fog, a nightclub in California where The Doors performed before they were famous. Soon after, the couple started dating, and according to Ray Manzarek, The Doors' keyboardist, he "never knew another person who could so complement Morrison's bizarreness," per ATI. Jim described Pam as his "cosmic partner" but their relationship was far from being perfect.
Theirs was a tumultuous relationship that involved drugs, violence, and affairs. According to Rock Celebrities, Morrison had relations with other women, including some famous personalities as well as fans, while he was with Pam. However, the infidelity and fights the couple had didn't end their relationship as they always found their way back to each other.
The couple's destructive relationship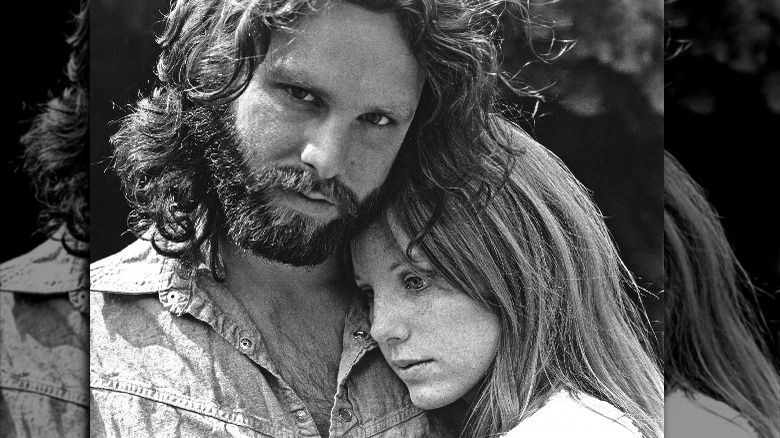 Estate Of Edmund Teske/Getty Images
There were different accounts from people close to the couple that painted a picture of how their relationship was behind closed doors. An official photographer of The Doors, who was also Jim and Pam's neighbor, described an incident wherein Pam came over to his house claiming that Jim had attempted to kill her, per The Guardian. "She said he had pushed her into the closet and set it on fire when he found out she had been sleeping with this phony prince who had supplied her with heroin," he said. John Densmore, The Doors' drummer, said that Jim appeared "normal" but "he had an aggressiveness toward life and women," (via The Guardian.)
After a year of living together, Jim and Pam planned to get married. They even went as far as getting their marriage licenses, but the union did not push through as Pam wasn't able to have the documents notarized, per ATI. Despite not being able to make it official, Pam took on Jim Morrison's last name. Jim, on the other hand, named Pam as the sole beneficiary in his will. Per Cultura Colectiva, Pam wanted Jim to leave The Doors and threatened that she would leave him if he didn't do so.
In 1971, after recording the album "L.A. Woman," Morrison left The Doors and moved to Paris with Pam.
The end for Jim and Pam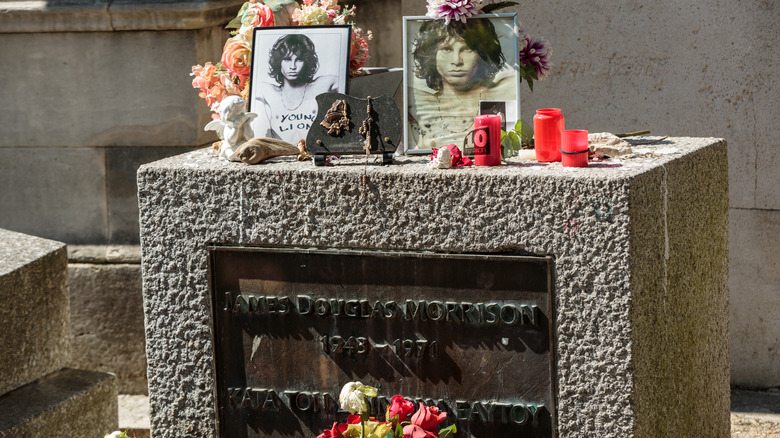 Shutterstock
Paris was a place where Jim Morrison focused on his poetry — something he truly enjoyed. It was also a chance for him to step back from the rock and roll lifestyle and try to stop using drugs and alcohol, per Bonjour Paris.
On July 3, 1971, Pamela Courson reportedly found the dead body of Jim Morrison in the bathtub of their apartment in Paris. According to Pam's statement to the authorities, per ATI, Jim woke up the previous night telling her that he didn't feel well and was going to take a bath. She discovered his body in the morning. Authorities didn't suspect foul play and an autopsy was not performed, but his cause of death was reported as heart failure. There was also a rumor of Morrison dying at a nightclub of a heroin overdose before his body was transported back to his apartment, per Today.
After Jim Morrison's death, Pam went back to Los Angeles. She went into a downward spiral and on April 25, 1974, she overdosed on heroin and died at 27 years old, the same age Jim was when he died.