Why Merle Haggard's Family Didn't Approve Of Music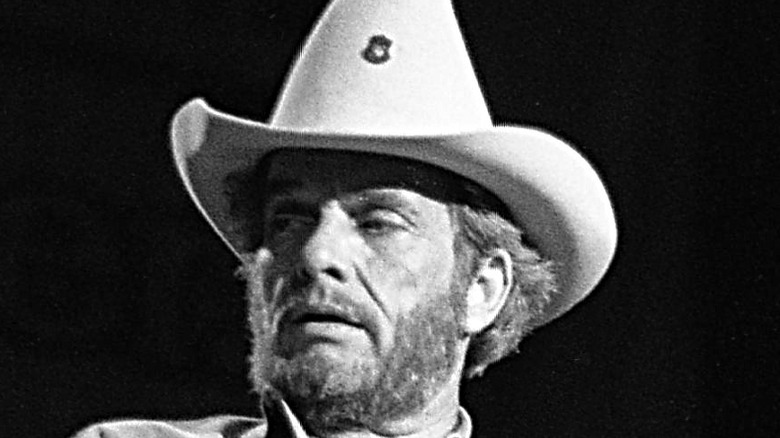 Beth Gwinn/Getty Images
Merle Haggard was one of the most authentic faces and voices of outlaw country. With badass anthems such as "Mama Tried," "The Bottle Let Me Down," and "The Fightin' Side of Me," he earned a devoted following, singing songs for and about working-class people and the struggle of trying to get by in a world that didn't seem to give a damn about them. He was close friends with and admired by other Golden Age of Country deities such as Willie Nelson, George Jones, and Johnny Cash.
In his 1981 biography, "Sing Me Back Home," he discussed his relationship to music (via his official website): "Like a dear friend, it's puzzled me at times, but never disappointed me. Like a good woman, it's given me comfort and pleasure, and asked only respect and attention in return. Like a religion, it has offered me a reason for being when other things have slipped away. But most of all, it has become an extension of my feelings, allowing me that little piece of immortality everybody dreams about." But as a child, a career in music seemed virtually unthinkable.
Heathens and Rebels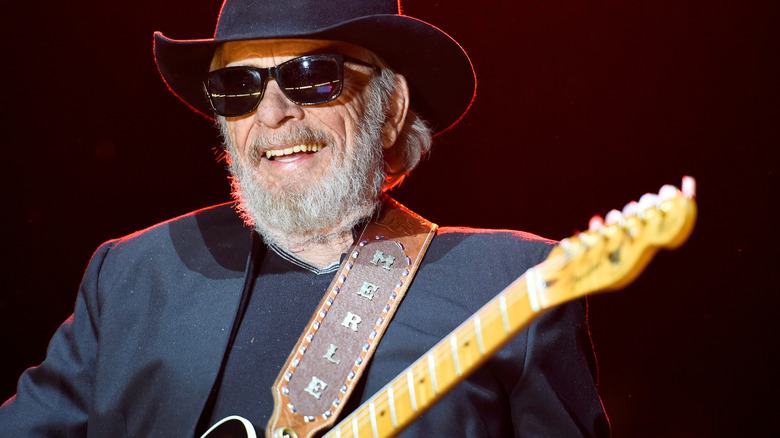 Frazer Harrison/Getty Images
According to Rolling Stone, Merle Haggard grew up in Oildale, California (just outside the famed Bakersfield) in a railroad boxcar that his dad, James, turned into a mobile home for the family of five. Haggard described his father as gentle, and putting people at ease, whereas his mother, Flossie, was more stoic and serious — as well as a pious member of the conservative Church of Christ. Before falling in love with and marrying Flossie, James had played fiddle in honky-tonk bars, but decided to hang that up when Flossie expressed her opinion that playing that kind of music was for heathens and rebels (per GQ).
To present a united front with his wife, James ostensibly disapproved of playing music too, yet young Merle saw something in his father's eyes that said differently. "Sometimes I'd toss in bed at night and wonder what it was Daddy wanted out of life," Haggard said (via Rolling Stone) "I got to thinking that he must have dreams he was letting go by and I knew he had great love for music, but he didn't seem to work at it much." When his dad died tragically too soon of a stroke, 9-year-old Merle began rebelling, hopping trains, playing fiddle and guitar, and started on the path to a life in music. Just as his Daddy most likely had wished for himself before giving it all up to lovingly raise his family.