The Truth About Barry White's Rough Childhood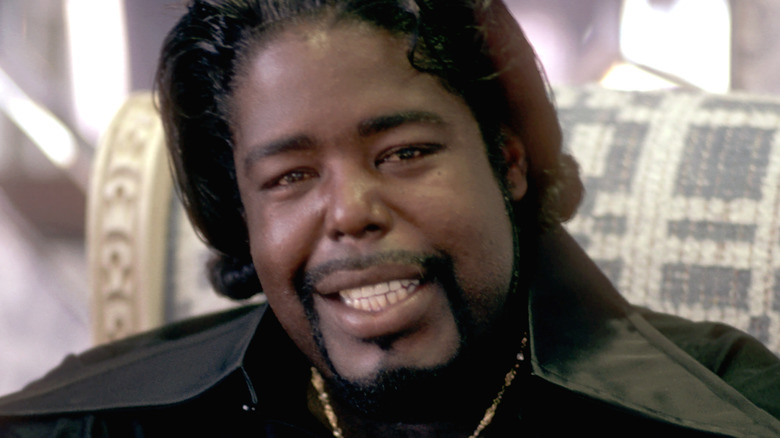 Michael Ochs Archives/Getty Images
Barry White was born in Galveston, Texas, on September 12, 1944, according to the BBC. But it was his upbringing in the rough South Park neighborhood of Los Angeles that shaped him.
Music was White's salvation. At the tender age of 14, his voice broke suddenly, marking a beginning to the rest of his life as a deep-voiced singer of sexy soul and R&B tunes. "It scared me and my mother when I spoke that morning," White said, per The Sydney Morning Herald. "It was totally unexpected. My chest rattled. I mean vibrations. My mother was staring at me, and I was staring at her. The next thing I knew, her straight face broke into a beautiful smile. Tears came down her face and she said, 'My son's a man now.'"
But before White presented his musical gifts to the world, he lived a hard-knock life in southeast Los Angeles. There were a few hardships that knocked a teenage White down, but ultimately encouraged him to change his life.
Barry White's teenage jail time was a turning point
Paul Harris/Getty Images
In his early years, Barry White felt the weight of the tragedies and injustices all around him — some of them hit especially close to home. "I'm an ex-gang-banger," White told Rolling Stone in 1995. "I come from southeast L.A. I didn't only hear about the 1965 riot, I was in it. I understand the disappointment, the anger that people have. I had the same. My brother had the same until he died in 1983. A man shot him in his heart. He was my best friend and my life till he died. He was night, and I was day."
White's close bond with his younger brother, Darryl, often led to trouble. "We were a two-man gang, respected and feared," White said later (via the Independent). "For years we ran and ruled the streets of our neighborhood." When he was 16 or 17 — reports vary — White was arrested and jailed for stealing $30,000 worth of Cadillac car tires, per the BBC.
While serving four months behind bars, he heard a song that changed his life. "In jail, I heard 'It's Now or Never' by Elvis Presley — it was an awakening, like somebody hitting me with a baseball bat right in the face," White said. "When I got out, I swore to myself: Never again." He went on to become one of the best-selling artists in the world, as noted by his official website.