The Wild True Story Of Con Artist Belle Gibson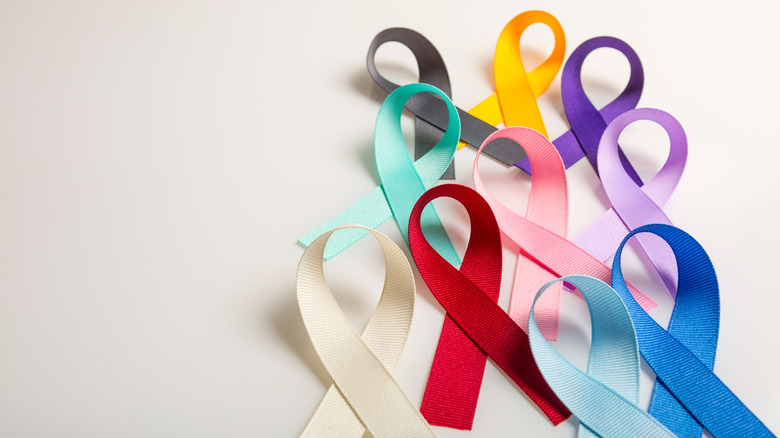 Australian native Annabelle Natalie Gibson, commonly known as Belle, made her Instagram debut in May 2013. Her story gained international attention, as she claimed alternative therapies and whole foods cured her malignant brain cancer. According to Gibson, she was told she had only four months to live when she was diagnosed. Four years later, she was perfectly healthy and well on her way to becoming a social media influencer. The magazine Australian Women's Weekly (posted at Now to Love) reports she had more than 200,000 Instagram followers within months of her debut.
In August 2013, Belle Gibson launched an app called The Whole Pantry, which was ultimately voted Apple's Best Food and Drink App of 2013. The following year, she published a cookbook, which was also called "The Whole Pantry," and was billed as a companion to the app. Her app was also featured on the 2014 Apple watch.
Following a visit to the United States in June 2014, Gibson claimed she was diagnosed with cancer of the blood, brain, liver, uterus, and spleen. She continued to share her struggles, and triumphs, via her Instagram account. As reported by Australian Women's Weekly, Cosmopolitan Magazine honored Belle with their Fearless Female award (for social media) in November 2014.
Following the release of her book, Gibson promised to donate a portion of the proceeds to a number of cancer charities. However, on March 8, 2015, it was revealed that she never followed through. The next day, media outlets began suggesting Gibson lied about her cancer diagnoses.
Belle Gibson's scam is exposed
Within one week, Gibson's social media accounts were edited to remove information pertaining to her cancer diagnoses and claims that she cured herself using alternative therapies and whole foods. Apple also removed The Whole Pantry from the app store and the Apple Watch Showcase. As reported by Australian Women's Weekly (AWW) (posted at Now to Love), Gibson's accountants also began shutting down her business operations. By April 2015, Belle Gibson began receiving death threats, which forced her to move to an undisclosed location.
Although she has been reluctant to discuss claims that she lied about her cancer diagnoses, Gibson granted two interviews to AWW in May 2015. During those interviews, she admitted, "None of it's true." However, she stopped short of accepting full responsibility. The publication reports Bell places some of the blame on the men who diagnosed, and claimed to help cure, her cancers.
Gibson said she can "understand the confusion and suspicion" coming from her former fans. However, she said "people need to draw a line in the sand where they still treat someone with some level of respect and humility."
AWW reports that Gibson's questionable health concerns date back to 2006, when she reportedly told her high school boyfriend she had cancer "to try to stop [him] from breaking up with her." In 2009, she claimed she had a major heart attack. Later that same year, she claimed she was diagnosed with terminal brain cancer.
The aftermath of Belle Gibson's scam
Gibson was ultimately charged with misleading and deceptive conduct and was ordered to pay $410,000 in fines. However, she has thus far refused to pay the fines. As reported by The Guardian, authorities raided Gibson's home in May 2021, and seized property in an attempt to cover some of the fines.
In addition to the charities that were promised donations they never received, Gibson's victims include a number of her followers and former fans. In 2013, a woman named Kylie, who was diagnosed with lymphoma, was inspired by Belle's story. As reported by BBC, Kylie was receiving daily chemotherapy treatments and was scheduled to receive her 18th lumbar puncture when she decided to halt her ongoing treatment in favor of Gibson's whole food diet recommendation. When Gibson was revealed to be a fraud, Kylie was distraught. However, she eventually resumed her chemotherapy treatment and is currently in remission.
UK native Maxine had a similar experience. Although she was not diagnosed with cancer, Maxine had experienced chronic medical issues since the age of 12. After undergoing a number of unsuccessful treatments, and others that had undesirable side effects, BBC reports Maxine quit taking her medications in favor of Gibson's whole food diet. Unfortunately, the diet, and the lack of necessary medications, left her underweight, malnourished, and weak. Maxine hopes her story will encourage the regulation of medical advice being shared on social media.