The Sad Truth About Mick Mars' Spinal Disease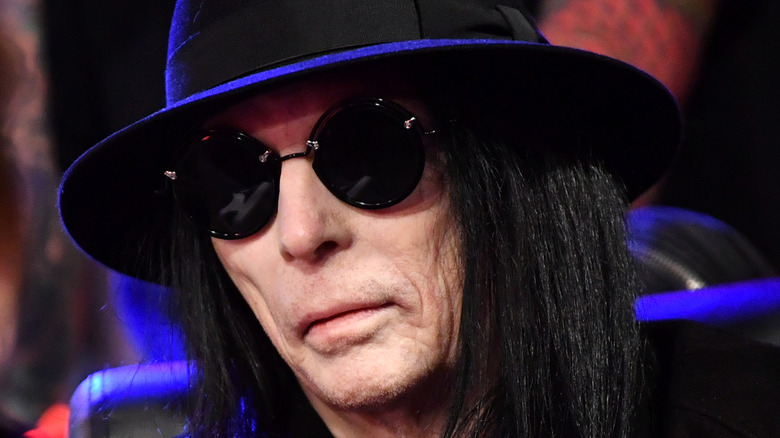 Emma Mcintyre/Getty Images
Guitarist Mick Mars has certainly seen his share of craziness as a founding member of the rock group Motley Crüe. From the band being fired by Gene Simmons from their gig opening for KISS for being too rowdy to Mars passing out drunk during the recording of the song "Girls, Girls, Girls," (via Milwaukee Journal Sentinel), the self proclaimed "silent partner" of Motley Crüe has truly been a part of some real rock and roll madness. However, it hasn't been all sunshine and roses for Mars, who, since the age of 17, has been suffering from a condition called ankylosing spondylitis, a form of arthritis that causes pain and inflammation of the spine. Certainly not the best condition for a guitar god to suffer through.
Born Robert Alan Deal in Terre Haute, Indiana, the exact date of Mars' birth is somewhat controversial. Depending upon the source, Mars was born either on May 4, 1951, or April 5, 1955. Either way, what is true is the Deal family would move to California early in Mars' life. At the age of 6, Mars was gifted a Mickey Mouse guitar for Christmas and began taking lessons from a local friend (via Last.FM).
a suffering rock god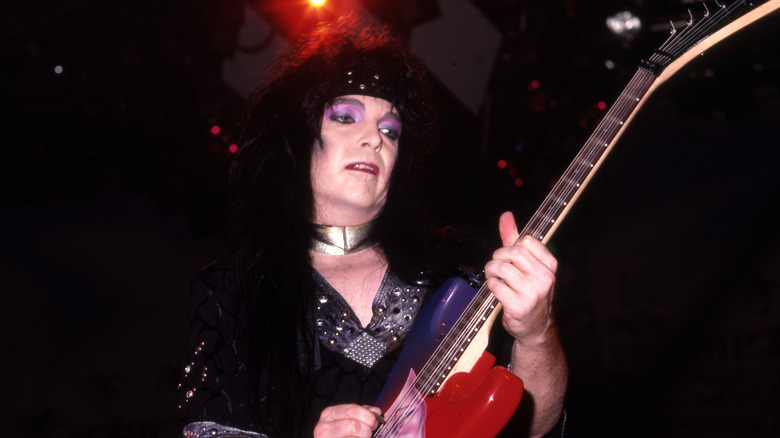 Icon And Image/Getty Images
Mars would eventually drop out of high school to play guitar in several different bands throughout the '70s (via All Music). Having no real success, Mars reinvented himself adopting the "Mick Mars" moniker and placed an ad in a Los Angeles paper calling himself a "loud, rude, and aggressive guitar player," in search of a band. In 1981, Tommy Lee and Nikki Sixx responded and the only thing left for Motley Crüe to do was find a lead singer.
Around 17, according to Yahoo!, Mars was diagnosed with ankylosing spondylitis. A condition with no cure, ankylosing spondylitis causes chronic pain in the lower back, hips and legs. Mars describes the condition in the book "The Dirt: Confessions of the World's Most Notorious Rock Band" this way:
"My hips started hurting so bad every time I turned my body that it felt like someone was igniting fireworks in my bones...At first, it felt like someone had plunged a knife into my back. But as the weeks passed, the pain kept moving around my back. Next, my stomach started burning, and I worried that my whole body was about to fall apart. I thought that there was a hole in my stomach, and acids were leaking out and destroying my bones and organs. I'd grab hold of doorknobs, anchor my legs into the ground, and pull with my hands to stretch my back and ease the pressure out."
Over the years, the condition has caused major damage. A curvature in his spine causes Mars to hunch while playing and he's lost 3 inches of height due to the compression on his lower spine.
a troubling sight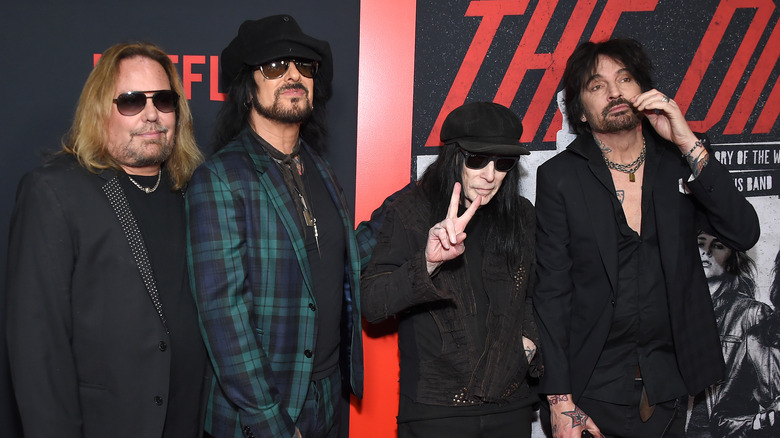 Shutterstock
In 2004, in an attempt to re-assemble the broken up Motley Crüe, Nikki Sixx called on Mick Mars. Sixx described his visit with Mars in his book "This Is Gonna Hurt" (per Ultimate Classic Rock): "What I saw haunts me to this day. A frail man of 80, maybe 90 pounds, shaved head, gray skin, with a beard to his chest. He was dying, addicted to painkillers, brought on by a disease called ankylosing spondylitis."  Sixx and the rest of the band convinced Mars to seek medical treatment. 
In 2004, Mars underwent surgery to replace his hip (via MTV). According to Rock Celebrities, the surgery was a success with Mars' health taking an upturn. However, Mars did have to relearn how to hold and play the guitar again. Still, the condition continues to affect Mars, with the disease spreading to his brain, causing him to lose the ability to move his head in different directions.