The Real Reason Germany's Olympic Gymnastics Team Wears Unitards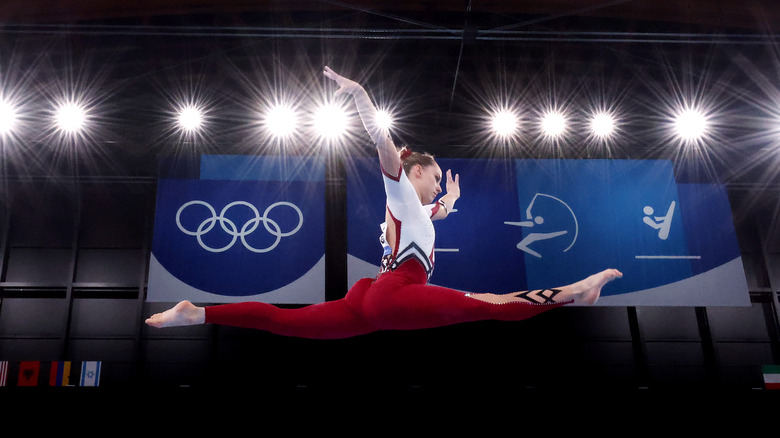 Ezra Shaw/Getty Images
While the Olympics ostensibly serve as a symbol of unity in an extremely divided world, the Olympic Games Tokyo 2020 have highlighted our ability as humans to find things to disagree about. The debate is a variation on the tired theme of people telling women what they supposedly can and cannot do with their bodies, specifically, what to put on them during competition. This has led to female athletes being forced to defend their choice of apparel and, in some sports, being penalized and even fined for wearing what makes them most comfortable in their activity. HuffPost recently pointed out the irony of Paralympian Olivia Breen being told her track shorts were "too short and inappropriate," while the Norwegian beach handball team was fined for wearing shorts instead of bikini bottoms. The handball players said that they feel more comfortable in the shorts (which don't even reach halfway down their thighs), thus optimizing their performance in the game.
Other sports aren't as strict about uniforms as handball. Beach volleyball, for example, allows female competitors to choose to wear shorts, tank tops, or even long sleeves. However, beach volleyball players tend to opt for bikinis in order to give sand fewer places to hide. And the most recent sport to see changes in attitudes toward uniforms is gymnastics. Let's see what happened when the German gymnastics team decided to change their look.
German gymnasts take a stand against sexualization in their sport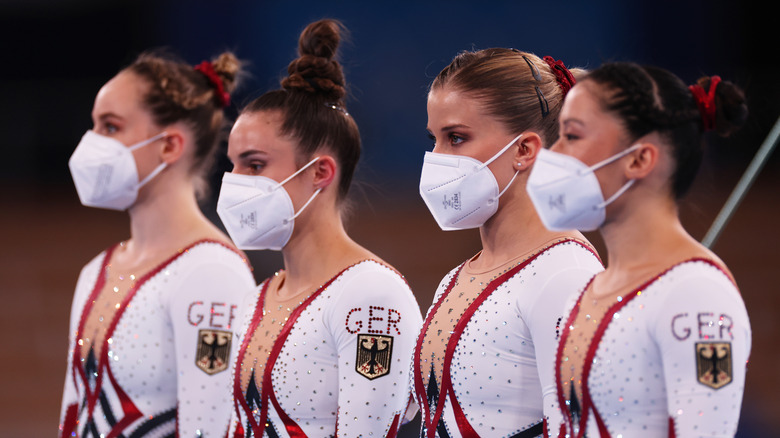 Jamie Squire/Getty Images
While female gymnasts have traditionally competed in leotards with bikini-cut hems above the thigh, the team from Germany wore ankle-length unitards in their qualifying event on July 25, 2021. They cited the sexualization of female gymnasts — many of whom are young women, teenagers, or even girls as young as 12 — as reason for their decision. We now unfortunately have tragic proof of what this kind of sexualization can lead to. Sports Illustrated noted that Tokyo 2020 was the first Olympic Games since the sentencing of former U.S. Gymnastics doctor Larry Nassar, who is now serving 176 years in prison for sexually abusing hundreds of female athletes during his time with the team.
German gymnast Sarah Voss, 21, said the same things women in other sports have said about choosing to wear what makes them comfortable. "We want to feel amazing," she said, "we want to show everyone that we look amazing." Luckily, gymnastics does not regulate uniforms as strictly as beach handball, and rather than criticize their decision to wear what they liked, the event announcer said that the unitards looked "very nice indeed." The German team did not make it past the qualifiers, but they may have started a trend that we'll see replicated by others in their sport. Still, superstar gymnast Simone Biles said she still prefers the bikini-cut leotard, because it makes her look taller.