Here's How Many Times Rosa Parks Went To Jail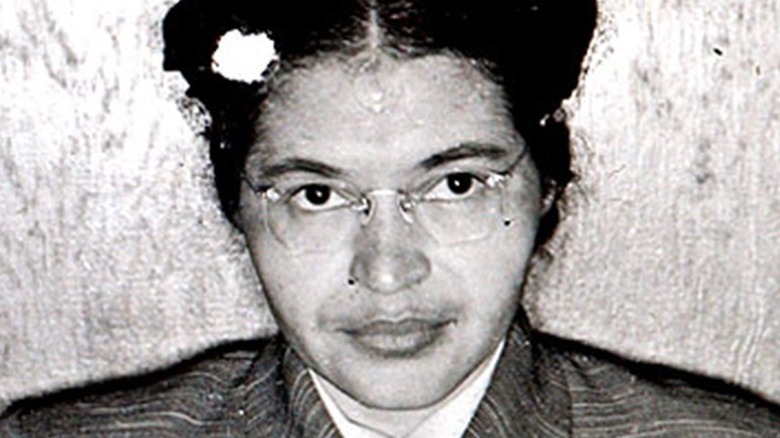 Donaldson Collection/Getty Images
Rosa Parks was arrested on December 1, 1955, after refusing to give her seat on a bus to a white man in Montgomery, Alabama. According to History, it inspired the Black community in the city to start a bus boycott. Led by Martin Luther King, the boycott lasted for over a year until the Supreme Court decided that bus segregation was unconstitutional. Was that the only time she was put behind bars?
Parks was aware it was a historical moment, and years later, she said (via Library of Congress), "During the Montgomery bus boycott, we came together and remained unified for 381 days. It has never been done again. The Montgomery boycott became the model for human rights throughout the world."
The activist was born in Tuskegee, Alabama, in 1913. She moved to Montgomery with her family when she was 11 years old, and life was not easy. The city was ruled by Jim Crow laws, a racial caste system comprised of anti-Black laws (via Ferris State University).
Parks grew up seeing white children picking up the bus to go to school while Black children walked. Years later, she said it was her first contact with segregation. "I'd see the bus pass every day. But to me, that was a way of life; we had no choice but to accept what was the custom. The bus was among the first ways I realized there was a Black world and a white world," she said (via Biography).
"And I told him, 'Just call the police.'"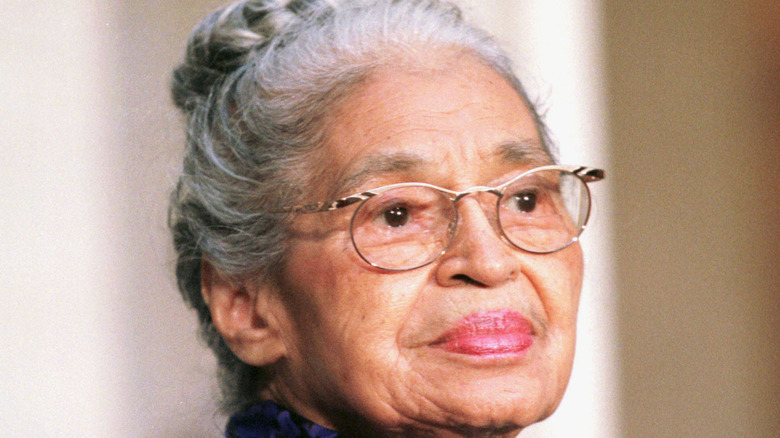 William Philpott/Getty Images
Parks got married to Raymond Parks when she was 19 years old. He was a member of the National Association for the Advancement of Colored People (NAACP) and was the first activist she met, according to The Guardian. She started attending the meetings and worked as the chapter's secretary.
Shortly after that, she met Ed Nixon (a labor organizer) and started attending the Highlander Folk School in Tennessee, famous for hosting activist meetings. In 1955, Parks returned to Montgomery, where she worked as a seamstress and deiced to catch a bus after work on one historic day. She did not intend to stage a protest that day, though — it just happened. During an interview with Pacifica Radio, she said (via Daybreak of Freedom: The Montgomery Bus Boycott), "The driver said that if I refused to leave the seat, he would have to call the police. And I told him, 'Just call the police.'"
Her arrest triggered the historic Montgomery bus boycott, and Parks was part of the executive board of directors of the group behind it. On February 21, 1956, Parks was arrested a second time for her organizational role in the boycott (via History).
After being arrested again, Parks lost her job and moved to Detroit, where she was an essential member of the Black Power movement. She was 95 years old when she died in 2005, and she was the first African-American woman to lie in state in the Capitol rotunda (via Find a Grave).
Parks was arrested two times during her life.