Disturbing Details Discovered In Juice Wrld's Autopsy Report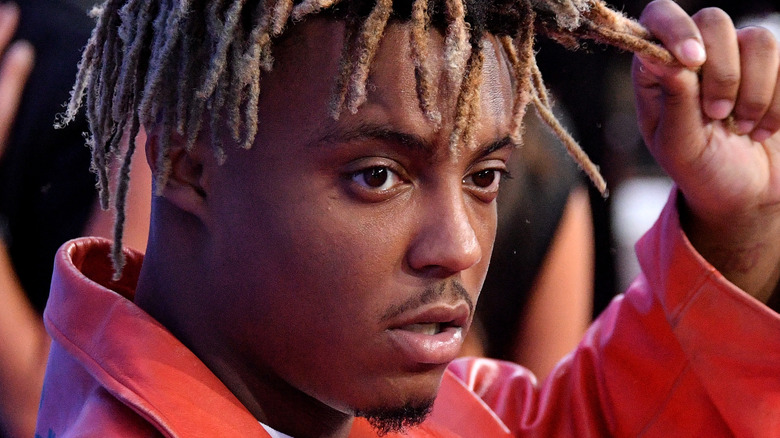 Dia Dipasupil/Getty Images
Legendary late rapper Juice WRLD, born Jarad Anthony Higgins, planned to celebrate his 21st birthday on his trip home to Chicago on December 8, 2019. But his homecoming quickly turned into a tragedy. Higgins first rose to fame on Soundcloud with his 2017 EP "JuiceWRLD 9 9 9," and then landed a deal with Interscope Records when he was only 19 years old. He hit the Billboard music charts with the 2018 song "Lucid Dreams," and earned Billboard's Top New Artist award in 2019 (via WLS-TV).
Higgins had arrived in Chicago on a private plane, which was met by law enforcement officers. They had received a tip that guns and drugs were on board the plane, and they searched the plane (via The New York Times). They discovered three firearms, six bottles of liquid codeine cough syrup, and 70 pounds of marijuana in 41 vacuum-sealed bags. Two men traveling with Higgins, who worked as his bodyguards, were charged with illegal weapon and ammunition possession. 
During this search, however, Higgins had a medical emergency. He went into convulsions and was given Narcan, a medication designed to help those overdosing on opioids, but it wasn't enough to save him. Juice was transported to Advocate Christ Medical Center in Oak Lawn, Illinois, where he died around 3 a.m.  According to the Cook County Medical Examiner's office, Juice died of an accidental overdose (via NPR). He had taken both codeine and oxycodone, and this combination in the amount he took proved to be fatal.
Juice WRLD's battle with substance abuse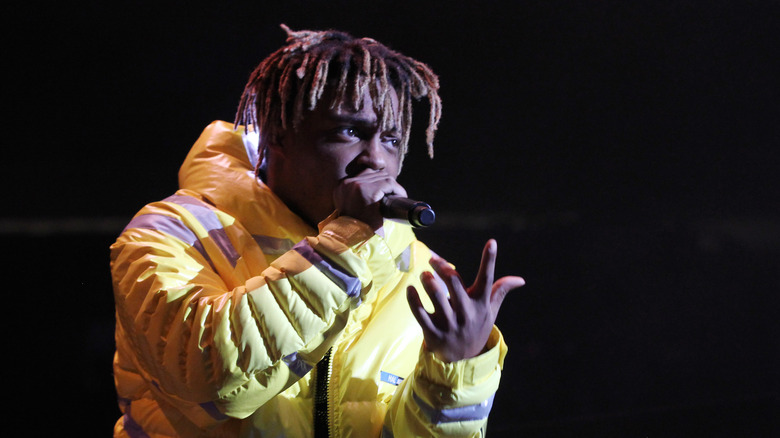 Bennett Raglin/Getty Images
Despite all of his success, Higgins faced personal challenges. He had been open about his struggles with substance abuse, which started when he began taking opiates in the sixth grade (via Billboard). Higgins had actually started drinking "lean," a prescription cough syrup, as a teenager, drawing inspiration from the music of Future. He admitted he later developed an addiction to the medication, describing it as "a horrible habit." Abuse of this medication contributed to the deaths of such rappers as DJ Screw and Fredo Santana. Higgins' struggle to get sober can be seen in his music, such as the video for the 2017 song "Lean Wit Me" which shows Higgins in a meeting for addicts. He even included the phone number of an organization to help those seeking help for substance abuse. Still, the path to getting clean was rocky for Higgins. He explained to The New York Times that "I smoke weed, and every now and then I slip up and do something that's poor judgment." 
Higgins also wrestled with some mental health issues, such as depression, which only made it harder for him to avoid substance abuse (via Vulture). His mother, Carmela Wallace, spoke out about her son in 2020, telling WLS-TV that "I said, 'if you have anxiety, then you need to get medicated properly for it instead of medicating yourself." Wallace went on to explain that "I told him my biggest fear was him overdosing on the stuff."
Juice WRLD's legacy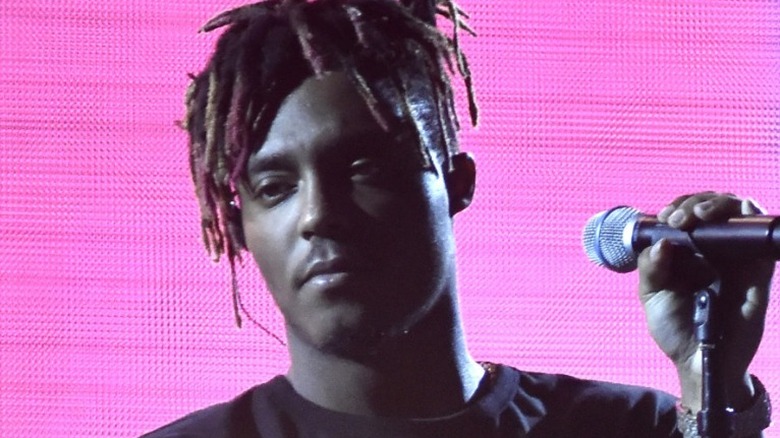 Tim Mosenfelder/Getty Images
Wallace's worst fears came true on December 8, 2019, when she learned that her son had died. She established Live Free 999 to honor her late son and help others avoid the same fate as her child. The foundation focuses on supporting organizations that work in the fields of mental health and addiction. "I hope it's what he wanted, was a legacy of healing. To let people know that you don't have to suffer alone." Wallace said. The foundation celebrated the rapper's life and work with the inaugural Juice WRLD Day in his hometown of Chicago on December 9, 2021, per Rolling Stone magazine.
Around this time, Higgins' second posthumous album, "Fighting Demons," was released, and it included his collaboration with Justin Bieber on the song "Wandered to L.A." A clip of Higgins talking about his mental health issues accompanied the video for the song (via Rolling Stone). His all-too-short life was also the subject of the HBO documentary, "Juice WRLD: Into the Abyss," which also debuted in December 2021. Since then, Higgins has continued to live on through his music. Two new videos of his songs, "Cigarettes" and "Go Hard 2," came out in early 2022, featuring an animated version of the late rapper, per Rolling Stone. The "Go Hard 2" video featured some new lyrics, including the line "Had to put them Xannies down, it was tearing me apart." These lyrics seem especially poignant as they reflect Higgins' long and difficult battle with substance abuse that eventually cost him his life.