What Did The Munsters Look Like In Color?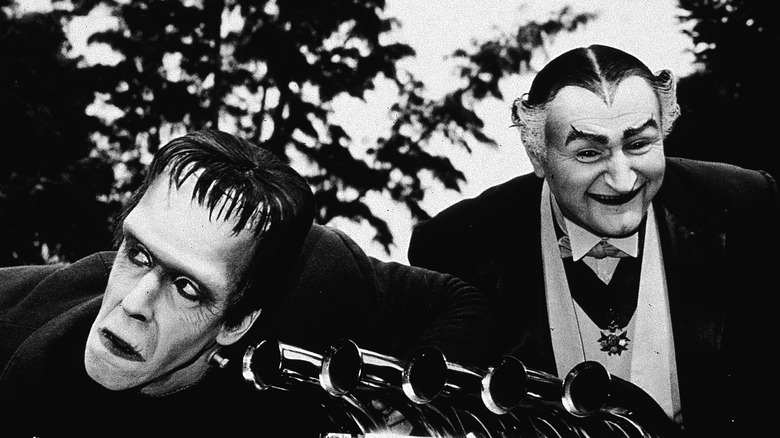 Hulton Archive/Getty Images
As was its ABC competitor "The Addams Family," "The Munsters" was a sitcom centered on a family of Hollywood monster-inspired characters. Airing between 1964 and 1966 (also like "The Addams Family"), it reached viewers as a black-and-white program. This was the result of budgetary constraints rather than any technical challenges of the time, as the pilot episode was originally filmed in color (via MeTV). While it admittedly helped affect the atmosphere of earlier monster movies, this move is arguably what led to its cancellation in 1966. 
As Decider speculates, it is possible that the growing standard of color in television shows drew enough viewers away that "The Munsters" was seen as too out of date and forced by CBS to leave America's screens. This can beg the question, what would it have been like had "The Munsters" been in color? That can actually be easily answered, as in the 1966 film "Munster, Go Home!," fans could finally see what had been lying beneath the show's monochrome palate.
To see The Munsters in color, one fan went above and beyond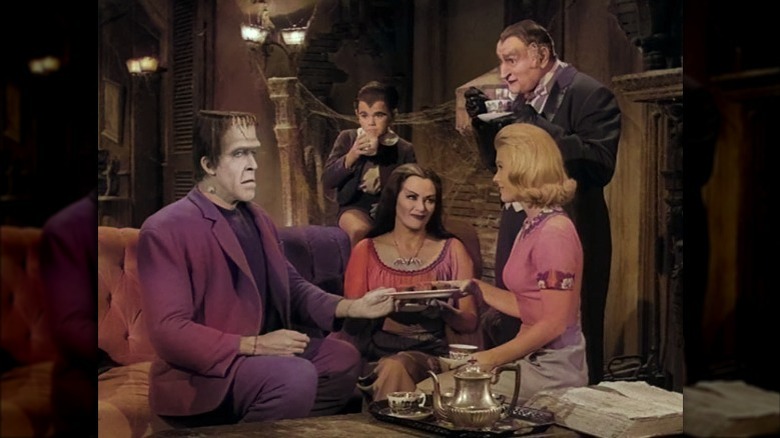 Universal
While the film was stylistically a substantial shift from the show, it was not enough to reverse their cancellation a few months prior. This fact was hammered in by the greater success of "Batman: The Movie" — which premiered at the same time. Cast members such as Butch Patrick, who played Eddie Munster, even cite "Batman" as the primary reason for the sitcom's demise (via the Daily Mail). In spite of the networks losing faith in both "The Munsters" and "The Addams Family" (which, according to MentalFloss, was also canceled in 1966 for potentially similar reasons), new life had been breathed into both in the form of multiple post-cancellation films.
For some, however, this was not enough to satisfy their nostalgia. In 2015, there was a fan who did his utmost to see that the Munsters were, in his eyes, properly brought back to life (via The A.V. Club). On his blog Pop Colorture, digital artist Zachary Smothers details how he managed to faithfully re-color the cult classic show's intro — inventing new techniques as he went along frame by frame to ensure his project looked as clear as possible. The result is a remarkable glimpse into what could have been if CBS had been willing to pay a bit more for color.