The Truth About Jens Soering And Elizabeth Haysom's Relationship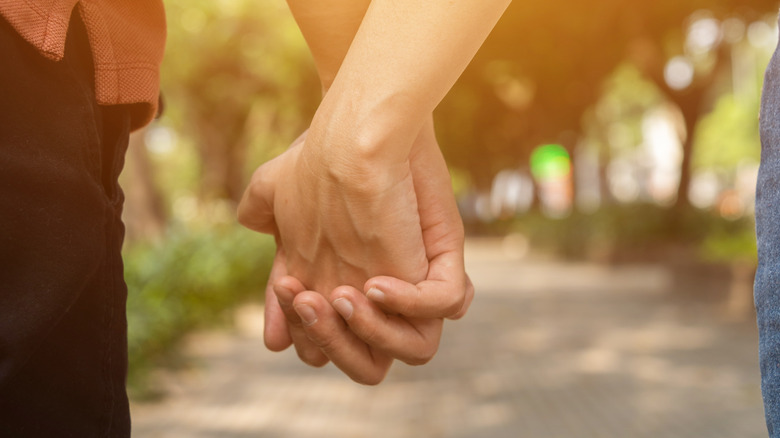 Shutterstock
Jens Söering and Elizabeth Haysom met in 1984 while pursuing their undergraduate degrees at the University of Virginia. As reported by The New Yorker, Jens, whose father was a German diplomat, was born in Thailand. He and his parents moved to the southern United States when he was a child, and he attended junior high and high school in Atlanta, Georgia. During high school, Jens enjoyed photography, art, music, and participating in school plays. He also excelled academically and was accepted to attend the University of Virginia as a Jefferson Scholar.
Elizabeth Haysom attended London's Wycombe Abbey boarding school and had plans to attend Trinity College, Cambridge. But her plans fell apart after she failed her A-level tests and "botched" her interview with college administrators, per The New Yorker. Although Elizabeth spent a few years reevaluating her future, she was accepted into the University of Virginia as an Echols Scholar at the age of 22.
The New Yorker reports that Jens and Elizabeth initially met during college orientation. They quickly became friends and eventually started spending more time together. By December, Elizabeth realized she was in love with Jens and expressed her feelings about him in a letter, which said, "I love you, and it may alter intensity and direction from time to time, but I will always love you with a part of me which no one else will be able to snatch."
A toxic relationship begins
While Jens Söering and Elizabeth Haysom were home on winter break, they primarily communicated through letters, which highlighted how unhappy Elizabeth was at home.
In one of the letters, which was published by The New Yorker, Elizabeth discussed how much alcohol her parents were drinking and said she wished her mother would "use the poker on [her] cold, gilding father." In his next letter, Jens responded by saying, "Were I to meet your parents, I have the ultimate 'weapon' ... I believe I could either make them completely lose their wits, get heart attacks ... "
In early 1985, Elizabeth's parents finally met Jens. According to reports, the Haysoms were not impressed with him and did not believe he was a good match for their daughter.
The New Yorker reports Elizabeth discussed her increasing frustration with her parents and her growing obsession with their deaths. In one of the letters, she said, "It seems my concentration on their death is causing them problems. My father nearly drove over a cliff at lunch ... and my mother (drunk) fell into the fire ... We can either wait till we graduate and then leave them behind or we can get rid of them soon."
On the weekend of March 29, 1985, Jens and Elizabeth rented a car and drove to Washington, D.C., for a weekend trip. They returned to Virginia on Sunday.
Jens Söering and Elizabeth Haysom were suspects
Three days after returning to Virginia, Elizabeth Haysom received a call informing her that both of her parents were killed over the weekend. In the course of the investigation, authorities questioned Elizabeth about her whereabouts on the weekend her parents were killed. Elizabeth said she and Jens Söering spent the weekend in Washington, D.C. But as reported by The New Yorker, the mileage on the rented car's odometer suggested they traveled much further than Washington, D.C. According to Elizabeth, she and Jens got lost somewhere along the way.
ABC News reports Jens and Elizabeth were both considered persons of interest in the murder of Elizabeth's parents. However, as Jens ignored authorities' repeated requests for fingerprints and blood samples, he officially became the primary suspect.
In response to the mounting pressure, Jens and Elizabeth traveled separately to Paris, where they altered their appearances, used aliases, and traveled extensively throughout Europe and Asia. Despite their best efforts, they were eventually caught and extradited to the United States after passing bad checks.
Jens ultimately confessed to killing Elizabeth's parents and swore she had no involvement in the crime. Although he later claimed Elizabeth committed the crime alone, and he was simply trying to protect her, he was ultimately convicted of murder and sentenced to life in prison. As reported by ABC News, Elizabeth was convicted as an accessory to murder and was sentenced to 90 years.