Fred Durst From Limp Bizkit Is Unrecognizable Now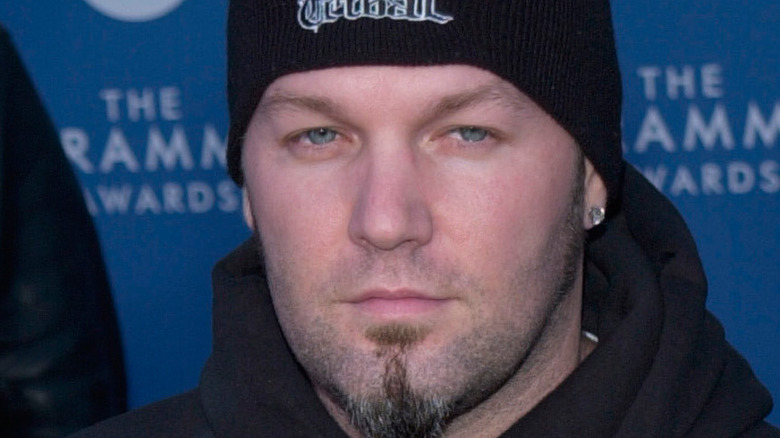 Shutterstock
Remember Fred Durst? He graced magazine covers and the concert stage as the backwards baseball cap-wearing frontman from Limp Bizkit — the rap-metal band he co-founded in 1994 with Sam Rivers, the group's bassist. Well, he launched a new look on his social media the other day that have some fans comparing him to Metallica's James Hetfield (via NME). 
Limp Bizkit's debut album, "Three Dollar Bill Y'all" launched their career when their cover of George Michael's "Faith" became a hit (via All Music). According to Metal Hammer, the band released six studio albums, sold 40 million records, and continue to tour. Durst and his fellow band members have also pursued other projects. Durst has acted in films, including "Population 436," and became an A&R rep for Interscope, the band's label, according to Spinditty. He also worked as a director, overseeing John Travolta's performance in the thriller, "The Fanatic" (via The Guardian).
Now, it looks like Durst is re-branding himself on Instagram.
A new Fred Durst
Fred Durst, now 50, recently removed all his past images on Instagram, reported the Independent, and re-did his Instagram, using his bio space to say, "you're confused? classic," followed by a cup of coffee emoji and a link to his website. Two photos follow, showing that even a famous rock star can age gracefully. Both show him sans hat, sporting gray hair and a long, light-colored handlebar mustache in lieu of his usual goatee.
One photo of Durst looking out into the distance is labeled, "thinking about you 70," followed by an image of a flying saucer. Fan comments range from complimentary like, "That's a nice, HULKAMANIAC worthy moostaché," to humorous such as, "This guy needs a station wagon ASAP." Another shows him giving the thumbs up with his right hand that shows part of his 3$BY tattoo and people wearing "Limp Bizkit 3" shirts in the background along with an array of yellow and white flowers. The "dad vibe" photo, as he describes it, generated comments like "Goin for the Don Johnson look," "You're literally glowing, this look is working for you," and "Aunt Carol please can I have my roller skates back?"
Take a look: do you see that sparkle?