Here's How Many Awards Walt Disney Really Won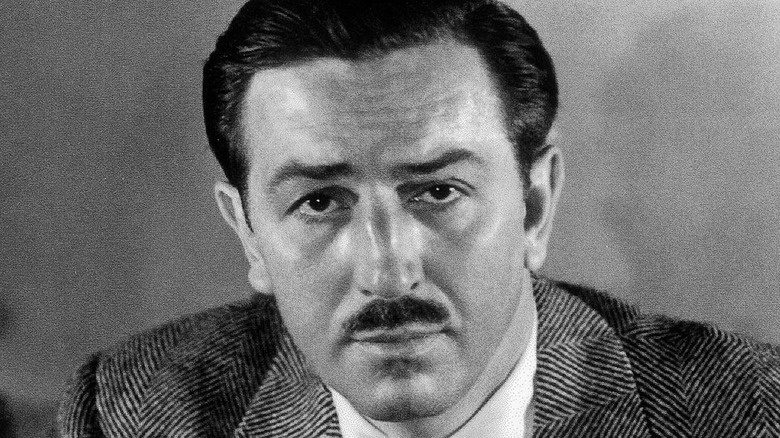 Apic/Getty Images
Few names in the world have had a more significant impact on the entertainment business than Walter Elias Disney. The groundbreaking entrepreneur was responsible for the first full-length animated film, "Snow White and the Seven Dwarfs" (1937), the first cartoon with synchronized sound, and also built the most famous theme park in the world. However, success didn't come easy.
According to Investopedia, when Disney was 17 years old, he served as an ambulance driver in France just after the end of World War I. When he returned to the United States, he began looking for a job as an artist. In 1919, he moved to Kansas, where he became an apprentice as a commercial illustrator. Three years later, Disney teamed up with Ub Iwerks to launch his first studio, Laugh-O-Gram (via Walt Disney).
Laugh-O-Gram went into bankruptcy, but Disney founded another studio, Disney Brothers, which in time became The Walt Disney Company. The groundbreaking moment would come in 1928 when the studio released "Steamboat Willie," the first fully synchronized sound cartoon. It was also the first time the public had seen Mickey Mouse, voiced at first by Walt himself. He used the profits to invest in the company and improve his work. It didn't take long until Walt Disney's studios created new characters and recreated classic stories such as "The Three Little Pigs." With all of his artistic accomplishments, it's no surprise that Disney received an impressive number of awards in his lifetime.
No one has received as many Academy Awards as Walt Disney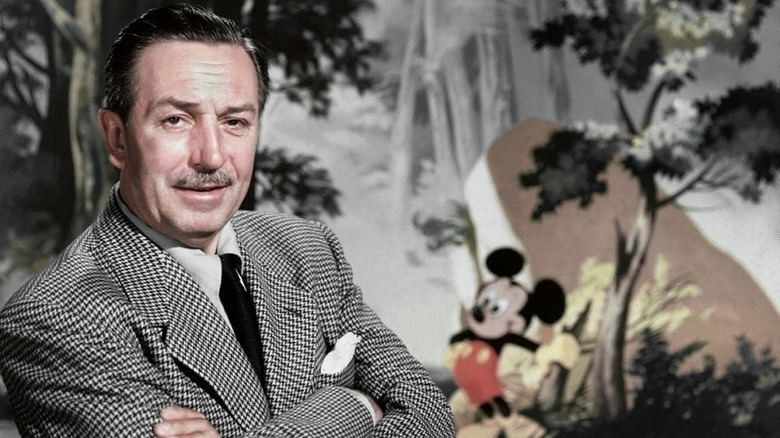 Donaldson Collection/Getty Images
In 1933, Walt Disney received a special Academy Award for the creation of Mickey Mouse and the animated short "Flowers and Trees." In the same year, he was also nominated for the short film "Mickey's Orphans." It was the beginning of a long list of nominations (via Oscars).
According to the Disney Family Museum, Disney received 32 Academy Awards during his life, a record that no other artist has so far surpassed. He received Oscars for movies such as "The Three Little Pigs," and "The Ugly Duckling." In 1939, Disney received an Oscar for "Snow White and the Seven Dwarfs," and the Academy made it a remarkable moment by featuring a regular Oscar statuette, followed by seven miniatures representing the Dwarfs. Disney received it with the child star, Shirley Temple, in one of the most memorable moments in Oscars history.
Disney died of lung cancer in 1966. In 1966, he received a posthumous Academy Award for "Winnie the Pooh and the Blustery Day."
Walt Disney collected an impressive number of other awards as well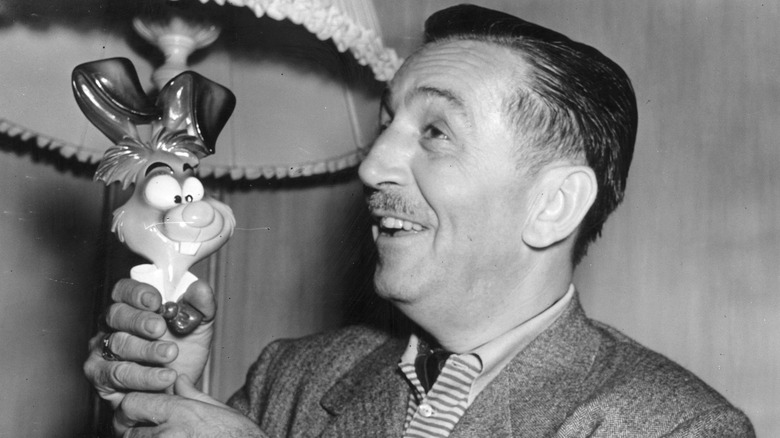 Edward G. Malindine/Getty Images
In 1953, after receiving four Oscars, Walt Disney entered the "Guinness Book of World Records" as the person who won the most Academy Awards in one year (via Guinness World Records). In all, he received 66 Academy Awards and 46 additional nominations. Although it is impressive, it is not his only achievement. In 1989, he received a Grammy Trustees Award; the honor is granted to individuals who made significant contributions to music during their lifetime, even if they were not musicians (via Grammy).
In 1955, Disney received his first Emmy nomination for Most Outstanding New Personality. He got his first and only Primetime Emmy in 1956, for Best Producer — Film Series. In total, Disney received four other Emmy nominations between 1956 and 1966. He also was the recipient of two Golden Globe Special Achievement Awards (via Emmys).
According to IMDb, Disney's achievements included the Jury Special Prize from the Cannes Film Festival, seven awards from the Venice Film Festival, two Special Awards from the New York Film Critics Circle, and Special Prize of the Senate of Berlin from the Berlin International Film Festival. In 1955 the Directors Guild of America gave Disney their Honorary Life Member award. He has two stars on the Hollywood Walk of Fame, for television and for motion pictures.