Tragic Stories About U2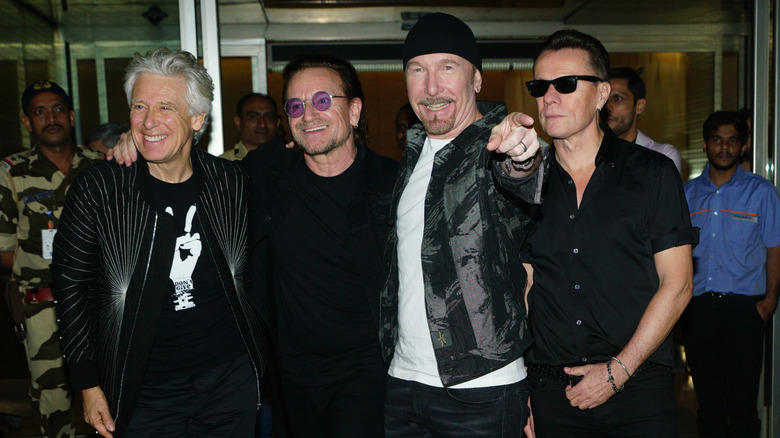 Prodip Guha/Getty Images
Rock bands tend to follow one of two formulas: either they burn bright and fast, coming apart just as quickly as they got together (such as Cream or the Jimi Hendrix Experience) or they continue to soldier on decades after their last hit with a revolving door of members (such as the Grateful Dead and Jefferson Starship). Then there are the four musicians from Dublin who call themselves U2. U2 are one of the exceptions to the rules, as they have been together for more than four decades and their lineup has not changed at all.
Just as impressive, the band's output hasn't taken a dip, with them releasing commercially and critically successful albums in the '80s, '90s, 2000s, and 2010s. After decades together, U2 have cemented themselves as one of the greatest groups in music history. Rolling Stone placed the group at No. 22 on its list of the 100 greatest artists, ahead of Nirvana, the Who, and the Clash. 
Chris Martin of Coldplay told Rolling Stone: "The sound they pioneered ... was nothing that had been heard before. They may be the only good anthemic rock band ever. Certainly, they're the best."
But alongside the hits and sold-out concerts, there have been dark spots and misfortune for U2. Here is the tragic real-life story of U2.
Larry Mullen Jr. experienced several losses in his youth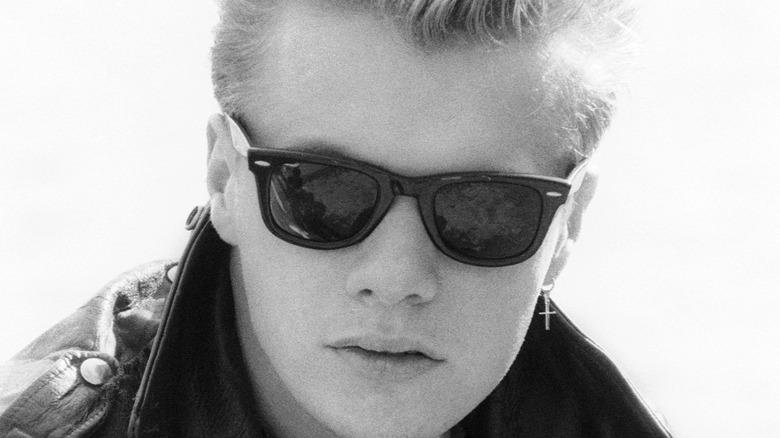 Peter Carrette Archive/Getty Images
U2 was born when, in 1976, 15-year-old Larry Mullen Jr. posted a notice on his school bulletin board simply saying, "Musicians Wanted" in the hope of starting a band. At the age of 8, Larry had taken up the piano, before switching to the drums. This move proved to be the right one as he would spend the next year being taught by one of the best drummers in the country, Joe Bonnie. However, the lessons lasted only a year as, tragically, Bonnie passed away. Bonnie's daughter, Monica, would continue to teach Mullen. 
Unfortunately, this would not be the only loss of life young Mullen would face. In 1973, his younger sister Mary also passed away. Then, in 1978, not long after forming the band that would become U2, Larry's mother, Maureen Mullen, died in a car accident.
Bono lost his mom while he was a teenager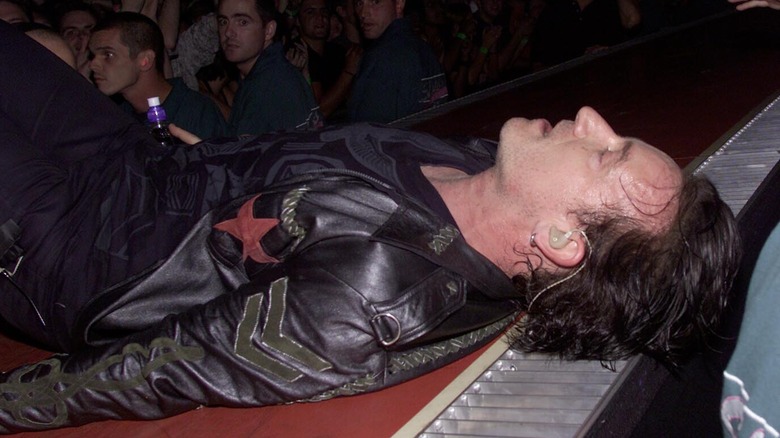 Dave Hogan/Getty Images
According to Songfacts, Iris Hewson, Bono's mother, died of a brain aneurysm during her father's funeral, in 1974. The singer was just 14 years old. Bono recalled his emotions following his mother's passing to Rolling Stone: "Rage always follows grief, and I had a lot of it, and I still have, but I channeled it into music and I still do. I have very few memories of my mother, and I put a few of them in a song called 'Iris.'"
Aside from "Iris," Bono also wrote two other songs in the early 1980s about his mother's death: "I Will Follow" and "Tomorrow." The band's 2014 album, "Songs of Innocence" was released on the anniversary of his mother's passing, though Bono said the timing was coincidence.
In August 2001, while touring, Bono's father, Norman, also passed away. He was 75 years old and had been diagnosed with cancer. According to ABC News, the singer had traveled in between concerts to be by his father's side in his final days. In his first show after his father's passing, Bono said to the crowd, "We all want to thank my old man for giving me this voice. He was a fine tenor and said to me if only I had this voice, just think what could happen."
U2's members struggle to reconcile their faith with the rock world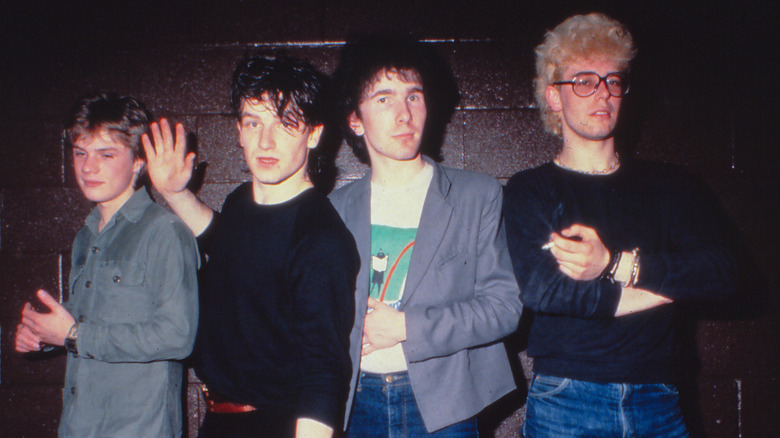 Joel Selvin/Getty Images
The sex, drugs, and rock 'n' roll lifestyle sits in direct contrast with the Christian lifestyle the four members of U2 grew up in. For the band members other than Adam Clayton, this has caused some difficulty. According to Three Chords and the Truth, the Edge seriously considered leaving the band early on as he had trouble balancing his life as a Christian and as a rock musician. Bono, despite his own troubles aligning the two worlds, convinced him to stay. Even through the release of their first two albums, the Edge, Bono, and Larry Mullen Jr. regularly attended Shalom Christian Fellowship in Dublin.
The band have included themes of spirituality in their work, without religion becoming a dominant theme. Greg Garrett, author of "We Get to Carry Each Other: The Gospel According to U2," says that "U2's beliefs filter into their work, but that's not their primary reason for making music" (via Chron).
In more recent years, Bono has undertaken church tours advocating for more aid in Africa, but seems to have moved away from organized religion, reportedly saying "I generally think religion gets in the way of God."
Adam Clayton's struggles with substance abuse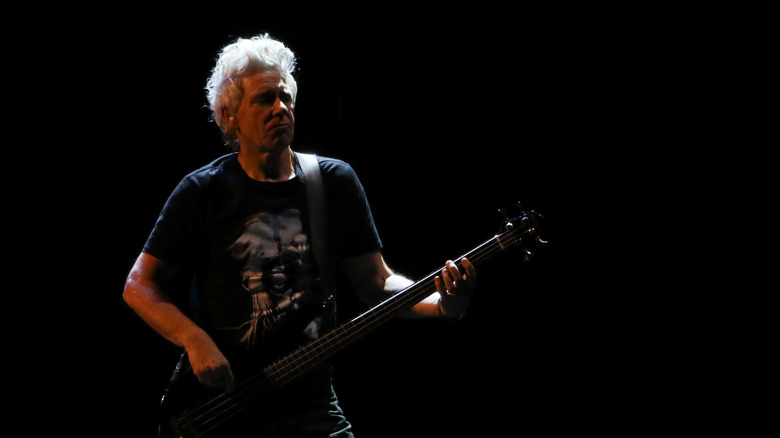 Takashi Aoyama/Getty Images
While Bono, the Edge, and Larry Mullen Jr. tried to find a balance between their faith and their music, their bandmate, bassist Adam Clayton, had his own demons.
In a 2019 interview on "The Tommy Tiernan Show," Clayton discussed how early fame and success overwhelmed him in his personal life. "By the time we were 25 and 26 we could pay our rent no problem, we owned cars, we could travel, and by the time 'The Joshua Tree' hit we could buy a house -– anyone I've met who's experienced success and fame in that way in those years it takes them a long time to recover from it."
In 1984, Clayton was arrested for dangerous and drunk driving. Five years later, was arrested for possession of 19 grams of marijuana, which threatened his ability to get visas and the group's ability to tour, as reported by Hot Press. He pleaded guilty, paid a fine, and avoided any visa issues, but continued to struggle with substance abuse.
In 1993, Clayton missed a concert in Australia after spending a night partying. He was replaced for the show. Following this and with his bandmates' support, he successfully committed to a sober lifestyle. According to Billboard, Clayton received an award at the MusicCares Addiction Recovery Awards in 2017 for his work in helping others with the addiction recovery process.
U2 have endured musical differences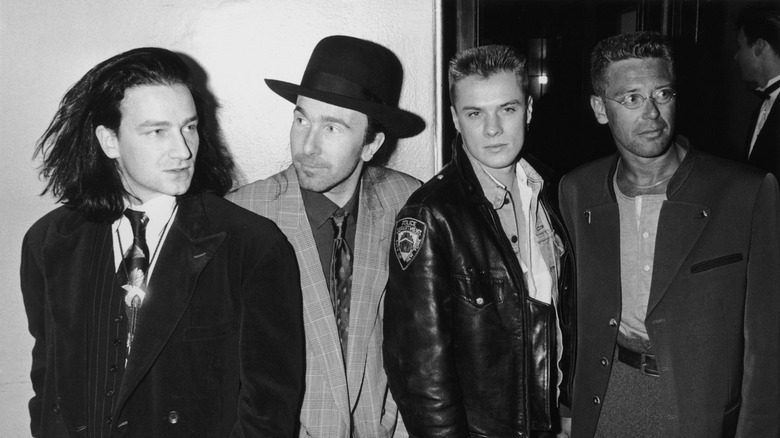 Dave Hogan/Getty Images
Following the lackluster response to their 1988 film and soundtrack "Rattle and Hum," U2 entered the '90s wanting to change their sound. At least, a few of the members did. According to VH1 Legends, the Edge had become interested in experimental electronic music while Bono was interested in dance rhythms. At the same time, Clayton and Mullens were far from excited about their bandmates' new influences.
Adam Clayton told VH1 Legends, "There was a lot of confusion, though I think everyone was suffering from it. It was this feeling that we had to forge a new sound for the band but none of us really knew how to do that."
As told by Ultimate Classic Rock, the group worked with producer Brian Eno, and recorded in Berlin, where Eno had worked with David Bowie a decade prior for Bowie's celebrated Berlin Trilogy. The move did little to end tensions, which was leading to a possible break-up. During one session, the Edge played an impromptu guitar riff that caught the ear of his bandmates. Bono wrote lyrics around the rift, which became the hit single "One," a song about the band's disunity and the desire for unification.
Eventually, the band returned to Ireland, patched together their friendship and finish work on the album that became "Achtung Baby." The album became one of their most celebrated works.
U2 aren't so popular in Ireland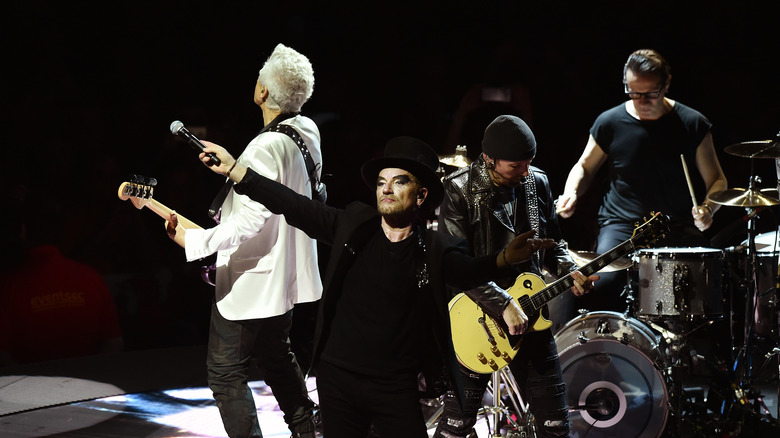 Charles Mcquillan/Getty Images
From Rory Gallagher to Phil Lynott of Thin Lizzy, Ireland is not short of popular musicians. But U2 are perhaps one of the best known Irish acts in the world. Perhaps you'd imagine that their home city of Dublin would embrace the band as much as Liverpool celebrates the Beatles or how Outkast is embraced by Atlanta. However, as pointed out by Mel Magazine, U2 are not beloved in Dublin or Ireland.
Bono married his childhood sweetheart and still lives in Dublin, but that doesn't stop people in the city from creating graffiti stating that "Bono is a Pox." The Guardian points out that part of the band's unpopularity might be that they are too popular and famous, and cites Dubliners as saying that Bono is "too sanctimonious." Still, the city has honored the late Gallagher and Lynott, so being successful cannot be the only issue. According to 2 Oceans Vibe, hypocrisy over how Bono moves his money to avoid taxes is a major reason. The outlet quotes politician Brid Smith as saying "Bono is seen as part of that cohort of very wealthy people who avoid paying tax in this country but enjoy the fruits of being of this country."
The Spider-man musical flopped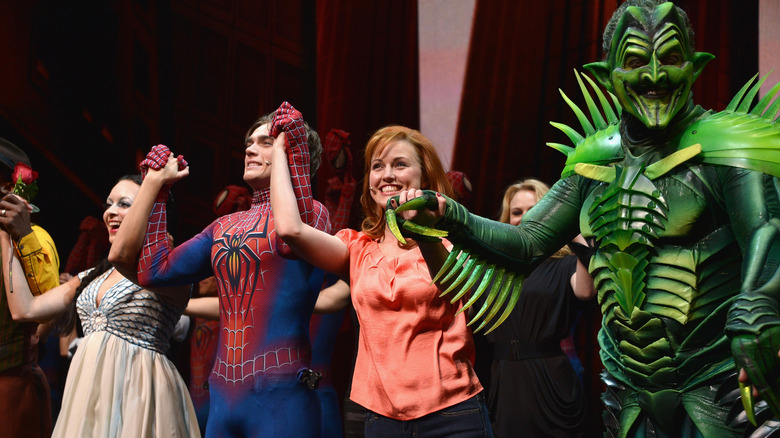 Mike Coppola/Getty Images
With a star production team that included respected theater director Julia Taymor, and Bono and the Edge working on the music, how could a musical fail? According to Wired, the production of the Broadway musical "Spider-man: Turn Off the Dark" kicked off in 2005, not long after the release of the successful Toby Maguire Spider-man movies. Unfortunately, the production and musical fell on its face.
An early sign of failure came in the form of tragedy. Producer Tony Adams, who convinced Bono and the Edge to work on the music for the play, died of a stroke early during production. It was actually the Edge who found Adams lying on the floor. With hindsight, the musical's playwright, Glen Berger said, "it didn't really occur to anyone at the time that was going to be in some ways a fatal blow [to the project]."
According to the BBC, this would not be the end of the problems. The financial collapse of 2007 scared away investors from putting their money into production. Then came the actual play. Spider-Man is a web-slinging, aerobatic superhero. This may work in comics, cartoons, films aided by digital effects, but in real-life, not so much. Actors and stunt people suffered serious injuries in rehearsals, leading to the play gaining an unfavorable early reputation. The Wall Street Journal reported that the $75 million production did not come close to breaking even by the time its Broadway run ended.
Bono has had multiple injuries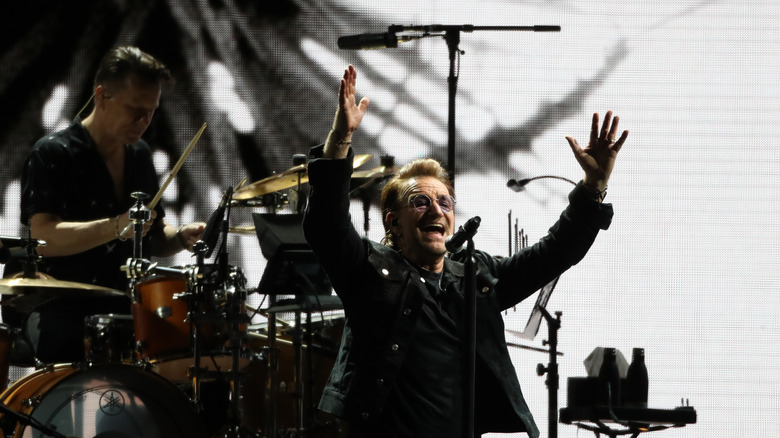 Takashi Aoyama/Getty Images
U2's frontman seems to live a pretty clean-cut life, and has none of the stories of addiction or risky life choices of many other rock stars, but he has suffered from several injuries. According to U2.com, in 2010, Bono suffered a compression of the sciatic nerve, a tear in the ligament, and a herniated disc. The severity of these injuries required surgery and an eight-week rehabilitation program. 
Four years later, a bike accident left the singer with a facial fracture that also included his eye, three fractures of his left shoulder blade and a fracture of his left humerus that broke through the skin. Billboard said that he required a five-hour surgery to recover from the accident.
Bono' suffers from glaucoma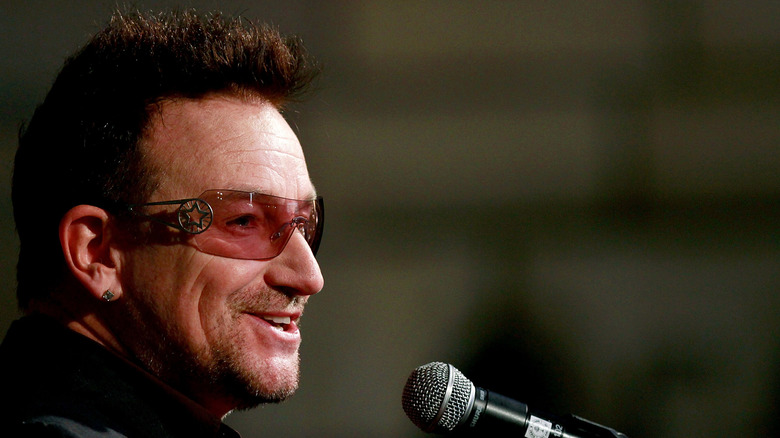 Michelly Rall/Getty Images
According to VH1 Legends, Bono first began wearing sunglasses during performances during the band's 1992 tour following the release of "Achtung Baby." The sunglasses were originally a part of his stage persona, the Fly, a parody of flamboyant rock stars like Lou Reed and Jim Morrison. Three decades after the tour ended and the Fly had flown away, Bono still sports sunglasses on and off the stage, though the glasses are no longer a part of a character.
In an interview on "The Graham Norton Show" in 2014, Bono admitted he has suffered from glaucoma for the last two decades. He explained that his vision was perfect, leading him to doubt there was anything wrong with his eyes. However, he recalled when his eye doctor determined the singer might have the condition. "I had perfect, 20/20 vision, so I didn't need an eye test... [He asked] 'Have you ever had a strange vision, steam coming into the room, and rings around lights?' and I was like 'oh, yeah.'"
According to Early Vision Source, individuals who suffer from glaucoma are sensitive to light and glares. In strong sunlight, glares from different surfaces could also harm their eyes, such as irritation, redness and even a loss of vision. Seeing that for the past four decades, Bono has performed stadium shows with bright lights, it is probably best to keep the shades on.
Bono nearly died from a rare heart condition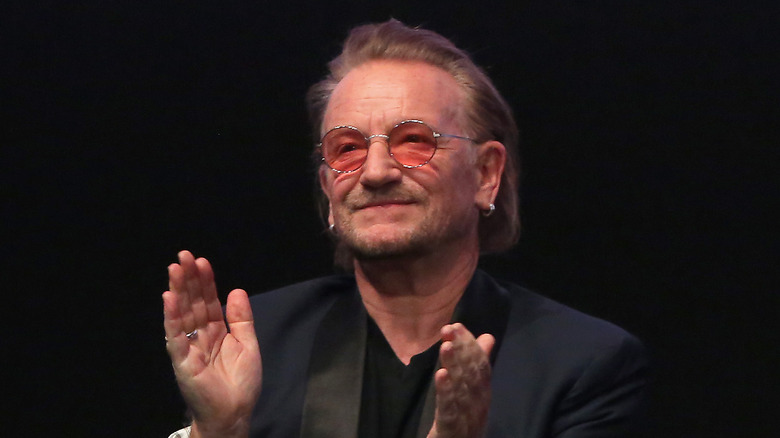 Adam Berry/Getty Images
It wasn't until the release of his 2022 memoir "Surrender" that Bono was ready to discuss the traumatic and profound events that surrounded what he characterized to the Irish Times as a "near-death experience" in 2016. "In one of the chambers of my heart, where most people have three doors, I have two," Bono wrote. "Two swinging doors, which at Christmas 2016 were coming off their hinges." Doctors diagnosed blistering on his aorta, the chief artery which delivers oxygenated blood throughout the body. "A blistering that's about to burst," he added.
While undergoing an emergency, eight-hour heart procedure at the Mount Sinai Health System hospital in New York City, Bono recalled looking down on his own body while a surgeon operated, and that he hallucinated and felt alarmingly cold. Following the successful completion of the surgery, the medical team required heavy-duty wire to close up Bono's chest cavity. One surgeon told the singer's family that he'd been walking around breathing at 130% lung capacity — a disaster waiting to happen.
U2's close associate died in a motorcycle accident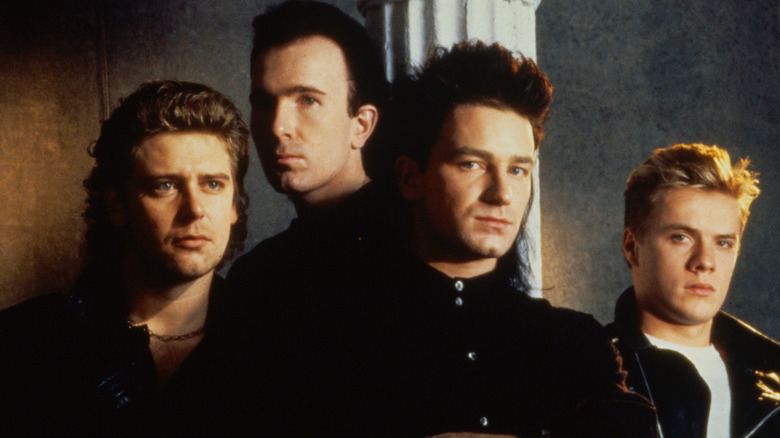 Aaron Rapoport/Getty Images
U2 toured New Zealand for the first time in 1984 in support of the album "The Unforgettable Fire." During their time in the country, a local named Greg Carroll talked himself into a job on the road crew, leading to a friendship with Bono. The singer would later promote Carroll to the role of personal assistant, and he joined U2 as the band traveled the world over the next two years.
According to Bono's memoir "Surrender," Carroll was part of the extended U2 entourage when they decamped to Dublin, Ireland, to record "The Joshua Tree." Carroll and another U2 studio crew member rode motorcycles to Waterford, and on the way back, outside Donnybrook, an automobile driver made a sudden U-turn. He didn't notice Carroll riding, and the motorcyclist plowed into the car. The next day, Carroll, 26 years old, died from the injuries suffered in the impact. Bono was away at the time, en route to the Farm Aid charity concert in Texas. "It was like the death of a close family member," Bono wrote. It fell on him and his bandmates to deliver the news to Carroll's family in New Zealand. U2 sent Carroll's body back home, and Bono, Larry Mullen, and their partners traveled with it.
The Edge's grandson died in infancy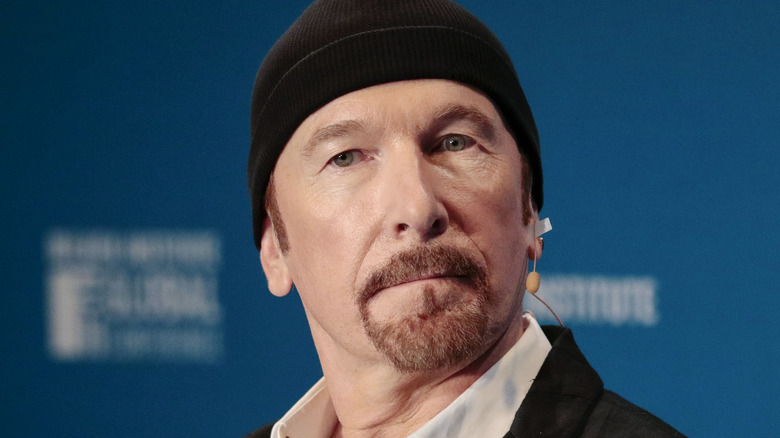 Bloomberg/Getty Images
In 1989, U2 guitarist The Edge and his wife, Aislinn O'Sullivan, welcomed their third daughter, Blue Angel Evans. In July 2022, The Edge's family grew when Blue Angel Evans gave birth to a son named Senan O'Shaughnessy Evans. The pregnancy, delivery, and early life of the baby, The Edge's grandson, proved difficult, medically fraught, and ultimately tragic. 
According to Blue Evans' Instagram page, the child was born two weeks prematurely, at which point doctors discovered a knot in the umbilical cord. Unable to properly develop in his mother's womb without that lifeline, Senan was diagnosed with brain damage so pronounced that he was unable to live on his own without constant medical attention and machinery. Eight days after his early arrival, the family opted to remove the child from the equipment to allow for a natural death. Senan O'Shuaghnessy Evans died nine days after his birth.
Larry Mullen can't play with U2 anymore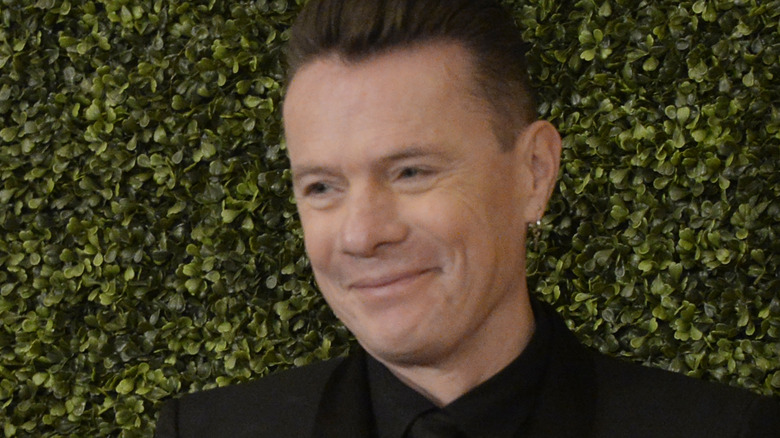 Bloomberg/Getty Images
From its inception in 1976, U2 has maintained the same core lineup of four musicians: Bono, The Edge, Adam Clayton, and Larry Mullen Jr. That endurance and consistency makes U2 an exception to the rule for rock bands, which will make it all the more sad and strange when the group takes the stage for a series of Las Vegas residency concerts. They'll do it without Mullen, making for the most significant and longest-lasting lineup change ever for U2.
In 2023, Mullen is scheduled for some important surgical procedures. "I have lots of bits falling off, elbows, knees, and neck," he told Washington Post reporter Geoff Edgers, referring to the injuries of wear and tear that comes along with rock drumming. "There's some damage along the way." Because of his pressing medical needs and post-surgical recuperation time, Mullen won't be able to play the Las Vegas dates, leaving U2 to perform with a hired replacement. "No one is more disappointed than us that Larry won't be joining us in Vegas," U2 guitarist The Edge told The Telegraph. "It'll be strange to turn around and not see him behind us after all these years."