In John Mellencamp's Career, One Song Stands Above The Rest
Gary Miller/Getty Images
Boiling down Grammy Award-winning musician John Mellencamp's extensive catalogue to the top-twenty or even top-ten best songs he ever recorded would be near impossible, but to try and find just one song that definitively defines Mellencamp and his long musical career, is impossible. That's because the rock legend has dozens of tunes that were not only big hits, but critically acclaimed as well, something that doesn't always go hand-in-hand. Add to that Mellencamp's marked musical evolution during a career spanning more than 40-plus years (and his name changes), and it's sometimes hard to connect the songs from his early years to those he still writes and performs decades later.
Mellencamp, whose career began in the mid-1970s, was renamed Johnny Cougar when he signed with his first manager in 1976 in New York (via Rolling Stone). By the time he had a hit song, he had already put out three albums, and he wasn't even singing the song. A rock legend in her own right, Pat Benetar recorded Mellencamp's "I Need a Lover" and turned it into her first big hit, but his version hit No. 1 in Australia (via Rolling Stone) and became a smaller hit in the U.S., finally putting him on the map. What followed were a string of hits that really touched upon his Indiana roots. He found a huge following among fans in the Heartland with hits like "Pink Houses," "Hurts So Good," "Authority Song," "Lonely Ol' Night," "Small Town," and more (via Ultimate Classic Rock). And it didn't matter that he had since transitioned from Johnny Cougar to John "Cougar" Mellencamp back to plain John Mellencamp.
One Definitive John Mellencamp Song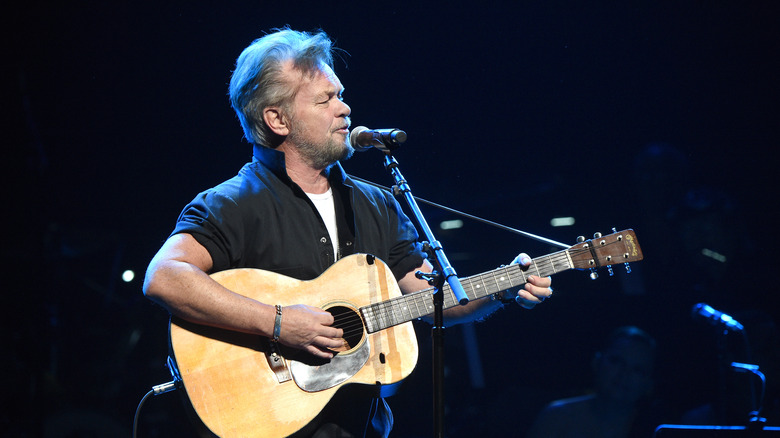 Kevin Mazur/Getty Images
John Mellencamp has been nominated for more than a dozen Grammy Awards and won for Best Male Vocal Performance in 1983 for the song "Hurts So Good." He won an American Music Award for Favorite Male Artist in 1983 and a Billboard Century Award in 2001(via Celebrity Access). He's had 22 Top-40 hits in the U.S., according to Billboard, and was inducted into the Rock and Roll Hall of Fame in March of 2008 and into the Songwriters Hall of Fame in June of 2018.
But when it comes to just one song out of his roster of hundreds that could define him as an artist, he told Rolling Stone in a 2013 interview that "Paper in Fire" from 1987's "Lonesome Jubilee" album is the "ultimate John Mellencamp song." However, rock critics (via Ultimate Classic Rock and Return of Rock) and fans alike have said that the one song by Mellencamp that stands out above the rest is "Jack and Diane" from his 1982 breakout album "American Fool." It was a huge hit and epitomizes Mellencamp's Midwestern rootsy rock style that dominated his music for the next two decades. And while he's written about poverty, desperation, loss, and forgiveness in a plain, populist lyrical style combined with catchy, folksy, and pop-influenced music, "Jack and Diane" is a love song, an ode to youth. Yet that is the one song many point to as having resonated with millions of Americans and clearly defined the early musical career of John Mellencamp.