The Tragic Death Of Charles Dickens' Children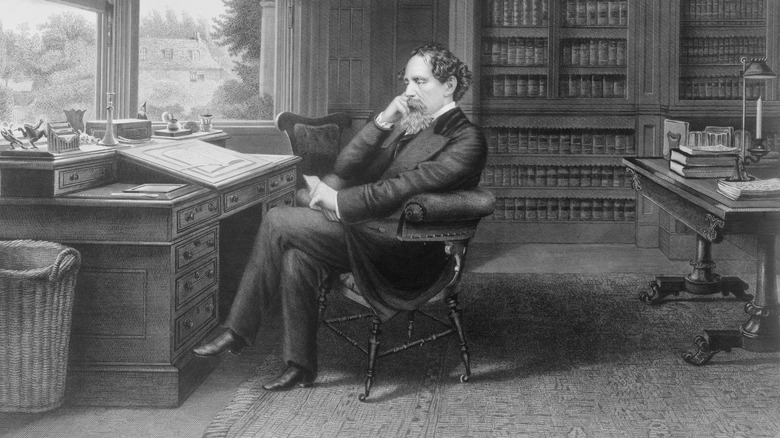 Epics/Getty Images
The tragedy in Charles Dickens' life was often reflected in his work. The English writer, known for classics such as "A Christmas Carol," "Great Expectations," "David Copperfield," and "A Tale of Two Cities," regularly explored the hardships and discontent of Victorian-era life. Dickens managed to depict all the sadness and struggles with descriptiveness and emotionality that still resonates. His accurate portrayals of troubled souls often came from his own experiences; Dickens struggled mightily in his childhood with poverty — a theme he often visited in his work.
His father, John, worked in a Navy pay office and never balanced his earnings with his expenses. When Dickens was 12, the debts outnumbered the funds and he ended up in Marshalsea Debtors' Prison—the result of an unpaid baker's bill. Dickens got thrust into adulthood quickly when he kept the family afloat by working at Warren's Blacking Factory, affixing labels onto the shoe polish bottles. The space stayed dark and cold, and rats infested the place (via Forbes). The author wrote about the experience in the newspaper, True Sun, reported The Guardian saying, "My whole nature was ... penetrated with the grief and humiliation." During this time, Dicken's mother and her younger children lived with his father in jail. Dickens fended for himself and eventually rented a room near the prison so he could have meals with his family (via BBC). 
Even as an adult and a successful author, tragedy, and hardship continued to follow Dickens — as he established a family.
A daughter's death and an alleged affair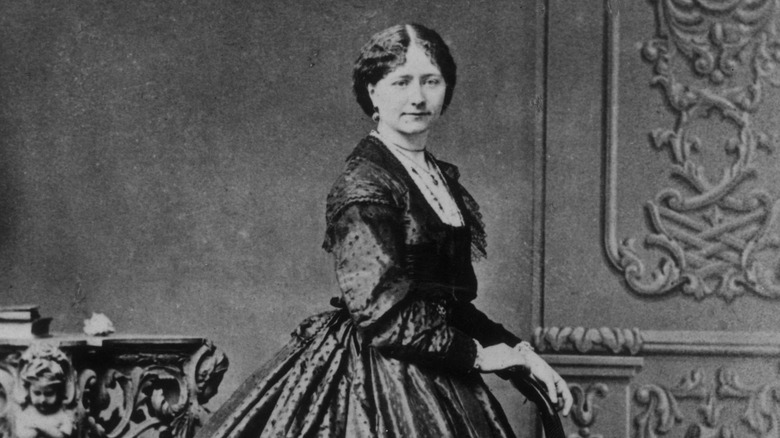 Hulton Archive/Getty Images
Dickens married Catherine Hogarth, whom he met through his father, a colleague at the "Morning Chronicle." They married in April of 1836 and had 10 children together. Although the two enjoyed a happy relationship in the beginning, Dickens became unhappy as the size of his family increased and he faced the challenge of supporting them. By 1857, the two had separate bedrooms and the couple eventually separated (via Charles Dickens Info). 
Not all of their children became adults. His ninth child, Dora Annie, was born sickly. Dickens loved his little girl and spent time "carrying little Dora about the house and garden" as Robert Gottlieb wrote in his book, "Great Expectations: The Sons and Daughters of Charles Dickens." 
The girl he had named after a character from his book, "David Copperfield," died at eight months old (via Charles Dickens Info) the night Dickens give a speech at a dinner for the General Theatrical Fund. Before he left to speak, he played with Dora. While Dickens was gone, Dora experienced convulsions and passed away. His father, John, had died nine days earlier (via Victorian Web). 
Dickens may have had another child who died during infancy. As his marriage to Catherine soured, he formed a relationship with the actress Ellen Ternan. According to rumors, the two of them may have had a child together (via National Geographic).
A sad ending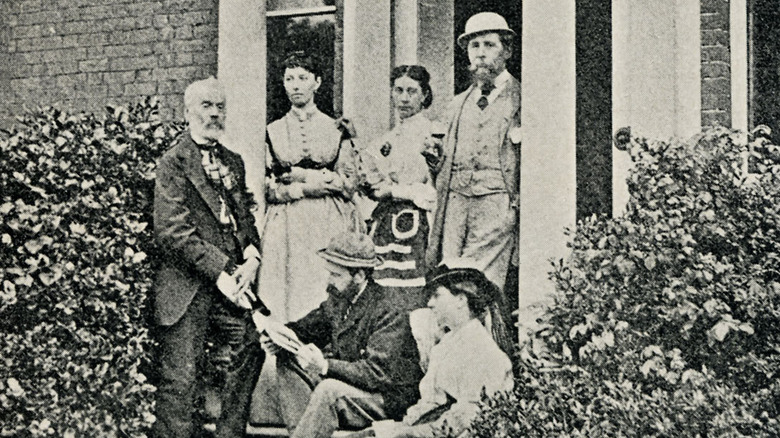 Culture Club/Getty Images
The secrecy around the affair and the possible child it produced isn't surprising. Dickens valued his reputation and tried to present a positive image. When gossip swirled around them, Ternan spent time away from him to assuage suspicion, according to the Independent.
Dickens had other children who died before their time as well. His fourth son, Walter, became a soldier at 16 and enlisted with the East India Company. He became ill and was scheduled to journey home, but died from an aortic aneurism at 22. As Dickens explained it in a letter to Angela Burdett Coutts, "He became violently excited, coughed violently, had a great gush of blood from the mouth, and fell dead; all this, in a few seconds" (via Dickens Society). 
Even the children that outlived Dickens never really satisfied him. In Robert Gottlieb's book, "Great Expectations: The Sons and Daughters of Charles Dickens," quotes the writer as saying he had, "brought up the largest family ever known with the smallest disposition to do anything for themselves" (via Public Radio Tulsa).
Dickens, himself, died young at the age of 58 in 1870 (via The Daily Beast), with his mistress Ellen Ternan present; his children had summoned her so the two could comfort one another as he passed.